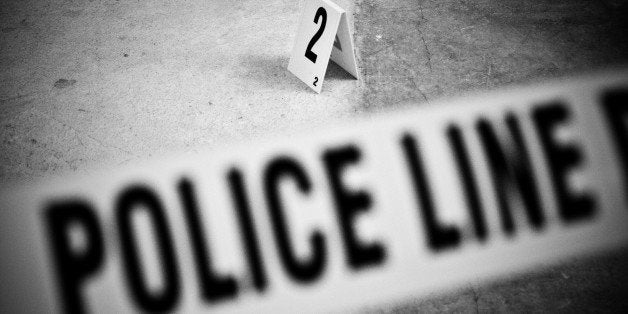 Police car after police car zoomed down my block Tuesday night. By about the tenth car I walked outside. Helicopters were overhead shining down their spotlight. I walked to the corner and asked a couple who was watching what had happened. They told me that by the looks of the police response it was likely a cop had been shot.
With no one else around I took the dogs with me so hopefully cops wouldn't attack me. I saw police cars, going the wrong way, speeding back from 120th and the highway and shoot up back first avenue and towards 125th street in the direction of Willis Avenue bridge. As I approached I saw the bridge had been closed off by police as vans unloaded masked men with machine guns while a group of about a dozen cops with 'Special Response Group' patches down on their back ran up and down the street, chasing away a group of young boys on bikes. My dogs heard police dogs barking, so they barked back.
There I talked to a young woman who said she had walked up from 104th street where she heard gunshots. There, cops who had detained a group of young kids took off once reports of a shot cop went over their radios, she told me. I talked to another young woman standing next to her and she opened up to me that while she felt for the shot cop's family she wasn't really upset about it. "I don't care about them getting shot because at the end of the day they don't care when we get shot."
She mentioned the cases of black people like Eric Garner and Akai Gurley and the anger she had at the entire system when cops got off in those cases. But she also told me a story about a friend of hers who was shot and paralyzed not so long ago, apparently a victim of the street violence that the mayor and police commissioner would soon be decrying in their press conferences. In the case of her friend, police officers had callously blamed the man for making the mistake of walking home from work in a known drug area, she said. In other words, her friend shouldn't have been walking in his own hood -- it was almost his own fault, the police had told her.
The lack of humanity shown to people like this young woman, her paralyzed friend and others isn't unique. I've heard it in other cases where police, though not implicated in outright brutality, were similarly cold-hearted. Briana Ojeda was a young girl who died when the police pulled over her mom as she tried driving Briana to the hospital during an asthma attack. The cop refused the mom's pleas for an ambulance as Briana took her last breaths. Her parents have often joined marches against police brutality and called out the department's lack of humanity. There have also been families who've felt police show little to no interest in apprehending suspects who shot their loved ones. Their feelings about the police department are fueled by the lack of empathy from cops and the devaluation of their lives.
The young woman I spoke to wasn't even as blunt as local young people I spoke to that simply said "Fuck 'em" when I asked about the shot cop. What about the fact that the cop was black, I asked three young men walking down 119th street the day after the shooting. "It don't matter," they told me. "As long as he's wearing that patch, fuck him too."
They couldn't empathize with officer Randolph Holder, they told me, because empathy had never been shown to them by the police. They'd been harassed since they were in middle school, they said. While this might seem harsh to some, it's a reality in a lot of places in this city. There is no love lost between some communities in New York and the NYPD. There won't be a tremendous amount tears shed or moments of silence -- although there will be some. Some will ask where this outpouring of grief from authorities was when the cops have been the perpetrators and not the victims of violence.
What they described, and what I've felt since living in Spanish Harlem: there's been a long simmering war in this community. Cops regularly bust people for jumping the turnstile at the 125th, 116th and 110th street subway stops. They still stop and frisk people all the time. None of this, of course, seems to happen just a few blocks south, in the whiter Yorkville section of Manhattan. And people recognize this.
Two undercover white cops that ride around this neighborhood in a taxi are a known terror to the kids who come out school in the afternoon. Young black and Puerto Rican men are often detained. Mexican immigrants fear the cops. Last year dozens of local people stood toe to toe with cops on 125th street after some said cops brutalized a young woman. Video of that stand off, which saw cops swarm the street, was simply titled "Harlem vs. NYPD".
There's also the crackdowns on the homeless, which have been going on by 125th and Lexington avenue for years but intensified in the last few months as city hall and the NYPD have targeted the area for more quality-of-life, Broken Windows enforcement. If you're homeless, or look homeless, cops, who now have a semi-permanent mobile command center parked there, won't let you sit or stand on the block. Some people have been taken against their will into ambulances by cops.
Two years ago on Father's Day I saw officers from the 25th precinct haul off a dad to jail who was setting off little poppers, cheap firecrackers, in front of his house. His family protested and cops, acting like soldiers in Afghanistan or Iraq, threatened them with mace as they also tried one-upping their arrest by illegally (without consent) searching the wife's car while the kids watched.
Going all the way back to 1964's Harlem riots, or uprisings, when police shot and killed a teenage Harlem boy who was fighting with a racist Yorkville superintendent (coincidentally named Pat Lynch) who hosed them down with water for sitting on his building's stoop, there's been a war going on uptown. This is the context that's left out as the media pushes wall to wall coverage of cop shooting and the outpouring of grief.

I'm not celebrating this cop's death. I feel for his family. But I recognize that people question why they should be outraged. People who are collectively framed as thugs and written off as criminals or undesirables have long felt their lives have mattered less. Yesterday a group of god-awful opportunistic politicians and self-appointed community 'voices' called a press conference to blame some of these same local residents for Holder's death.
"Police officer Randolph Holder would not be dead if the community were not being complacent and working along with murderers in our community," said local pastor Vernon Williams. Williams was joined by Manhattan borough president Gale Brewer, state assemblyman Robert Rodriguez and notorious Brooklyn politician-wannabe Tony Herbert. They not only blamed NYCHA residents for the cop shooting, but they also chastised them for not being more grief-stricken at the cop's death
Aside from those half-assed attempts to politicize Holder's shooting in less than 24 hours, Mayor de Blasio's assertions that "thousands" of people are responsible for violence in the city were a much more dangerous political call to action. In the past, even the NYPD has suggested that a very small percentage of young crew-based people were responsible for violence the city. De Blasio's comments seemed to widen that rhetorical net as even a judge became the focus of criticism that seemed to call for more law and order. Of course anyone critical of 'soft' approaches like the diversion programs, ignores the multiple gang raids that have already been netting dozens of young people in both West and Spanish Harlem -- where Holder was shot -- to say nothing of the day-to-day hyper-policing around here.
In 2013, 63 teenagers and young men from this area were indicted for serious gang conspiracy charges after a nearly four-year investigation by Manhattan DA Cy Vance that charged people sometimes just off of things they said on social media.
There has been no let up from cops in this area. None at all. In fact, policing levels have only increased as I've seen members of the aforementioned Strategic Response Group, a group originally created to combat terrorism and police protests, bust fare-beaters and jump out on teenagers in the park. And clearly many people feel caught in the middle of all this -- between street guns and police guns. They might, however, need to brace themselves for an increase in pressure from the police, even as Holder's shooter, Tyrone Crawford, is in jail.
Last year after the chokehold death of Eric Garner at the hands of the NYPD, I spoke to people from the area who told me police aggression had gotten increasingly worse after a pair of undercover NYPD, James Nemorin and Rodney Andrews, were killed by Ronnell Wilson in 2003. After that, a friend of Garner's told me, the cops from the local 120th precinct became much more aggressive and behaved like they were at war in the (and with the) community.
And if we want to go back even further and let history be a guide to how the politics of it all might shape out, Holder's shooting, paired with the other four recent murders of police, brings back memories of Edward Byrne, a police officer killed in Queens in 1988. Byrne, whose father was also a cop, like Holder's, became a symbol for increased police power and resources. His badge was carried by former president George H.W. Bush in the his successful 1988 presidential campaign and there is a federal grant program in his name that has provided billions in federal funding for state and local law enforcement.
There's a war going on outside no man is safe from.
In this war, there's no end in sight.
Related
Popular in the Community