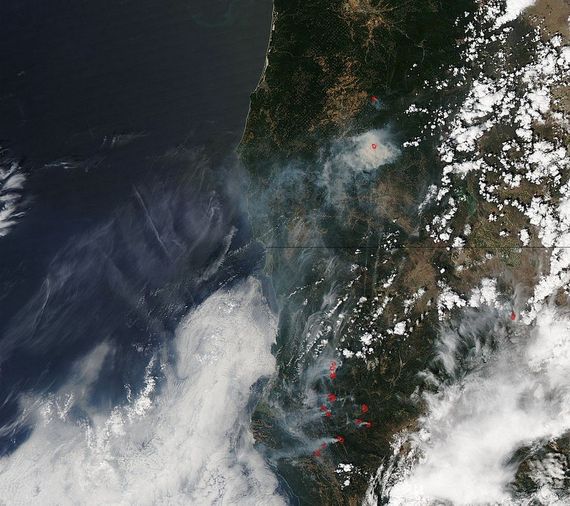 When TIME magazine published the "Top 10 Geopolitical Risks of 2015" at the beginning of this year, foreign affairs columnist Ian Bremmer listed friction in the European Union, Russia's ambitions in Ukraine, China's slowing economy, ISIS and assorted other "geopolitical trends we consider most likely to change our world in the coming year".

Remarkably, climate change and the movement toward an international agreement to combat it did not make the list. Assuming the agreement is achieved and short of nuclear war, it is hard to imagine a more consequential development.
Mr. Bremmer published his list so we could track "market-moving surprises in international politics". There could be some debate about whether a climate treaty 20 years in the making would be a surprise this December when nearly 200 nations meet in Paris. But there can be no doubt that a climate treaty would be "market-moving". In its own predictions this year, Pew Charitable Trusts forecast that clean energy technologies led by solar power will attract more than two-thirds of the nearly $8 trillion the world is expected to spend on new electric capacity by 2030.
Broadly speaking, two interwoven market forces will drive that investment: the need to end energy poverty around the world, and the equally compelling need to reign in climate change by eliminating greenhouse gas pollution. Clean and renewable energy resources hit both targets.
As always, we can expect a lot of heavy international politics to be in play in Paris. In the near term, however, it is not geopolitics but geophysics that should be foremost in the minds of climate negotiators. Diplomats do not have to derive their sense of urgency from computer models anymore. All they have to do is read the news. It makes clear that climate change is here and there is no safe sanctuary.
MYANMAR- The people of central and western Myanmar are struggling to recover from torrential downpours that caused flooding and landslides last June. The disasters killed 100 people and affected 1.3 million. Officials now are trying to clean up contaminated water supplies that are causing diarrhea outbreaks.

PAPUA NEW GUINEA - Prime Minister Peter O'Neill is warning his country that it should prepare for the worst drought in 20 years, a disaster that would affect vital food production. Dry weather, a possible harbinger of drought caused by El Nino, already is affecting the nation. Researchers warn that the number of extreme El Nino events will increase in years ahead due in part to global warming.
ADDIS ABABA - The United Nations reports that 4.5 million Ethiopians will need food aid by the end of 2015 because of inadequate rains. The country needs an additional $230 million of food aid from donors, the UN says.
HAVANA - Suffering from record heat and a year-long drought that is expected to grow worse, Cuba has put its civil defense system on alert. More than 1 million Cubans reportedly are depending on water delivered by truck. The drought already has damaged Cuba's production of cigars, sugar, vegetables, rice, coffee and beans.
SAN SALVADOR - Governments in Central America and the Caribbean are trying to cope with severe drought that has damaged the crops of 1.6 million people. Officials in the regions have declared an agricultural alert to encourage international assistance. The alert follows an announcement by the United Nations that 1 million people in Guatemala alone are facing hunger due to poor harvests as a result of drought.
ZIMBABWE - More than 20,000 people suffering from drought in parts of Manicaland, the second most populated province in Zimbabwe, have fled to parts of the country that still have adequate rainfall. The "climate migrants", whose numbers are growing every year, are building unsafe homes of wood, mud and thatch on fertile lands not meant for habitation. Meantime, the World Food Programme predicts that 1.5 million Zimbabweans will go hungry this year because of smaller maize crops due in part to drought. Maize, a staple in Zimbabwe, is down 53% from the previous growing season. The Zimbabweans are among an estimated 27 million people suffering from drought-connected food insecurity in southern Africa.
SEOUL/BEIJING - Forty people have been killed and thousands stranded by flash floods after heavy rains in North Korea, according to the International Federation of the Red Cross and North Korean media. The floods hit near North Korea's border with China and Russia, forcing more than 11,000 people from their homes.
BOGOTA - Haiti is struggling to feed its 10.4 million people because of severe drought that has produced acute water shortages. Harvests have shriveled and food prices have increased, already forcing 600,000 Haitians onto international food aid. The number of people needing food security approaches 30 percent of Haiti's population.
TORONTO - The world's inability to manage climate change is contributing to increased political stability and unrest worldwide, according to Columbia University professor Marc Levy, who conducts research for U.S. government agencies. Speaking at a global security forum, Levy said that record drought in Syria between 2006 and 2010 crippled agriculture there, caused jobless rural residents to move to cities, and resulted in greater dissatisfaction with the government. Levy said that some of the refugees trying to reach Europe from Syria, Iraq, Afghanistan and Sudan are fleeing from climate stressed lands.

CAPE CANAVERAL - World sea levels have gone up an average of nearly 3 inches over the last 13 years because of warmer waters and melting ice, a group of NASA scientists has reported. Sea levels are rising faster than in the past and are likely to rise even faster in the future, they said, including a significant increase on the West Coast of the United States over the next two decades.
SHANGHAI - Transportation by air, rail and sea was disrupted in eastern China recently due to one of the most powerful typhoons to strike the area in decades. More than 1 million people were forced to evacuate from two provinces. All commercial flights from the provinces were cancelled and 51,000 ships were forced back to shore as wind speeds reached more than 100 miles an hour.
THAILAND - In the grip of its worst drought in more than a decade, Thailand is contending with water shortages to irrigate its rice fields. Water rationing is underway in nearly a third of the country. Fighting has broken out between farmers competing for water from a small canal in a province near Bangkok.
OSLO - Scientists have released findings of an upward trend in unprecedented hazards from heat waves and intense downpours due to warmer air. Researchers found there were more record rainstorms from 1981 to 2010 than should have been expected based on records going back to 1900. The year with the most record events was 2010 when tropical storm Hermine lashed Texas and 2,000 people were killed by flooding in Pakistan. Southeast Asia suffered the largest increase in extreme weather, followed by Europe.
BANGLADESH - Tens of thousands of people were marooned and at least 23 killed earlier this year by flash floods and landslides caused by heavy rain in southeastern Bangladesh. Officials said that India, Bangladesh and China are at most risk from flooding rivers due to climate change and economic development in low-lying regions.
UNITED STATES - In August, 88 large active wildfires fueled by drought conditions were underway in 10 states including Idaho, Washington, California, Montana and Oregon. By mid-September, more than 8.2 million acres were burned by wildfires nationwide, an area larger than the state of Maryland. Fires in California reached "post apocalyptic" levels of destruction, displacing thousands of people, destroying hundreds of homes and damaging five large power plants. Weather forecasters predict that fire danger will get even worse this fall in California and the Pacific Northwest.
Meantime, at least 9 people were reported dead after intense rainfall caused flash floods on the Arizona-Utah border this week. Earlier this year, Texas and Oklahoma experienced record-breaking floods caused by heavy rain. Firefighters performed more than 500 water rescues in Houston alone. The flooding followed studies that showed precipitation totals increased 10 percent in east Texas over the last century, and parts of Texas can expect extreme precipitation to increase as much as 30 percent by mid-century.
Floods, some of them deadly, also occurred in South Dakota, Wisconsin, Arizona, Florida, Ohio, Kentucky, Louisiana, Nebraska, Maine, and Massachusetts in 2015.
That has been the weather so far this year on the road to Paris. It represents only a small sample of what the world will experience unless geopolitics finally give way to geophysical realities this December.
Photo: A NASA satellite captured this image of smoke from just one of the fires that burned earlier this year in California, this one near the San Bernardino National Forest.
Calling all HuffPost superfans!
Sign up for membership to become a founding member and help shape HuffPost's next chapter