According to a survey, 46 percent of small businesses don't have a website.
Shocking, isn't it? You would have expected that the ever-growing need for an online presence would have geared small businesses to jump at it.
To combat this problem, entrepreneurs who are interested in owning their own websites came up with different solutions. One of these solutions is to start off small on social media, then build a client-base to fund the new website. Another is to wait until they're able to raise the money or get another job to finance the cost.
But what if there were an easier way? Something more cost effective. Something that would not require you to hire more than one person to get the job done. Something that will enable you to set up your website with all the functionalities, design and features you'd ever need. Something that could be up and ready in a couple of days.
Neta Talmor understood the anxiety, frustration and overwhelm entrepreneurs go through to set up their own websites. She was aware of how long they would have to wait before the website is ready for use as well as the high cost of creating a website that will meet all their needs.
As a serial solopreneur with a passion of creating innovative solution-oriented products, she came up with the idea of creating a product that would include everything an entrepreneur would ever ask for in a website - No Hassle Website was born.
"I have been an entrepreneur my entire adult life and I built over 100 websites along the way for myself."

In fact, Neta owns several businesses, her main ones being Glow Bug Cloth Diapers, one of the leading cloth diapers brand around, where she's the co-owner, and No Hassle Website. She's also working on launching the No Hassel Membership & Course Website Builder.
No Hassle Website is a professional website in a box with built-in functionalities and features an entrepreneur would need in a website.
How did she come up with the idea of an all-in-one website?
"When I started working one-on-one with solopreneurs on their branding and marketing strategies last year, I realized what a huge challenge, source of frustration and cause of anxiety building a professional website is."
But that was not enough. Neta went deeper to discover what exactly entrepreneurs were looking for in a website that would not only address their need to display their brand in the most professional manner possible but also to help them market their products and services.
She observed that "most were overwhelmed by all the different elements they need to incorporate to market themselves online, like opt-ins, Facebook pixel, webinar platform, landing pages, email autoresponders, etc."
Immediately Neta went to work to create a website that had everything built-in. Something that entrepreneurs would not have to worry about when it comes to what needs to be put in their website.
"I knew exactly what I wanted, how it would look and what it would include, so I just had to create it. Within 3-4 weeks I launched No Hassle Website."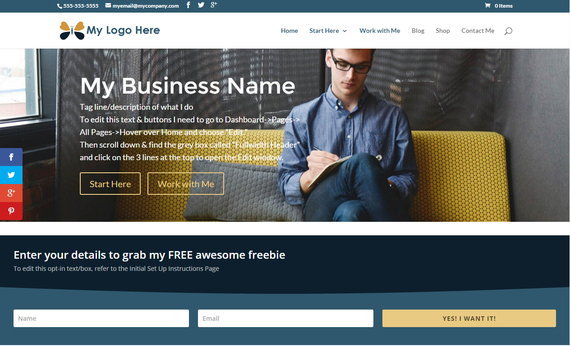 Image Source: Preview of one of the demos of No Hassle Website
This sounds so good to be true, but with No Hassle Website Neta was able to help hundreds of entrepreneurs to have beautiful, flawless and professional websites with the right functionalities to help them in their business.
Neta's drive to help entrepreneurs got her to create something so simple yet so innovative. "I love making things smarter, better, easier and different than what is considered the 'standard' way of doing things."
Her determination, focus and dedication got her to create something that challenges common beliefs.
"My main focus with No Hassle Website was I just did not accept the common narrative that you can't have a professional DIY website, and that you must hire someone, pay $2500 - $5000, wait 6-8 weeks and still not really have everything you need because designers are not marketers! I just didn't buy that 'story' and wanted to offer an alternative that completely challenges that."
When asked what makes No Hassle Website standout from other similar businesses that create websites in a box, she confidently said, "There are actually very few businesses that attempt to do anything similar, and I have yet to find one that combines all the features built in to the No Hassle Website that is so easy to use and quick to complete, and that is available for any price close to the cost of the No Hassle Website, which is only $99."
Could this be the beginning of a revolution in the web design and development industry?
Calling all HuffPost superfans!
Sign up for membership to become a founding member and help shape HuffPost's next chapter