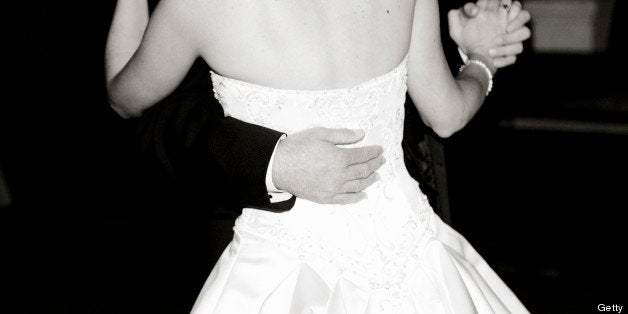 A bride passes through the city at night. It is dark and a little dangerous, but she is certain of her task. Tonight, she is leaving Philadelphia for a very long trip.
The Bible says all weddings should happen at night. Not really, not explicitly, but play along with me for a while.
There is a tension in the darkness. The couple's union, safe and bright, stands in contrast to the gloom. Think of Song of Solomon 3, when the Beloved runs through a sleeping city in search of her husband. When she finds him, she brings him to her mother's house.
Consider the ten virgins in Matthew 25, who wait for the bridegroom with their lamps trimmed and burning. When a faceless voice announces the man's near arrival, five foolish women run to buy more oil. The wise ones who brought extra leave for the feast once the bridegroom arrives.
Two of my friends recently married at Ridley Creek State Park in Pennsylvania. Their ceremony was outside in the daylight. Their reception took place in a grand hall while the sun set.
At approximately 8 p.m., the groom announced that the wedding had concluded -- sorry for such an early close. No, unfortunately there would be no dancing.
The couple had to drive to New York that night so they could catch an early flight in the morning. They were beginning a long journey that would end in Singapore. Their four years as students in the states had come to an end.
I know a little bit about weddings from the colossal industry that has sprouted in recent decades. There are shows, magazines, special stores, planners. With so much coverage, it is easy to get lost in the details of the day.
My friends' wedding -- modest and heartfelt in its execution -- reminded me that these celebrations cannot be made or broken by their details. These days allegorize God's relationship with his Church in flesh and blood and in real time. They instruct without pretension, speak the truth in humble love.
There were a few more laughs, an illicit dance party. Then, after their guests departed, the bride and groom got ready to leave. In the blue-black night, the beloved gathered her train, and the lover opened her car door. Passing through the sober darkness, they arrived at their hotel. Before the next sunrise, my friends left America.
When I saw them, I thought of Scripture. I remembered the bridegroom who comes at night. I thought of the women with their lamps. In my mind, they were dressed in white.
Calling all HuffPost superfans!
Sign up for membership to become a founding member and help shape HuffPost's next chapter