"No road is long with good company." Turks said this best and I couldn't agree more. I don't believe this is meant only for traveling, it is also meant for life. Isn't that the truth? A good co-worker, a loving mate, your kids, family, pets, friends... life is just better with good company. With this thought, my sister and I started a little tradition where we venture out on our own and get away for a small sisters' trip every year.
I love to travel and we share this passion equally and get along better then most travel mates. My sister is also my best friend. I don't have many friends and sometimes realize the reason is her. Not her fault, but her gift to me. She is always there and always supporting my crazy ideas no matter what time of day I deliver them to her.
Let's go back a little. Our parents, retired officially this year into a small coastal town in Turkey, Kusadasi. For those of you that do not know Turkey, it is probably the most beautiful part of Turkey. The coast line of the Aegean facing the Greek side. If you are looking for historical artifacts, this is your place. If you are looking for natural beauty, well... this is it. We were looking for spending time with our parents while getting away from the hustle and bustle of our two very busy lives. We didn't plan an itinerary and had absolutely nothing to do other than walk around and spend time with these two lovely people.
We flew Turkish Airlines. Direct flights leave at around 11 pm from IAD and get you to Istanbul in under 10 hours. We connected in Istanbul and flew another hour into Izmir. Turkish Airlines! What can I say. While we flew economy, other than not making light speed travel possible, I have nothing to say that could have made our travel easier. Clean cabins? Check. Nice and friendly staff? Check. Entertainment? Check. Clean blankets and pillows? Check. Great food? Awesome food? Check. Yeah even in an airplane Turks know how to feed you. Misery from flying 10 hours? Check. Thinking the size of those seats can accommodate healthy Turkish booties? Misguided and uninformed. I am still sore from sitting that long on those seats. Lol!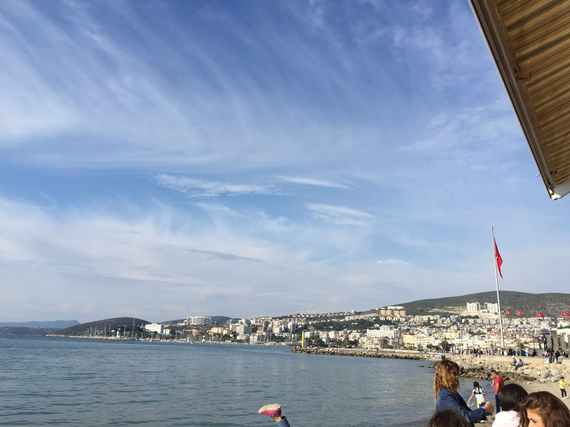 We arrived a day after leaving to find the cutest parents in the world and the best cooking ready for us to devour some more delicious food. I must have gained 10 lbs on this trip. Their home is quaint and lovely with a huge balcony that we occupied until 5 am almost every night. Poor neighbors. My father's garden was beautiful and we watched him attend to each plant as if it was the only plant in his garden. He talks to them and pets then hourly.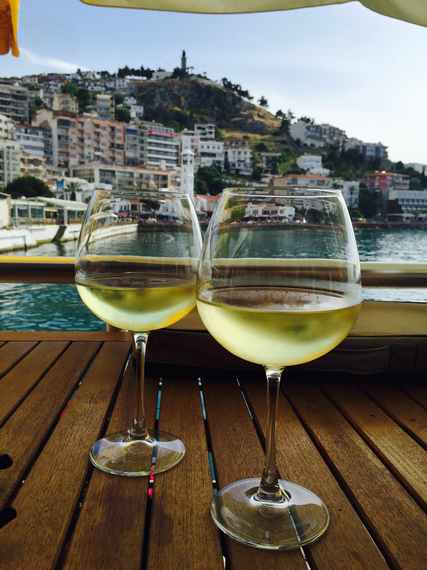 We did manage to get out into the "Merkez", the city center to do some shopping the next morning. We are two sisters who can single-handedly find the best stops in any town we visit for shopping, food and wine. We did exactly that. We went to tiny village mountain tops and had family style breakfasts, went to ateliers where porcelain was hand painted by local artists and found the best wine sipping spots off the beaten path. We even made a few feline friends on the way.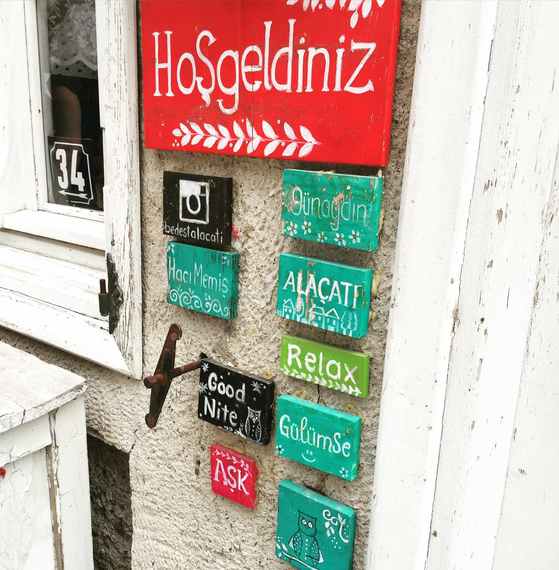 When we thought our vacation couldn't be better, we ended up meeting and connecting with cousins we forgot we had. Spent a day with one such person in Alacati. It turns out Alacati is a world famous spot for windsurfing due to its favorable climate. I fell in love with Alacati and its narrow streets lined with chairs and tables for lounging and drinking with friends. The summer tourist season had not started so the city was not crowded and the people were local. I left a bit of my heart there.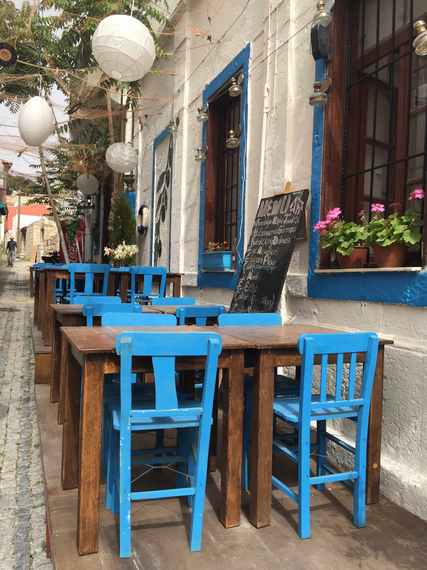 After 8 days, while time flew, the yearning for my family overrode the love of the Turkish Coast. I had to head home and couldn't wait to show the kiddos all the cute things I picked up on the way.
I have to say, my friends were worried that I was headed to Turkey after hearing about street bombings that took place only weeks earlier. I told them what I would tell anyone. My life is not dictated by fear. It is directed by love and love my dears, was a part of every minute of this week. In love you find great company, wonderful memories and adventures. Fear? Well, if I was dictated by fear, none of this would have happened. So journey on, and if you find great company on your road, embrace her and go a little further. Life is too short not to.