I've still got chills thinking about the week that began Monday, Feb. 9. When I woke up that Monday at 5 a.m., it finally hit me: I was about to witness same-sex couples say their vows and be legally wed in Birmingham, Alabama.
When I got to the courthouse, gallons of coffee in tow, I paused for a moment in Linn Park where organizers had planned a marriage celebration event complete with wedding arches, officiants galore, and, of course, wedding cupcakes. After soaking it all in, I walked around to the street-facing side of the courthouse where a press conference had just concluded.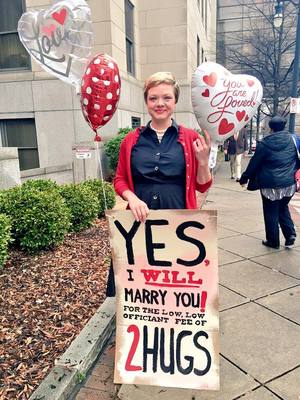 I spotted my dear friend, Alicia Roden, dressed to the nines carrying Valentine's Day balloons and an adorable hand-made sign. "Yes, I will marry you," the sign said, "for the low, low officiant fee of 2 hugs." I immediately asked if I could take her picture and share it. "Adorbs," I wrote on Facebook.
You see, over the weekend, some probate judges, emboldened by Alabama Supreme Court Chief Justice Roy Moore, had created mass confusion saying they wouldn't follow the federal district court ruling. Alicia's sign hit home for me because it pushed back against that narrative, embodying the true spirit of that day: people helping people (often strangers) out of love and community.
That evening someone told us the picture was sitting atop Reddit and had more than 200,000 views on imgur. The following day, it had more than 2 million views.
Alicia and I were talking about what it meant for her image to go viral, and she told me, "I've wrestled a lot as a designer, artist, writer -- maybe just as a human -- with what more I could be doing, how I could have some genuine impact on the people and issues that are meaningful to me. Just wake up every day, make an effort for something you know is right, give someone else love and encouragement and that will eventually be 'doing enough.'"
That's my Alabama. I grow weary of opinion writers and pundits and activists from everywhere but Alabama spewing unhelpful, uninformed drivel about our state. I confess that we're an easy target due to past transgressions. But much of the critique is hypocritical.
Alabama Gov. Robert Bentley has done very little to fight marriage equality, aside from issuing a couple toothless statements. Yet those statements are offered as proof that Alabama is stuck in the past. Yet when New Jersey Gov. Chris Christie lost the state's request for a stay late in 2013, he was heralded as some kind of gift to the GOP. "Governor Christie did the right thing," the Human Rights Campaign declared.
Meanwhile, just a few months later, HRC said, "the only thing 'complicating' the execution of the law in Alabama is the stonewalling of individuals like Justice Moore, Gov. Bentley, and the probate judges who are refusing to follow the binding implications of a federal court ruling." I think it's fair to ask how this is helpful. I digress.
Each day, more and more courthouses began issuing marriage licenses to same-sex couples. By Friday, the number of counties outright refusing to issue marriage licenses to same-sex couples along was six out of 67 -- a complete flip from Monday.
The incredible week concluded Sunday, Feb. 15 (the day after Valentine's Day) with the 17th Annual Vigil for Victims of Hate and Violence. Where the other six days of the week were celebratory, Sunday was somber. The Vigil has been held every year since Billy Jack Gaither was murdered in 1999. Two men beat Gaither with an ax handle, slit his throat, threw his body on a pile of tires and set it on fire in Sylacauga, Ala., because he was gay.
In a way it's fitting that marriage equality came to the Yellowhammer State the same week as the Vigil. There's a stark contrast in tone and substance, at the end of the day, both events are about a community bound by love, determined not to give up in spite of odious supreme court justices, ignorant probate judges, or violent hate crimes.
Rep. Patricia Todd, Alabama's first and only openly gay lawmaker, and Jacob H. Ezell, a student at the University of North Alabama, were honored during the ceremony by Equality Alabama. Todd was elected in 2006, the same year the Sanctity of Marriage Amendment passed with 81 percent support. She's miraculously managed to keep anti-gay legislation from passing in one of the most conservative states in the union, while less conservative states pass more and more.
Jacob Ezell represents the new generation growing into leadership roles. A social work student at UNA, he has successfully championed gender-neutral restrooms on campus and established a program to raise awareness of sexual assault and rape.
"I am honored to be called an activist," he told me. "Many of my role models are activists." He believes the LGBTQ movement needs to focus on transgender rights now that the marriage fight is winding down.
"I believe that the title 'activist' is not one to be used lightly; for me, it must be earned. When I first realized that I wanted to be a trans* rights activists, I also realized that I could not call myself one unless I actually put in the work."
There is plenty of work to be done here, but Alabamians deserve to be proud for once, and to honor those who've come before us and who will come after. We'll never forget this past week, and let's never fail to put in the work going forward.
REAL LIFE. REAL NEWS. REAL VOICES.
Help us tell more of the stories that matter from voices that too often remain unheard.