This is the second installment of a three-part series. You can read the first part here.
General Foley Stadium is where the Worcester high school football teams play. I can picture the scene on Friday nights: traffic backed up on Chandler Street, teenagers trying to be slick with their beer chugging in the small parking lot, friends congregating in the small concourse, hot dogs and nachos and Gatorade for sale, popularity dictating seating arrangement, freshmen embarrassed to be sitting with their parents, seniors unaware that their concept of fun will not always remain slickly chugging beers in a small parking lot before watching your classmates try to finally beat the team from two towns over.
The field, with its abstract collection of painted lines for different sports, sits at the bottom of Newton Hill, one of the city's seven hills. There's only seating on the field's south side, a tall set of bleachers. Sitting in the bleachers, looking North past the baseball field and up at Newton Hill, when green Summer leaves turn into brown, red, golden Autumn leaves and the sun sets in the west and everything glows--I can picture the scene. I won't soon forget.
When I arrived, just before four on Saturday, the World Cup was on its second day. Kenya was playing Ecuador, the last game before the quarterfinals. The small parking lot across the street was almost full, so was the concourse. Instead of hot dogs and nachos, there were foldout tables at the entrance with fare from represented countries. Today: Caribbean beef patties. Tomorrow: tacos, burritos, and ceviche. While there were still groups of teenagers hovering around, the crowd is mostly families. If football games feel like festivals, the World Cup feels like a fair. Less debauchery, more wholesome fun. There was even a bouncy castle east of the bleachers. Further east was a face-painting station. All around toddlers and preteens, face paint smeared and runny, wondered the stands. I found one of the principle organizers, Kevin Ksen, sitting underneath a tent close to the bouncy castle. He gave me a smile and a gold-paper program.

The gold-paper program names the World Cup Organizing Team, a list 25 deep. Last names on the list range from Abdulahad to Suroviak, Kalombo to O'Leary. The volunteers are easy to recognize. They all wear the expression typical of volunteers on their seventh hour of doing good. Theirs is a happy and fulfilling exhaustion. Their constant smiles slight and sincere.
Kevin introduces me to a few volunteers. There's Jermaine, a Jamaican electrician, who moved to Worcester with his mom more than 10 years ago; Jermaine helps the World Cup with all things electric. There's Manny, from El Salvador, who joined CETS when he was seven and is now seventeen; Manny runs the scoreboard. There's Laura, the person I saw hurrying around the most, who moved to Worcester almost two decades ago for college and decided to hang around. In her sunglasses, Laura appears the most happily exhausted. She also appears the one most responsible for how the event proceeds. Most times I see her she's waving somebody down. She doesn't want to talk about herself. Because that's not what this weekend is about.

What is this weekend about? When I spoke with Laura, Jermaine and Manny, I received the same to-good-to-be-true answer. This weekend is about, simply, bringing people together. The phrase "this is what soccer does" was used more than once.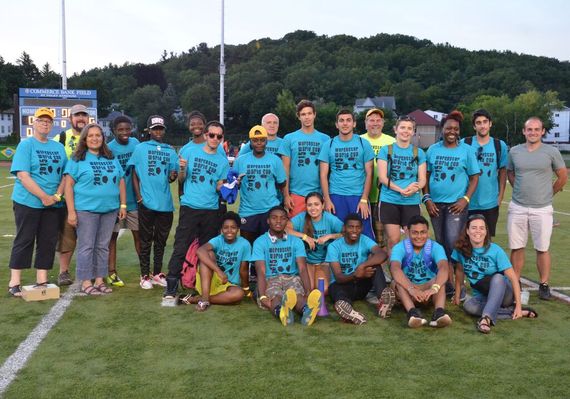 In Chicago, an event like this -- a community-organized all-day weekend-long end-of-summer event centered around sports and bringing people together -- almost always has an anti-violence, or anti-drug, or stay-in-school caveat. Put rival gang members on the same basketball team and see if the magic of sports brings peace to the community. When I asked the volunteers about ulterior motives, it's clear that I'm an outsider. It's clear that I've been making up my own narrative for the city.
There's nothing here. I think I heard a friend talking about how dangerous Worcester is. There must be violence and drugs overflowing the streets. This is a forgotten city. I think I heard a friend saying there is a lot of drug-related crime in the area. There's nothing here.
So, I asked, what's the point? What problems is the Worcester World Cup solving?
Here's the explanation I received: Imagine you're looking to start a new life in a new country. Your home country is suffering through political turmoil that has turned violent. Or your parents got divorced and your mom wants to go live with her cousin in America, she wants to take you with her. Or your brother is living in America and has a good-paying job lined up for you. Or your boyfriend dumps you. Or you just want to experience something different. Whatever the reason, you leave your home country and move to Central Massachusetts. You move to Worcester. If you're a refugee, you'll probably be placed in a neighborhood with other refugees from your country. If you're moving to Worcester to live with your aunt, there's a good chance your aunt moved to a certain neighborhood because she heard that's where the Ghanaians lived, the Armenians lived, the Liberians, Iraqis, Jamaicans, Salvadorans. This ethnic clumping, as it was explained to me, is the problem.

Photos courtesy of me and Kevin Ksen.