This is the final installment of a three-part series. You can read the first two parts here and here.
I first thought of the World Cup's primary goal as a spiritual one; bringing souls together through soccer; allowing the Kenyans to see the Ecuadorians as human beings.
In reality, the World Cup serves a pragmatic purpose.
Seventeen different countries were represented this year. There was a sixteen-team men's bracket. The women's bracket was three teams. Portugal was the only women's country not also represented in the men's bracket. The number of participating countries changes slightly from year to year. Let's just say around twenty each year.
The World Cup ensures that once a year twenty different countries are encouraged to mingle.

Make the hidden visible. Bring the hidden together. Maybe the hidden will become friends.
I spent the entire afternoon trying to complicate the equation. I was adding, multiplying, and dividing history, trends, demographics, and statistics.
I expected Worcester to speak to America's misfortunes. I expected the World Cup to have higher stakes. I expected the Ecuadorans to feel like they lost something precious after Kenya went up 5-0 in the second half.
I expected everything to be something it wasn't.
Ghana and El Salvador took the field. Ghana was looking to three-peat as champions. The Ghanaian community in Worcester is established. The El Salvadorans are established also. Only the women, however, have won a Worcester World Cup. El Salvador will have to wait until next year; Ghana wins in penalty kicks. When Liberia and Nigeria set up for kickoff, the Ghanaians are still celebrating and dancing near the bleachers. A few fans brought drums. They aren't gloating. They offer hugs to their opponents.
Liberia beat Nigeria. Tomorrow they have Ghana in the semifinal.
Before I left, Kevin introduced me to a Ghanaian coach.
Prince Ofosu moved to Worcester in 2001. He played his high school ball up the road at South High. He played collegiately at UMass-Amherst. I wanted him to give me dirt on the city the volunteers wouldn't reveal. We had a short conversation about how great Worcester is, how the World Cup introduced him to members of other immigrant communities, how he wants to move back to Ghana and start his own business, how Worcester is home. No dirt came. We shook hands. I packed up and left.
Once I was back on the Mass Turnpike and the hills hid Worcester in my rearview--it hit me.
I figured out what Worcester is.
Worcester is a nice place.
After all that, that's it.
That realization isn't as simple as it seems.
If you're like me, you find it hard to believe in nice places. If you're like me, you find it hard to trust innocence. If you're like me, you'll drive to a small industrial city hidden in Central Massachusetts and look for decay. You'll look for horror. And if all you're looking for is horror and decay, you'll likely find it.
Then, hopefully, if you're like me, you'll stop looking so hard. You'll just see bleachers sprinkled with supporters and the sounds of drums. Over there you'll see a baby fall down. Her mother will pick her up so fast and tenderly that the tears don't have time to form, let alone fall. You'll see Liberians laughing with Iraqis. You'll see Liberians recording cellphone videos of Iraqis singing and playing big drums way up in the bleachers. You'll see opponents pick each other off the turf. It'll all be too sweet. It'll be unbelievable.
Tomorrow, August 9, will be the anniversary of Mike Brown's killing. He would've turned 19. There has been so much visible evil in the world over the past year that you'll forgot it's Mike Brown's birthday until you look at the Worcester World Cup program and see a picture of Mike Brown in the bottom-right corner next to BLACK LIVES MATTER.
If you're like me, you'll need to just sit in the stands and watch some soccer.
Ghana didn't three-peat. They lost to Liberia in penalty kicks. Iraq beat Kenya, also in penalty kicks.
Ecuador beat America in the Women's final.
Liberia played Iraq in the Men's.
The Liberians were some of the first refugees to arrive in Worcester. Civil Wars pushed them out of their country. Now Iraqis are coming to Worcester for the first time, fleeing instability back home.
Liberia gets an early lead and Iraq doesn't recover. Liberia wins their fourth World Cup.
You'll leave the hills and feel as if you're taking a secret with you.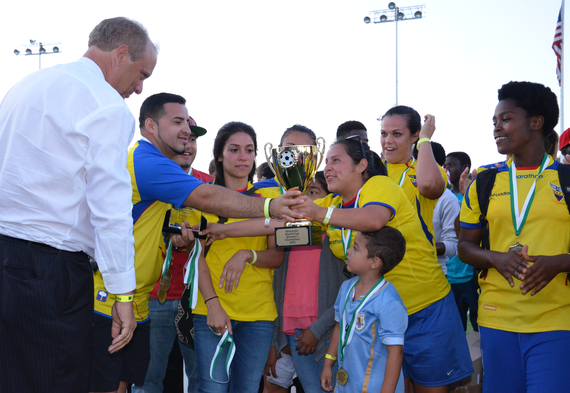 Worcester Mayor, Joseph Petty, and the victorious Ecuadorians.