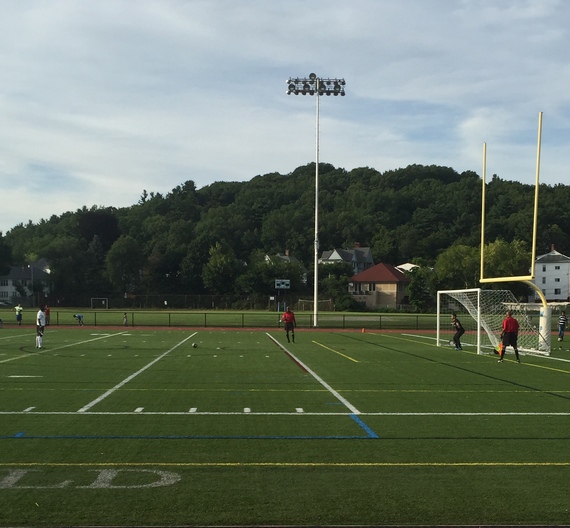 Have you ever driven through Massachusetts in early August? Let me tell you about the every-shade-of-green mountains: they hide things. If you're from a place with actual mountains (I am not), these are probably hills. If you're from a place with actual hills (I am not), these are just sun-blocking verdant mounds running along the Mass Turnpike.
For the sake of this story, let's meet in the middle: let's call them hills; let's talk about what they hide. Specifically, let's talk about the seven hills of Worcester and the Tenth Annual Worcester World Cup, a three-day single-elimination soccer tournament.
The Worcester World Cup is organized by Cultural Exchange Through Soccer (CETS).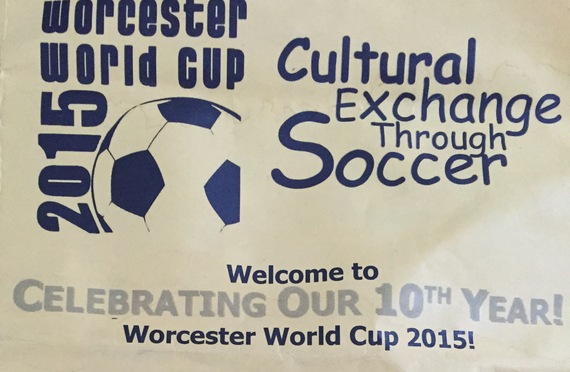 According to the World Cup's gold-paper program, "CETS is a youth/adult volunteer community soccer effort. We play soccer. We get involved in community projects. We promote youth development and youth leadership. We are a mixture of nationalities, ages and backgrounds. We ask our City leaders why they're not fixing and building soccer fields."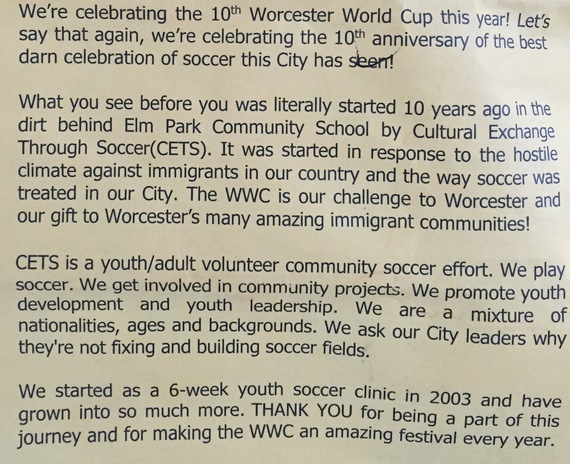 Worcester (pronounced Woos-ter, or Woos-tah, for reasons beyond my schooling) is the second-largest city in New England. If you're coming from the west, exit the Mass Turnpike for I-290 and Worcester appears, seemingly out of nowhere, like a wrongly-placed brick pile, like an industrial secret.
Driving through Worcester feels like driving through any city built around manufacturing, a feeling I can only describe as an overbearing atmosphere of lost significance.
I got off the Mass Turnpike, got onto I-290, and got off I-290 at Kelly Square. At a stoplight, my introduction to the city was a man with dirt-covered hands holding a sign asking for money and help. Saturday-afternoon traffic kept on driving. I followed without rolling down my window.
I moved to Western Massachusetts from Chicago last summer. I grew up in Chicago. I know that expressway exits are strategically the best place for people with dirt-covered hands to hold up signs asking for money and help. Expressway exits are ideal for invisible people demonstrating their existence.
General Foley Stadium is under ten minutes from the expressway. That's where I was headed. I spent that short drive trying to construct a narrative for Worcester from industrial narratives I already knew. trying to familiarize it, trying to figure out what Worcester is.
This feels like Gary, Indiana. This is an obsolete city that wasn't told it would one day turn obsolete. Outsourcing. Closed factories. Unemployment. Crime. General desolation. Best days long in the past. Romanticized suffering. Stoic perseverance.
Potholes represented a broken infrastructure. Sirens exemplified a community in decline. Grey buildings loomed like ghosts.
Before we go any further, here's some info about Worcester you should know, courtesy of the Worcester Historical Museum: in the early part of the 19th century "inventive genius and forward-thinking entrepreneurs" helped turn the century-old town into a manufacturing force while "overcoming the geographic isolation and lack of waterpower that made an unlikely place of an industrial city"; Boston, the largest city in New England, sits an hour towards the sea; the liquid-fuel rocket was invented in Worcester; the Smiley face was invented in Worcester; known as the Heart of the Commonwealth there are tiny red hearts on its flag, seal, and street signs; "for nearly 100 years, Worcester was the center of the commercial valentine industry."
You should also know that, during its initial boom, Worcester's population was primarily foreign-born. European immigrants, as is the case with most industrial cities, came in droves to work the machines. That was over a century ago.
Over the past decade, however, another immigrant wave has increased Worcester's population by nearly six percent, according to a 2014 study by Worcester's Clark University. Over that same amount of time the native-born population decreased by one and a half percent. Worcester's population is currently 20.5 percent foreign-born. Ten percent of that foreign-born population is refugees. According to the study, between 2007-2012, Worcester's refugees came from 24 different counties.
Compared to other major New England cities (Boston, New Haven, Bridgeport, Springfield, and Providence), Worcester is statistically the least diverse. That's if you consider the percentage of white residents vs. the percentage of non-white a basic indicator of diversity. I do. White residents in those other cities make up about 50 percent of the total population. In Worcester, white residents account for almost 70 percent of the total population. If the current demographic trend holds true, that shouldn't be the case for very long. Another way Worcester could represent unease in America: the faces are changing.