By Artie Van Why (avanwhy@aol.com)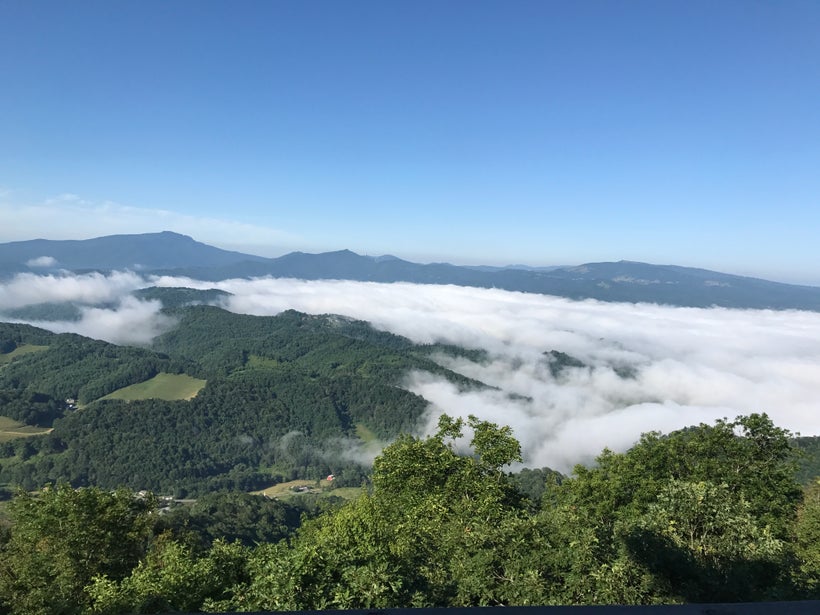 I can only speak for myself; knowing that my living with PTSD differs from all others' experiences. I live with it as a constant companion. So constant that I'm used to the intrusive thoughts, the flashbacks, the anxiety and depression, the desire to isolate.
But I discovered, a few weeks back, that I could take a respite from all of the above. Only for a weekend, but it was a surprising weekend; where there were moments I took pleasure in. Not joy, mind you. That continues to elude me since 9/11. But I found pleasure in the company of good friends, shared memories and times of genuine laughter.
Five college friends of mine and I have been talking (via Facebook) about getting together for a reunion weekend. One friend graciously offered his beautiful home in the mountains of North Carolina as our gathering place. So, after years of discussing it, we finally planned it and that is the weekend I speak of where I found respite.
I chose to drive to North Carolina, but instead of driving the straight 8 hours it would take, I decided to divide it up and left on a Thursday and drove halfway; staying overnight at a hotel.
There is something about the solitude of driving alone in my car that comforts me. It allows me to think through whatever emotions are present at any given time and if need be, to express those emotions; be it through tears or a smile that only I am privy to. There were tears during my trip because I experienced a new traumatic event in April; the passing of my mother. A major loss such as that certainly is a tragedy and a trauma. So, as I drove, many of my thoughts centered around my Mom and my missing her; weeping as I remembered her. And I did have the intrusion of images of 9/11 (as I do almost daily); which bring their own brand of tears.
But I felt as if I were in the safety of a cocoon while driving in my car; with my companion, my service dog, Ranger.
Getting away from home (which was still a home filled with grief) was cathartic for me. So, I was able to take pleasure in being on the open road. And having driven halfway to NC I stayed overnight at a nice hotel. There is something about hotels for me. I love staying in them. I could make a vacation out of going from one hotel to another. So, I was able to enjoy that simple pleasure that night.
I reached my friend's house the next day and one by one the others arrived. The house was situated high in the mountains with a spectacular view one could take in from a huge wrap around deck.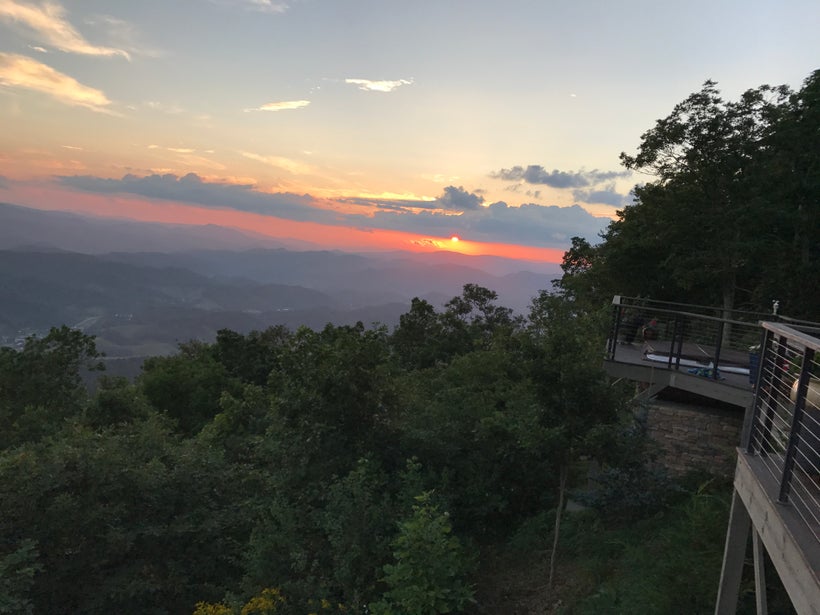 As often is, when old friends or acquaintances meet, we all clicked together almost instantly. And as we sat around a fire pit on that grand deck, the stories of catch up began. I found myself laughing; something I don't do very much of. And was able to focus on the moments; while the thoughts that can cause me to freeze up inside stayed far in the back recesses of my mind.
When talking with one of my friends alone he asked if I'd be open to sharing my story of 9/11 with him and the others later that evening. I'm glad he asked me because it seems people usually shy away from even bringing the subject up. It wouldn't have been upsetting to share my story because 9/11 is a vital chapter in my life. And since we were all sharing moments from our pasts, my past contains witnessing and surviving 9/11.
As it turned out, I never did get to tell my story to them. Not this time. The direction of the conversations just didn't segue way into it. In fact, I spent a great deal of time that night telling a story about another period of my life; which, for me, serves as a reminder that my life is more than just 9/11. At 64, the book of my life journey contains many chapters. 9/11 is, indeed, one of those chapters but it also is the first chapter in the second volume of my life; with volume 1 being pre-9/11.
The weekend lasted Friday through Sunday, but it was an experience of feeling like we had been together a week. And I felt like I'd experienced a week of relaxation.
For once I was able to let my symptoms of PTSD not rule those three days. Oh, the symptoms were there but from Whomever or Whatever I was given the grace to not let them rule me for that brief time.
This was my experience. I know some of those living with PTSD don't ever get such an experience, yet, I would hope they can, at some time, find their own respite; if even for an hour or a day. I've learned that, for myself, I can have moments when the semblance of my life is as close to "normal" as it can be for me. They might be few and far between, but they will always be welcomed.
Calling all HuffPost superfans!
Sign up for membership to become a founding member and help shape HuffPost's next chapter
This post was published on the now-closed HuffPost Contributor platform. Contributors control their own work and posted freely to our site. If you need to flag this entry as abusive,
send us an email
.