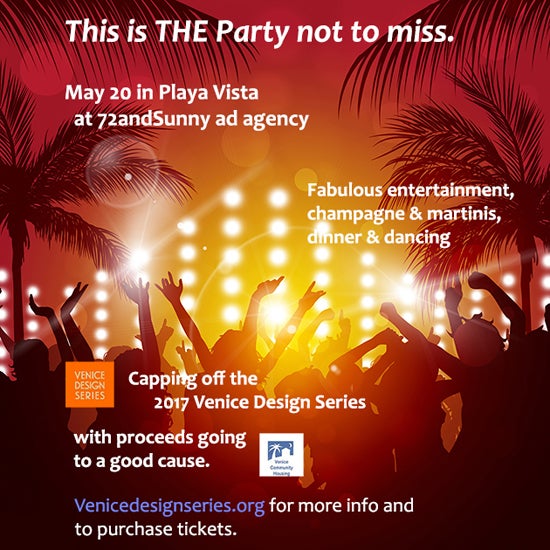 There is always so much to do in the Los Angeles area…this weekend why not take in some art shows or support a great cause? The 2017 Venice Design Series: Architecture + Arts has been taking place all week and concludes with super soiree. THE Party is this Saturday, May 20th and is the final event for the design series. The 3rd Venice Design Series features personalized events in a variety of locations (Venice to Malibu and Culver City), led by leading architects and art patrons. This is all for a good cause...the event will benefit a non-profit called Venice Community Housing. But not to worry. You have not missed your chance to support a wonderful organization. You can find out more about the organization or donate on its website at http://vchcorp.org/
Information on the 2017 Venice Design Series and reservations for events are available at venicedesignseries.org. THE Party will take place at the ad agency 72andSunny, in the former HQ of the Howard Hughes corporation in Playa Vista from 7:00 PM to 10:00 PM. Admission charge: $500. A full bar and gourmet food is included in admission.
A Free event taking place on May 20th….The Poetry of Color is a Los Angeles exhibition of paintings by artist Linda Stelling. The exhibition can be seen May 20–June 3, 2017 at the Artists Corner Gallery, 1546 Highland Avenue, Los Angeles, CA 90028. Opening Reception is Saturday, May 20, 7:00–10:00 PM. Admission is free.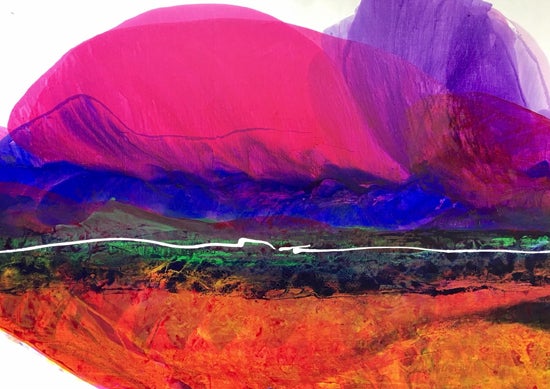 Linda Stelling is a Los Angeles artist who fills her canvases with the poetry of color. The images she conjures up are point and counterpoint to the verse that she writes. Stelling is a visceral artist who also contemplates her inner life on canvas. Phosphorescent, phantasmagorical color pours out of her mind's eye and saturates each of Stelling's artworks.
The painter abstracts figurative images infused with her own bright, incendiary palette. Her curvy, undulating depictions of feathers, flowers, land and seascapes organically tumble together as she reconfigures their shapes. Stelling feels that, "my paintings are meant to instill a psychic vibration. The blending of colors and abstract forms are meant to parallel the dynamics of internal desire, redirecting the viewer from expression to actuality." Don't miss this exciting art event. For more Information: artistscorner.us/linda-stelling/ RSVP Opening Night Reception: gallery@artistscorner.us
One more fun free event taking place on May 21st is an all day celebration in West Hollywood. The USSR exhibition is part of the 16th Annual Russian Arts and Culture Festival. The grand event will take place on Sunday, May 21, 2017. The visitors of the festival will have a chance enjoy art and to sample traditional Russian Food and enjoy fun activities for adults and children. Stope by this Sunday - the Great Hall and Long Hall, 7377 Santa Monica Blvd, West Hollywood, CA 90046 from 11 am - 7 pm. The exhibition will run May 15th to May 27th. Artists to be featured are: Marlaya Charleston, Irina Chelyapov, Jenik Cook, Sandra Cooper, Elize, Lark, Laela, Charlie Patton, and many more.
Since the young age of twelve, Marlaya Charleston has been painting. "I love painting the figure, most especially the full figured female form," said Charleston. At just sixteen, she studied at the The Art Students League in New York City, where she grew up. She frequented The Modern Museum of Art, The Metropolitan Museum of Art, and the Guggenheim Museum often, which kept her passion alive.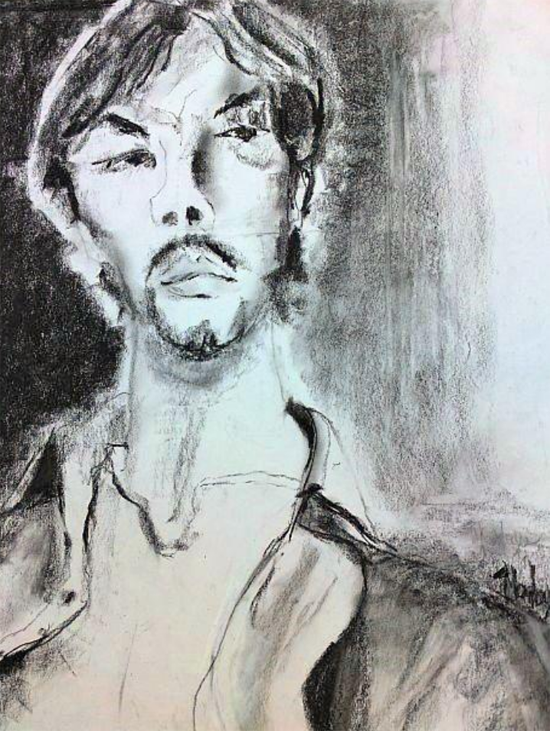 Jenik Cook loves to create. She explores colors, shapes and lines, and the relationships between abstract and figurative styles. She believes art is a universal connector of people and civilizations. "This Idea has motivated and moved me towards the Arts all my life." See https://larkgallery.com/ to find out about the artists.
This weekend will prove to be an excellent time to soak in some art, culture and help out a much needed charity.
REAL LIFE. REAL NEWS. REAL VOICES.
Help us tell more of the stories that matter from voices that too often remain unheard.
This post was published on the now-closed HuffPost Contributor platform. Contributors control their own work and posted freely to our site. If you need to flag this entry as abusive,
send us an email
.