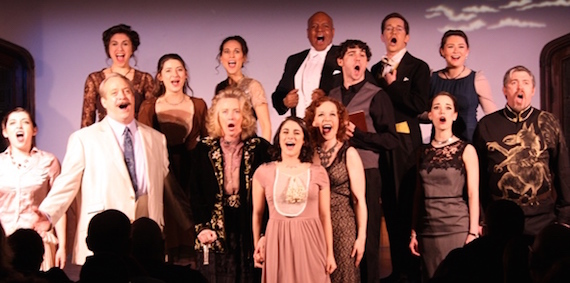 I'm culturally Jewish agnostic who hopes that any God who might exist would be several cuts above earthlings, reputedly created in His image. So one might well ask why I am spending a second Sunday afternoon in a row at the McKinney Chapel at the First Unitarian Society in Brooklyn Heights? Obviously in order to revel for the second time at Theater 2020's latest presentation, A Little Night Music. Theater 2020 is the astounding former Off-Off-Broadway Equity Company which recently relocated in Brooklyn Heights. Why do they always perform in churches? Because no other venue can match a church's blend of exalted acoustics and reasonable rental fees! Also because 2020's miraculous productions prove over and over that creative imagination is more critical to artistic excellence than financial funding ... although more cash in their coffers couldn't hurt.
First things first. Stephen Sondheim's magnificent quasi-operetta, A Little Night Music, was inspired by a romcom-ish early Ingmar Bergman film in which Swedish aristocrats and their baseborn counterparts bridged class barriers during the early 1900's via inappropriate-to-others sexual dalliances. This play about intimacy shines on this small stage thanks to rearranged-by-actors simple wooden seating props, a small blue carpet and clever, versatile lighting. Kevin A. Smith's passionate fingers splendidly fill the chapel with Sondheim's score, which bursts with gloriously hummable melodies and stuns with incisively truthful, sometimes edgy lyrics. However, what carries the day is Judith Jarosz's inspired direction of where-in-the-world-did-she-find-these 14 World Class singers! Psst. She picked the creme de la crème of 200 who auditioned. Sondheim's other works include melodies that are difficult to sing, but Night Music is awash in lilting waltzes, first introduced during the overture by a splendid quintet -- Mary Stewart Evans, Stephanie Jabre, Jay Aubrey Jones, Richard Lisenby and Mary Thorne. As for Jay Aubrey Jones mellow voice, entrancing demeanor and irresistible presence, not enough could ever be said.
The first misaligned pair we meet is the illegitimate teenager Fredrika Armfeld (Gianna Yanelli) and her very warm and likeable Bubbie, Madame Armfeld (Becky Saunders), a successful enough former courtesan to have acquired a tiny Titian from the Duke of Ferrara and deeded a duchy by the Belgian King. Next comes a misguided household trio: our hero, Fredrick Egerman (David Fuller) a widower whose son, Henrik (Christopher J. Nolan), a disposed to despair 19 year old ministerial student son, is only a year older than his father's still-a-virgin-after-8-months-of-marriage stepmother, the beautiful, charming Anne (Chloe Holgate).
Uh oh! Frederick considers how to most profitably spend his afternoon by singing one of Sondheim's cleverest songs, "Now."
Now, as the sweet imbecilities tumble so lavishly onto her lap,
Now, there are two possibilities: A, I could ravish her, B, I could nap.
Which segues into Henrik's morose complaint, "Later," and finally to Anne's lilting "Soon," which touches on her lack of relations with Fredrik.
Admit I'm endearing. I help keep things humming
I'm not domineering. What's one small shortcoming?

The theater wins out over ravishment, but there Oy Vay! Anne wonders why her favorite actress Desiree Armfelt (Lorinne Lampert) keeps looking at Fredrik. Only because he's her former lover and Eureka! Fredrika's Dad! Anne insists on going home, but Fredrik calls on Desiree to ask for a favour which she grants. Desiree is unaware that her current lover, Count Carl-Magnus Malcolm, (Adam A. Baritot) an insanely jealous dragoon, adored by his wife Charlotte (Jessica Rose Futran) to whom he's indifferent, is on his way to surprise her. Charlotte has the best speaking lines in the play, a delivery worthy of Dorothy Parker, and sings the most touching song Sondheim ever wrote, "Every Day A Little Death," which includes sentiments anyone who's ever loved a man has felt.
Men are stupid, men are vain. Love's disgusting, love's insane
A humiliating business. Oh, how true.
More machinations follow before (Elyse Beyer), Anne's maid, belts out another Sondheim perpetual showstopper, "I Shall Marry the Miller's Son," and the clowns all arrive. Be happy.
Everybody gets who he/she really both wants and deserves in the end.
Theatre 2020's A Little Night Music is well worth schlepping to Brooklyn to see, hear and behold. And I'll be there with five of my dearest friends, whom I'm sure will love it as the much the first time and I will the second time around.
All Tickets: $18.00
Last performances Friday and Saturday nights, March 4 and 5th at 8 PM
Sunday Matinee, March 6th at 3 PM
Theater 2020 Visions for a New Millennium
McKinney Chapel of the First Unitarian Church,
116 Pierrepont Street (corner of Monroe Place)
Brooklyn, NY
www.theater2020.com
Photo credit: Judith Jarosz
Related
Popular in the Community