LUOHE, Henan, P.R. China -- Visitors to the zoo in the Luohe People's Park were perturbed recently when the animal on exhibit in the habitat marked "African lion" started barking. It seems zoo officials replaced their lion, currently on loan to a breeding center, with a Tibetan mastiff, which, as far as dogs go, looks more like a lion than a dachshund.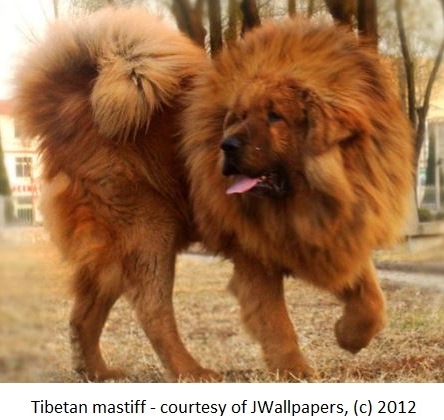 According to reports, the dog-for-lion swap wasn't the only case of phony exhibition at the zoo. There was also a domestic dog in the wolf enclosure and a white fox stood in for a leopard. Henan's Dahe Daily also reported that a pair of rats was on display in the snake enclosure with no signs of serpents anywhere to be found.
While zoo goers fume in Henan, a bit further south at least two Nile crocodiles remain on the loose in Jiangsu province, after a half-dozen of the man-eaters were inadvertently set free to rampage in the city of Shizhuang. Apparently a construction firm, irritated at a property owner's refusal to make room for a planned office development, sent in a wrecking crew under cover of night to demolish walls that enclosed the 17-foot crocodiles, six of which escaped.
According to a resident of the property, "The demolition men came in the middle of the night and there was nothing I could do to stop them. I managed to keep some of the crocodiles contained but six got free and they'll be getting very hungry. Anyone they find will be in great danger."
A police spokesperson said that should anyone be hurt or eaten, the demolition team will be held responsible, and one imagines that must be a great comfort to villagers.
If that's not enough oddity from the world's oldest culture, Chinese authorities in Beijing announced this week that they will cease the practice of harvesting organs for transplantation from executed prisoners. Reuters reports that China will begin phasing out the decades-old practice in November.
"I am confident that before long all accredited hospitals will forfeit the use of prisoner organs," said Huang Jiefu, head of the Health Ministry's organ transplant office.
At the end of 2012, 64% of all organs transplanted in China came from executed prisoners. Despite a recent public awareness campaign and the launch of pilot volunteer organ donor programs in 25 provinces, still some 300,000 Chinese patients per year are waitlisted for donated organs, with no more than 30 transplants per year performed. The 10-thousand-fold shortage of organs from voluntary donors has contributed to the rise of a black market trade in unscrupulously harvested parts that, if it weren't so horribly real, would make for one hell of an action/suspense movie starring Jason Statham and Jet Li.
And speaking of movies, the China Film Group, a state-owned enterprise that governs all foreign film distribution, relented this week in its efforts to withhold $200 million from American motion picture studios. China Film Group had tried to hold back 2% of revenues due to foreign producers as a value-added tax applied to revenues from ticket sales. In a short-lived international standoff, American studios prevailed.
China's central government is powerful -- but not as powerful as Hollywood.
REAL LIFE. REAL NEWS. REAL VOICES.
Help us tell more of the stories that matter from voices that too often remain unheard.