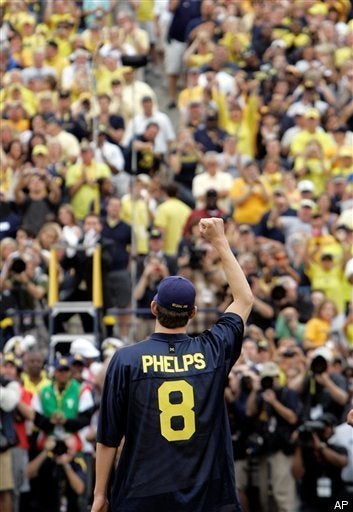 Deeply troubled by the Tyler Clementi tragedy, and other recent suicides on college campuses, I have felt challenged by how to make a difference moving forward.
Throughout my professional career I have been deeply committed to suicide prevention, especially among teens and young adults, with the college transition being a particularly at risk time.
I had a trip planned to see my daughter last weekend in Ann Arbor, at the University of Michigan, and designated some time to learn about the mental health services and support for LGBTQ (Lesbian, Gay, Bi-sexual, Transgender, Queer). In my psychotherapy practice, College with Confidence, I counsel students with an eye for a "good match" and the support services students need at college for any vulnerability/challenge/disability they may have.
University of Michigan is an extremely popular destination for tri-state students. Actually the number of current New Jersey undergrads is 741.
I was given a warm reception at The Spectrum Center, the support office for LGBTQ students. Their mission is defined as:
...with sexual orientation, gender identity and gender expression as our framework, the Spectrum Center is committed to enriching the campus experience and developing students as individuals and as members of communities. Our work is accomplished through student-centered education, outreach, advocacy and support.
I learned about the creation of its first office in 1971, which now has four full-time staff members. I spoke with Will Sherry, one of the assistant directors, who has a Master's in Social Work. Will Sherry talked about the three vigils on three different campus locations for Tyler Clementi and the many other suicides and bullying taking place across the country. He also shared information about the variety of important services Spectrum offers, some of which are coordinated with the counseling center next door. After talking for about a half-hour I felt confident about the depth and breadth of the office and UM's commitment to students, as well as the office's commitment to influencing university policies.
Upon my return to New Jersey, I am committed to educating students, parents, mental health professionals, high school personnel and physicians about depression and identifying and referring students in need of supportive services of all kinds. With teens, I will counsel and educate about the crucial need to reach out for help, being tolerant of differences, and respect in cyberspace. I will continue to learn about supportive colleges and universities. It is definitely a challenge, but I am up for it. I need to find meaning in the suicides of these young people.
Calling all HuffPost superfans!
Sign up for membership to become a founding member and help shape HuffPost's next chapter