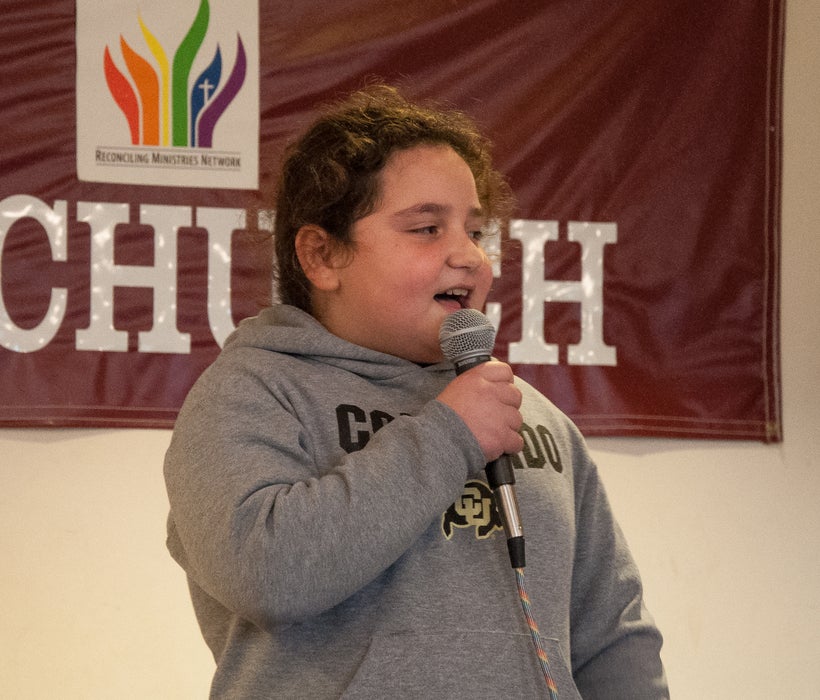 Two months ago, I began volunteering for The South Whidbey Refugee Project, a volunteer group started by a Whidbey Island local, Nancy Roger. Nancy's mission for the project is to be of service to refugees living in the greater Seattle area. The first effort I was part of was to help Nancy, and another volunteer, Mary, organize a welcome luncheon for families that are part of the Muslim Association of Puget Sound (MAPS) community, all of whom reside in Tukwila.
Our vision was to invite our guests, along with members of the local community, to a meeting room at the Langley United Methodist Church. There we would share in a potluck lunch, learn each other's stories and conduct a fundraiser to cover the transportation costs for the families traveling from Tukwila to Whidbey and back.
When the day arrived, Nancy, Mary and I greeted the group of 30 plus refugee families led by the MAPS organizers, Amal and Hazim, at the door. They radiated happiness. Men nodded, women shook our hands and their children, seemingly buoyed by their release from the van, ran past us. Moments later the round tables were filled with all who had gathered.
Nancy, microphone in hand took the stage and opened the event up with a welcome greeting. She then handed her place over to Hazim. Hazim's voice is beautiful, cut from his country of origin, Syria, it belies the atrocities that he and the people he describes have experienced.
From where I stand in the room I can see many of the faces of those gathered—all but the children are quiet. I try in vain to imagine what I hear, apart from news articles and photos, I have little to no reference of Syria. The slide show in my head is of decimated villages. I follow Hazim's gesture to a gentleman seated with his family. His name is Ahmed, we learn he is 70, formerly middle class, briefly retired and what was once home to him, and his six family members, is now rubble. Homeless, they fled to Jordan where they lived in a camp for refugees, four years later they were invited to resettle in the United States—that was less than a year ago.
Hazim continues to unpack similar stories—families whose lives have been upended. However, there is something about Ahmed's story that tugs at me and I find my gaze keeps returning to him. Although we have learned from Hazim that Ahmed literally had to begin again, he appears to be anything but defeated, quite the opposite, he exudes something I can only describe as self-respect. At some point, we lock eyes and exchange smiles.
After Hazim is finished speaking we hear from Amal. Amal came to the United States from Iraq as a student eight years ago, now she works for Microsoft by day, and in her spare time, devotes herself to helping with refugee integration and women's empowerment. Her hijab, a pattern of bright colored butterflies woven into white silk, frames her face, she has a smile that lights up the room. I turn over the words "women's empowerment" in my mind and learn that many of the refugee women are learning to speak English, to drive a car, to work, all skills they had not previously needed. That's when it hits me, many of the women seated are here on their own, children of all ages are scattered around the room, I consider the unbearable losses they have endured. Soon Amal hands the microphone back to Nancy who beckons our guests to gather food from the buffet table and eat—it is then that Ahmed gestures to me.
His voice in my ear sounds strained and I find it difficult to hear him over the collective voices in the room. "I want to speak." He tells me in a rush. "I have things to say to the people," I assure him he will have that opportunity and invite him to first enjoy lunch. He thanks me and joins the others in line with their plates.
Near one of the food tables I see a toddler run her fingers through the frosting of a cupcake, she delights in the sugary cream. Across the room older children sit cross-legged on the stage where they eat and color pictures. I watch as parents corral their little ones, gather food and make their way back to their chairs.
Not long after everyone is re-seated, Hazim's voice once again rings out from the overhead speaker, one of the young girls wants to sing for us. He explains she is from Aleppo. I watch as she takes the microphone, a smile on her lips, a deep breath in her lungs. Her melodic Arabic words reverberate throughout the room and in a split second the universal language of tears follow, undeterred, she sweeps her face dry with the back of her hand, then, another deep breath and her song begins again, she emanates joy. To my right, a woman I assume to be the girl's mother, face in her hands, sobs. She is bookended by women; each encircles her with their arms.
Later, Ahmed takes the stage; he stands tall and I watch as he drinks in the sea of people before him and waits for the silence to return. His halting Arabic fills the room. Hazim translates a message that I now remember as this; "We are a peaceful people, we are not terrorists. We love America. We love Obama. We thank you for your kindness, for your welcome, for this day. Peace be upon you. Thank you."
I have long held the belief that no matter how we worship, where we are from or who we are, in large part we are more similar than different. That lunch for me was a form of confirmation of my convictions. Evidence, if you will, that blossomed in a small church, located on an island northwest of Seattle, Washington—we are human beings —people who opened our hearts to one another and in that discovered something I can only describe as kinship.
And this is the United States I feel part of, one where a community of people fight our own tears and hold space for Ahmed and the little girl from Aleppo who now each find ways to make this country their new home.
A country whose citizens live the words of Emma Lazarus engraved at the base of The Statue of Liberty; "Give me your tired, your poor, your huddled masses yearning to breathe free, the wretched refuse of your teeming shore. Send these, the homeless, tempest-tossed to me, I lift my lamp beside the golden door!"
I will forever remember that day. A day where a group of strangers filled a room with the spirit of the America I know and love. And even now, days later, Ahmed's words swirl around in my mind, As-salamu alaykum—peace be upon you—indeed, may peace be upon us all.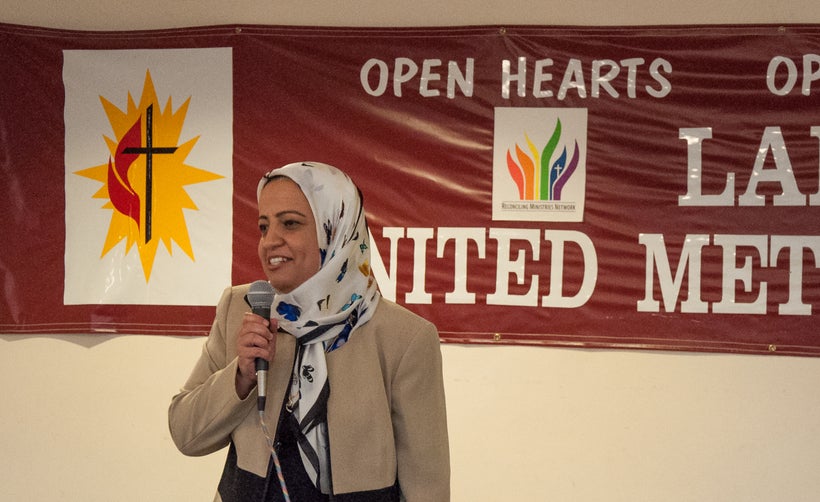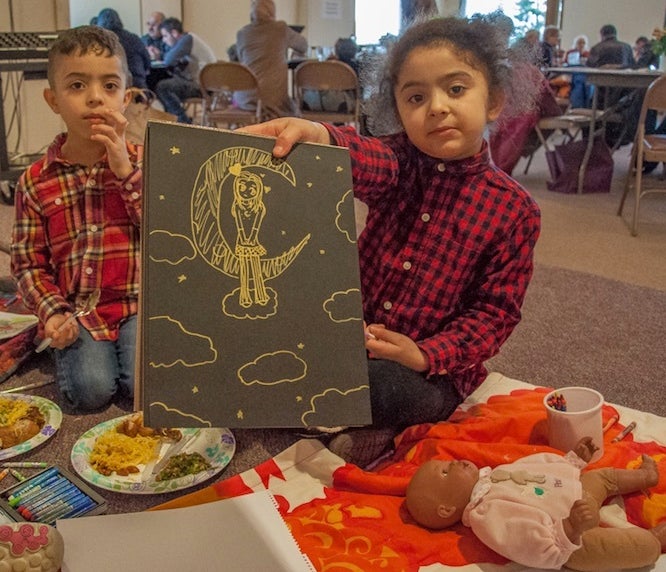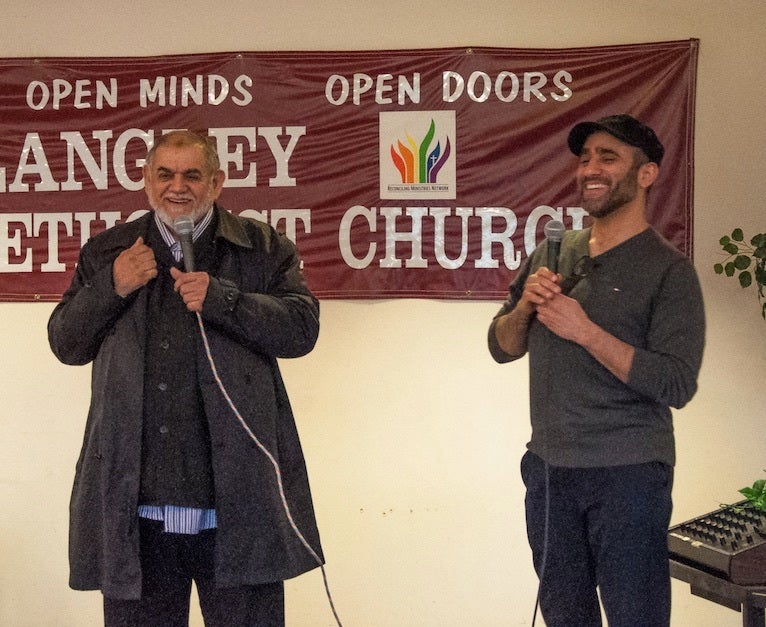 Calling all HuffPost superfans!
Sign up for membership to become a founding member and help shape HuffPost's next chapter
This post was published on the now-closed HuffPost Contributor platform. Contributors control their own work and posted freely to our site. If you need to flag this entry as abusive,
send us an email
.