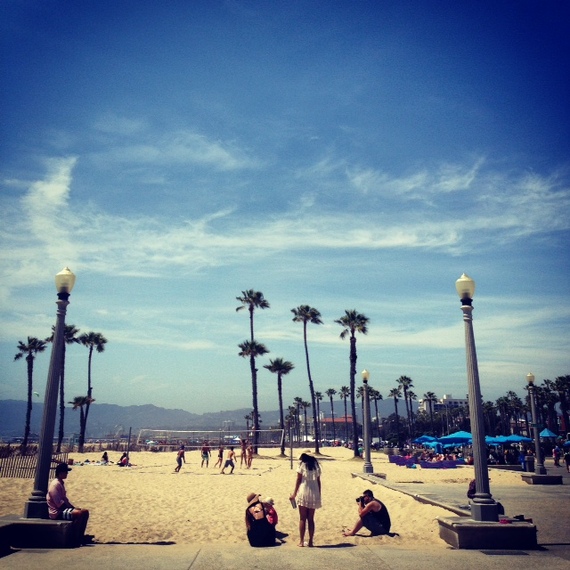 I remember the first time I went to Los Angeles. It was sometime in the early 1990s. As we descended into LAX on the flight from New York that morning, my friend told me to look out the window. I couldn't see much because it was so cloudy. He told me that was normal: that by midday, all that haze would burn off.
We stayed with a woman who'd moved out there from here in the city. She lived in a bungalow-style house on a street in Hollywood I can't remember the name of. Over the course of three days, we did a few fun drives. We took a ride up to Malibu, and at some point one evening we had sushi. One memory from that truly stands out. The sense of wonder I felt the first time I walked into her backyard and saw a lemon tree, with big round yellow pieces of fruit dangling from its limbs.
Over the years, I've watched Chinatown and Melrose Place. I've listened to Tom Petty and The Mamas and the Papas and then, there's Hole.
"Crash and burn, all the stars explode tonight, how'd you get so desperate, how'd you stay alive."
Trips to Los Angeles have featured corn dogs at Hot Dog Stick and brunch in outdoor spaces somewhere in Santa Monica. I've played on the beach in Malibu and thought about the last scene in the original Planet of the Apes. I've driven through south central and wondered about Rodney King.
Mere presence in a desert climate while in the shadows of a snow-covered peak just a few miles away, spells my ongoing romance with Los Angeles; A place so many New Yorkers told me was superficial, the epitome of all the traits that Gotham is supposed to not be.
True enough, by the time I get back to New York City, the one night stands with LA slowly whip back to reality.
My romance with a late afternoon orange and pink sky along the coast simply go to sleep as does my true love affairs with the Pacific waves.
But, the re-entry into New York City after my last trip to Los Angeles has proven more challenging.
I'd gone out west for a work-related conference in Newport Beach. I went a day early, and I stayed in Venice Beach.
I was at my room early that Sunday, so I took bike and headed north on the bike path on what became a whimsical day journey.
That bike trail is named after long time city leader Marvin Braude, a man who happened to have been an avid cyclist.
Braude was born in 1920. He was a Los Angeles city councilman from 1965 to 1997. By the time he died in 2005, the Los Angeles Times called him the "the protector of open space in the Santa Monica Mountains, the father of the city's ban on smoking in public places and an avid cyclist who helped build the Venice Beach bike path."
He essentially trail blazed healthy legislation that after many years got adopted in New York.
While riding towards Santa Monica, I stopped to watch people climb ropes, walk and bounce on tightropes, and swing on bars while others waited patiently for their turn.
I took a few pictures and then, unbeknownst to me, a woman gets on the bike with me. She's laughing, I'm startled, but then I'm laughing, since we don't know each other, but in the end that really didn't matter.
She was with a group of girls from Phoenix, who apparently dared her to mess with me, and I found out she has a seven year old back home.
"Why aren't you over there trying the tight rope?" she asked.
I told her I wanted to try. But, I ask her if she could film me using my phone. She said sure.
I tried and I kept falling. She yelled, "put some effort into it, it's just sand if you fall!"
I kept trying and finally, I made it halfway across and that snippet of footage got posted on Facebook.
A few minutes later, I get a message.
"Are you in Venice Beach?" an old friend who I knew from back in New York wrote.
"Yes," I said. It was, in fact, pretty much last minute, I explained.
I hadn't seen him in person in almost twenty years. He's done well, producing and writing a few television shows. He's coming back to the city this fall, working on his new TV show in Brooklyn.
That Sunday though, he texted me his address.
I pedaled over to his house in Venice. Like my first LA friend in Hollywood, he lives in a sweet bungalow.
After a long visit, I headed back to the bike path and rode to the Santa Monica pier with its amusement park.
I took a few instagram shots of the rollercoaster, the ferris wheel and the other rides against the backdrop of the sea.
As the rumble of the roller coaster competed with the thunder of the waves, another woman grabbed me.
"Hey, would you mind taking some pictures of us?" she asked.
She was young. tall, thin, brown hair and skin wearing a simple flowing white dress. Her boyfriend also had on a white shirt and faded jeans.
They posed. They'd look gazingly into each other's eyes. They walked towards me, as if they were out for a Sunday stroll or a shoot for Macy's, and I was snapping away with the camera.
After around 10 minutes, I said goodbye, and I stood there gazing at those enormous beaches.
Later, after watching a sunset from the roof of my hotel on the beach, I met up with a New York ex-pat who actually had grown up in the LA area and had moved back to Venice Beach a few years ago.
We met for dinner at a place along the beach, still in Venice. By then, all the street musicians and other street chaos had quieted down and you could hear the waves crashing.
We talked about New York and how it's changed: so much more expensive, somewhat sterile in fact, our beloved Manhattan, a bastion for the well moneyed.
"Venice still has a bit of grit, doesn't it?" I asked my friend.
We compared it to the East Village of the early 90's, a place where grit, danger and mystery were hidden around every corner, a community where you could get lost one year, then find yourself the next. Today, bottle service is more common than a junkie in Alphabet City.
"It does, and we're trying to hold on to a piece of it," he said with a laugh.
I told him that later that week, I'd be staying with another pair of New York ex-pats who now lived in Pasadena.
My friend said that Pasadena is where a lot of Los Angeles old East Coast money was headquartered for many years at the turn of the century. He said that at one time, places like Venice Beach were weekend and summer havens for the wealthy.
And,once upon a time, electric trolley cars run by the Pacific Electric Railroad brought them from Pasadena all the way to Santa Monica.
Trolley cars criss-crossed Los Angeles and were part of what was called the "red car system." They were pretty much all gone by 1950, thanks to cars.
"But, you can still find apartments here the old-school way: look for signs in front of people's houses. They might have guest houses in the back or garage apartments," he said.
Later that night, back on my beachside hotel's roof top, we watched as an LAPD helicopter scoured the wide beach with its high-octane search light. The propellers of the machine vibrating caused all the air around to vibrate. It competed with the thunder from the crashing waves, the giant beam looking for something. What it was, my friend and I, will probably never know.
After my conference, I drove a coworker to LAX then made my way to the city center.
Once past downtown, I drove along the vintage interstate highway I-10, with its winding curves and aged simple signage. I finally found my friends' house, after driving over a be-jewelled bridge and past many a mansion that would fit in well back East.
I got to their place. We opened wine, we took photos, and we talked.
"I love New York City, there's just no place like it on earth, and sure I miss the energy and my friends back there," said my friend.
I was feeling especially charmed by California this night.
He said a lot of New Yorkers make themselves feel better by putting Los Angeles down.
And, whose to say that New York doesn't possess it's own deep vein of superficiality?
But, I argued, in New York City, I can walk out onto the sidewalk, see thousands of other people and by mere presence, connect with the heartbeat of an amazing testament to man's ingenuity. We in New York live in a big giant connected community, where the necessity of automobile doesn't exist and despite glaring economic inequity, on the most fundamental level we are all equal as New Yorkers.
"New Yorkers are insecure, because they have to justify all the shit they put up with. Sure, you have to drive everywhere and that sucks. But my God, we get up and make coffee and get into the hot tub and watch the sunrise before we go to work," said my friend.
Around 6:30 that next morning, I hear my friend calling an affectionate nickname he assigned me. "CoCo, time to get up," he said. "Come get in the hot tub."
I stumbled up, put on some trunks he let me borrow and I got into the hot tub. The air felt crisp, the dogs were playing, the coffee was delicious.
I looked out from their hilltop home and saw a big lush valley. I looked off to the west and there was a mountain that, turns out, at its peak is covered by snow.
And, right there, in front of my eyes, was a lemon tree, with big lemons hanging from its branches.
Calling all HuffPost superfans!
Sign up for membership to become a founding member and help shape HuffPost's next chapter