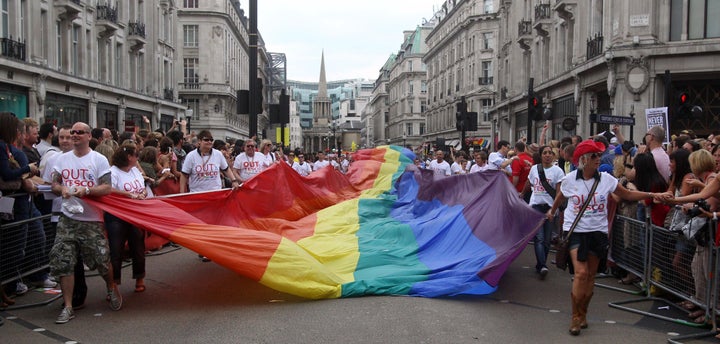 This post was co-authored by Hayley Gorenberg, Lambda Legal's Deputy Legal Director, and Michael Kavey, an attorney and writer in New York who blogs about LGBT youth issues at LGBT Youth Allies.
They showed up to learn. Instead they were spat upon and called vulgar names. They had their lockers vandalized and books urinated upon. They are -- or in the most tragic cases were - -our lesbian, gay, bisexual and transgender youth. At times they lack the most basic legal protections in school.
Two near-simultaneous developments have left many people understandably confused about whether students in New York are protected from harassment and discrimination based on sexual orientation and gender identity. First, New York's highest court held that student safeguards under the state Human Rights Law apply only in some private -- and not in any public -- schools. Then on July 1, after over a decade of advocacy, the Dignity for All Students Act (DASA) finally took effect, providing new anti-harassment protections to public school students.
Here we offer thoughts on what has changed and what more must be done to achieve safe school environments for all students in the state and around the country.
What Does DASA Do?

DASA prohibits discrimination against or harassment of any student in public school, including harassment based on "actual or perceived race, color, weight, national origin, ethnic group, religion, religious practices, disability, sexual orientation, gender, or sex." It defines "gender" to "include a person's gender identity or expression," making it the first New York state law to expressly protect a person from discrimination or harassment for being transgender. And by specifically enumerating "gender identity or expression" and "sexual orientation," DASA brings vital attention and resources to lesbian, gay, bisexual and transgender (LGBT) youth, who face challenges that educators and legislators too often overlook. Studies continue to show that LGBT youth face alarming rates of bullying and harassment at school, often with devastating effects on their education and health. In short, students targeted for harassment based on their sexual orientation and gender identity are far more likely than their peers to miss school and drop out; they are also disproportionately punished in school -- contributing to, among other problems, the dysfunctional "school-to-prison pipeline."
Among DASA's most important provisions are those that engage local communities in the process of advancing civil rights. For example, DASA requires that local boards of education amend student codes of conduct to include comprehensive anti-harassment policies. While localities can tailor policies to their unique needs, all school districts must enumerate the traits listed in the law -- including sexual orientation and gender identity -- as prohibited bases of harassment. And they must create inclusive guidelines for anti-harassment training programs, and implement K through 12 curricula featuring instruction in "respect for others," including lessons in "civility" in relating to people of a different race, sex, gender, religion, or sexual orientation.
How Will DASA Be Enforced?
What if a school district enacts the required policies but ignores them, and allows anti-LGBT or other forms of harassment among students to continue? It is unclear, at this early stage, what the state Department of Education can or will do to address DASA violations. Unfortunately, the statute itself does not provide clear answers about enforcement. Most notably, it lacks a provision specifically authorizing one of the most common and effective forms of civil-rights enforcement: lawsuits for compensatory damages.
We had expected that DASA's protections would operate in tandem with New York Human Rights Law (HRL) Section 296(4). Unlike DASA, the HRL does not regulate the specific content of local policies. Rather, the HRL sets forth a broad prohibition on discriminatory conduct and authorizes a state agency -- the Division of Human Rights -- to enforce that prohibition, including by filing complaints seeking monetary compensation for victims. DASA and HRL Section 296(4) thus had enormous potential to provide mutually reinforcing protections, with DASA requiring that school districts enact strong, inclusive policies, and the HRL adding a financial incentive to ensure the policies actually worked.

Our hopes for HRL Section 296(4) were dashed last month, however, when the state's highest court ruled four-to-three that the HRL's protections apply only to students in nonreligious and tax-exempt private schools. We've each already published our concerns regarding that ruling elsewhere (here and here). That ruling makes questions about DASA's enforcement even more urgent, because public school students can no longer access the HRL's powerful enforcement mechanisms.
Finally, given that discrimination against and harassment of LGBT youth is a crisis of national proportions, Congress must provide a federal response. Civil rights advocates have already secured broad, bipartisan support and the President's endorsement of two bills: the Safe Schools Improvement Act and the Student Non-Discrimination Act.
Comprehensive laws. Effective implementation. Meaningful enforcement. Given what is at stake, we struggle to understand how anyone could oppose having safe, respectful public schools where every student can learn in peace and maximize individual potential.
To find out more about students' rights and to learn what you can do to help make schools safer, download Lambda Legal's Out, Safe & Respected toolkits for students and for parents and educators.
Related
Popular in the Community