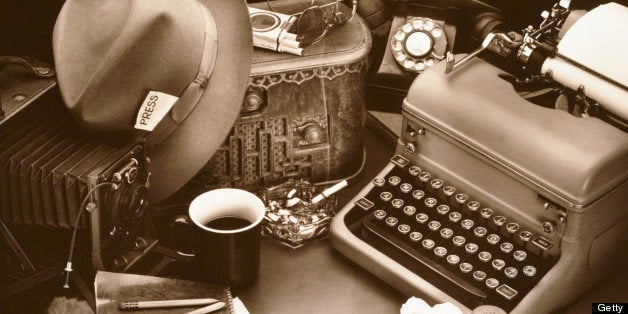 Is journalism as we know it on its last legs?
Some think so. But the evidence is not convincing.
In journalism conferences and blogs, the last-leg school has been gaining currency in the past few months. Its proponents argue that the basic transmission of information has become a cheap commodity -- "anyone with a cell phone and a Twitter account can do it." This information, they say, is seen by everyone -- long before journalistic gatekeepers can try to control it. The bottom line: If there's anything left for journalists to do, it's to attempt to add value by analyzing and retelling what everyone has seen already.
These are quite dramatic claims, and highly questionable. Trends so far offer little basis to expect a change in the fundamentals of the journalistic profession.
One assertion underlying much of the last-legs thinking is that today's journalists, multiskilled as they may be, risk becoming obsolete. In their portrayal of the "networked journalism" of the future in the International Journal of Communication, Bregtje van der Haak, Michael Parks and Manuel Castells say that unless journalists take on much more specialized new roles, they face losing ground "to the robots capable of performing routine data gathering, and to the citizen journalists who constantly retrieve information in real-life situations around them."
Yet robots and citizen journalists have been with us for some time. News companies routinely use automation to handle data and sometimes even to write basic stories. No one underestimates the ubiquity of citizen journalists; as the size of newsrooms declines, journalists are benefiting increasingly from citizen contributions.
But nothing here has changed the journalist's fundamental job of reporting facts from the ground up -- conducting original reporting, day after day, in a disciplined and consistent way. The result is a methodically built credibility that cannot be created by other means. That is why so many citizen reporters bring their work to professional journalists: They know a journalist's credibility will amplify their message.
(Certainly, citizens who suddenly find themselves in the midst of real-life news events can post immediately to social networks. In that sense, thousands of sudden news events "break" first on Twitter. But news items are retweeted most once confirmed by organizations with a reputation for reliability. And traditional media still have their own, original scoops.)
Meanwhile, many journalists have already moved to specialize. They include not only specialized reporters at traditional media companies, but many at small, aggressive startups whose reporting has now reached the Pulitzer Prize level. Certainly these journalists can be considered professionals, too, even if they're not employed by big companies.
This is not to say that journalists are such "privileged translators" of the news, in Clay Shirky's phrase, that no casual reporter can ever enter their ranks. Citizen journalists have produced not only solid exclusives, but thoughtful criticism of the press itself. But full-time journalists learn a lot by training and doing, and these skills are not negligible. Journalists also provide focused coverage of difficult stories that casual reporters rarely can.
Last-legs advocates also say that even if casual reporters and robots bring in the bulk of information, journalists still will exist for their analytical and storytelling skills. But analysis and storytelling cannot be divorced from reporting. The best analysts and storytellers work directly with sources, visit the scenes of events, insist on knowing the story from the ground up. The concept that thoughtful analysis can be created largely from material that comes in from "different feeds from various sources" is akin to saying a superb dinner can be created with whatever comes into the kitchen.
Even if, for the sake of argument, there were a way to write penetrating analyses and retellings with minimal original reporting, that would not reinvent journalism but marginalize it. Lots of people can analyze current events. Universities and think tanks do so all the time. Movie producers do a great job of retelling stories. It's hard to think journalists would have a competitive advantage.
The uniqueness of journalism is that skilled practitioners have mastered three separate skills: reporting a story, analyzing it and conveying it effectively to a broad public. Each stage of the process informs the others. Sawing the skill set apart means each job will be done worse.
Those who predict a massive change in journalism also proceed from the idea that everyone sees everything on social networks. The critical new role for journalists, they believe, consists of sorting out what on those networks is reliable.
"The shift here is, basically, from the media having one major responsibility -- finding, vetting, and sharing new information -- to having another one: guiding an audience that has already been exposed to much more," say John Herrman and Ben Smith of Buzzfeed fame. They add:
"The media's new and unfamiliar job is to provide a framework for understanding the wild, unvetted, and incredibly intoxicating information that its audience will inevitably see -- not to ignore it."
We see terrific value in organizing and curating content on the Internet and social networks, as Buzzfeed and other outlets are doing increasingly. Social networks have become ever more valuable as a check on traditional media and a platform for new voices.
But not everyone does see everything on social networks. According to Pew, on a given day fewer than a fifth of Americans -- and a third of regular social network users -- see news on social media. The vast majority of the population -- as we've said elsewhere -- still expects mainstream media to create a coherent, reliable version of the news that can be consumed in a reasonable time.
A final note. The concept of journalists working as independent nodes in a networked world implies journalists' "liberation from strict corporate control," say Van der Haak and colleagues. But corporations and institutions are not without value in news reporting.
Beyond such institutions' value in the West, in some countries on the edge of authoritarianism the economic strength and legal resources of news companies provide a critical counterweight to government. There, citizen reporters and independent journalists live precariously.
A journalistic system based solely on a "network," without its own centers of power and credibility, could be chillingly easy for authorities to control.
Calling all HuffPost superfans!
Sign up for membership to become a founding member and help shape HuffPost's next chapter