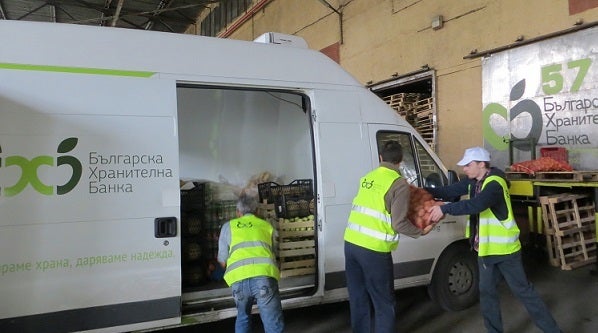 Bulgaria just took a significant step towards alleviating hunger for its most vulnerable people, and it did it in a simultaneously simple and arduous way—tweaking the tax code. While this may seem to be a bit of a wonky subject, the story proves once again the power a small number of individuals can have in shaping our world.
Here in the United States, and in a good many other counties, donations to non-profit organizations are tax-deductible. It is a part of the fabric of what makes our citizens some of the most philanthropic in the world. But policies promoting generosity are not always a forgone conclusion elsewhere. In fact, until recently, food donated to Bulgaria's food bank (yes, that's singular) was not only not tax-deductible, but was actually subject to a 20 percent value-added tax (VAT). This leads to a couple of significant problems. First, companies are faced with a bizarre situation in which it actually makes more financial sense to throw food away than to donate it. Second, it makes operating a food bank in the first place unreasonably difficult.
The issue first got my attention in 2014 when friends of mine at The Global Foodbanking Network, a member of the Alliance to End Hunger, introduced me to the Bulgarian Food Bank (BFB). I was asked to be the keynote speaker in the Bulgarian capital of Sofia for a national prayer breakfast. The event gathered Christians, Jews, Muslims, and a number of high-ranking government officials from the Bulgarian government. I got to know many of them fairly well, and felt my own connection to the country growing. While in Sofia, the Global Foodbanking Network contacted me asking if I would be willing to visit with the country's one and only food bank.
And so I traveled to the Bulgaria Food Bank to meet with the Executive Director of BFB, Tsanka Milanova. Tsanka is on the front lines of Bulgaria's fight against poverty and hunger, and she briefed me on the twofold problem of hunger and waste in her country. Approximately 670,000 tons of food were discarded by producers, supermarkets, and individuals every year, yet one out of five Bulgarians find themselves below the poverty line. Tsanka and BFB saw this as unconscionable. They worked together with a group of tax experts to draft legislation that would significantly reduce the tax burden on donations, and provide incentive to donate food items that are close to their expiry date. Her team tried to present the draft language to the Ministry of Finance and the parliament, but could not find a single person interested in talking to them.
Tsanka's frustration was palpable as she explained their situation to me. Her team was single-handedly trying to change this law, but they had no government connections. This naturally caught my attention, and I told her that I had just spoken to many of these government officials two hours earlier. This coincidental series of events added new life to the quest of Tsanka and BFB, and led to a series of phone calls and emails between the food bank, myself, and various government officials who were finally hearing Tsanka's plea. These communications also gave me the opportunity to speak with Mr. Tsvetan Tsvetanov, a leader of the majority GERB party and influential figure in the country. We spoke at length about barriers facing potential private sector donors and the issues faces by the poor and hungry in Bulgaria.
Phone calls and emails turned into meetings, which eventually turned into actual legislative movement. Then, on October 27 of this year the news broke that allowed Tsanka and the folks at BFB to breathe a sigh of relief. After months and months of hard work, the law had actually changed.
The VAT tax policy now allows companies to donate an amount of food tax free, up to an amount equal to 0.5 percent of a company's "annual turnover," given that the food is within 30 days of its expiration date. While not perfect, the revised law is a jumping off point for further efforts to alleviate Bulgaria's hunger issues, and is proof of mounting public and political will to end hunger in that country.
We will now have to wait and see what kind of significant change this law will have on the Bulgaria Food Bank, and if the country witnesses new food banks popping up. But as long as Tsanka and others like her continue their fight, and we all continue to help these hunger warriors, I have no doubt that we will see an end to hunger in our lifetimes.
Related
Popular in the Community