Co-authored by Jane Badham, a South Africa-based registered dietitian and nutritionist, and managing director at JB Consultancy.
A clear decision was made by leaders at the World Health Assembly's annual meeting last week that could transform the health of millions of children. This breakthrough came in the field of child nutrition - an area in need of urgent action given the 159 million children under-five who are chronically undernourished and the 41 million who are overweight or obese.
What happened?
Member states took a critical step toward protecting breastfeeding and appropriate complementary feeding by officially adopting the World Health Organisation's Guidance on Ending the Inappropriate Promotion of Foods for Infants and Young Children. The resolution, adopted by all 194 countries, enshrines the guidance as a recommendation and urges member states to develop stronger national policies to protect children under-three from marketing practices that are detrimental to their health.
Why was this needed?
The need for strong guidance on the inappropriate promotion of foods to young children comes from a growing body of scientific evidence. First, children as young as three are increasingly getting too much sugar, saturated fat, salt and trans-fatty acids in their diets. Parents are exposed to a great deal of inappropriate marketing that touts poor quality foods, and we're seeing children eat more snack foods, all of which contributes to the world's growing childhood obesity epidemic. Second, evidence shows that exclusive breastfeeding for the first six months of life and continued breastfeeding to two years and beyond has the single largest impact on a child's likelihood of surviving and thriving.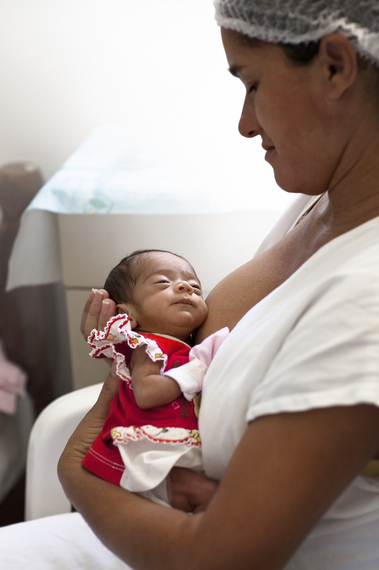 Breastfeeding serves as a child's first immunisation, providing protection from respiratory infections, diarrhoea and other potentially life-threatening illnesses. In short, breastfeeding saves lives. But we could save even more: nearly 12% of all child deaths - or about 800,000 under-five deaths - could be prevented if all children aged 0-23 months were optimally breastfed. Unfortunately, the active and aggressive promotion of breast-milk substitutes continues to undermine breastfeeding around the world.
The inappropriate promotion of infant formula led to the introduction of the International Code on Marketing of Breast-Milk Substitutes (the Code) in 1981 in an effort to regulate industry practices. Subsequent resolutions have been approved to strengthen the Code and close loopholes that companies continue to exploit, including the guidance adopted during the WHA last week - nearly 35 years after the Code was first introduced.
Why is this guidance so important for breastfeeding?
Since the original Code was created in 1981, the breast-milk substitute market has proliferated - current annual sales of around $45 billion are expected to grow to over $70 billion by 2019. Yet over the last three decades, companies have created new categories of breast-milk substitutes, including 'follow-on formula' and 'growing-up milk.' In so many ways, these breast-milk substitutes look like infant formula and are cross-promoted. The research shows that the marketing of any breast-milk substitute can mislead caregivers about the nutrition and health-related qualities of a product, as well as the age-appropriate and safe use of these foods. In this way the inappropriate promotion of these products continues to damage the health and development of millions of children around the world.
Last week's resolution provides clarity to governments and companies producing breast-milk substitutes by reinforcing that the Code covers all products that function as breast-milk substitutes, including follow-on formula and growing-up milk. Hence, none of these products should be promoted; they should be available for those who need them, but not promoted. The guidance also provides evidence-based parameters for the promotion of appropriate foods meant to complement breastfeeding after the age of six months, which often have an important role to play in the diets of young children.
What's next?
Governments must now work to incorporate this latest guidance into their national laws to support the nutrition of their country's young children. The economic, political and social costs of not doing so are simply too great. Globally, the annual cost of not breastfeeding is a staggering $300 billion and the total economic impact of obesity is thought to be $2 trillion per year.
Inaction on the part of national governments can only be seen as putting commercial interests before the interests of children. It is now up to all of us to ensure that these new recommendations are translated into actionable policy at the national level.
Photo credit: Genna Naccache/Save the Children
Related
Popular in the Community