This is a milestone victory for forest conservation and family forest owners across the country, especially Tree Farmers, certified through ATFS.
While this new addition to LEED may sound small, it's actually huge.
All Americans count on the clean water and air, wildlife habitat and wood supply that comes from our forests. In the U.S. the largest share of these forests, more than 282 million acres, are owned by families and individuals, not by the federal government or corporations. The 22 million families and individuals who own these woods, whether they own ten or 100 acres, steward our forests. They protect riparian areas around streams and rivers so that we have clean water. They provide habitat and food for the wildlife that roam their region. They help reduce the chance of a catastrophic wildfire or the spread of invasive diseases in order to protect overall forest health. And, they provide the wood supply that flows into supply chains that later become homes, coffee cups, paper, packaging, and much more.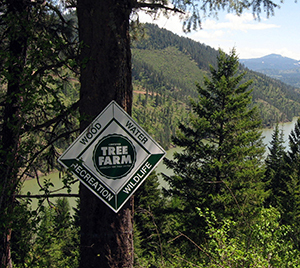 Individuals in ATFS, also known as Tree Farmers, represent the most exceptional of this stewardship. Tree Farmers follow a rigorous set of standards for forest management, and their properties are visited by third-party auditors. The program is celebrating its 75th anniversary this year. Today, it supports nearly 80,000 Tree Farmers, sustainably managing more than 21 million acres of forest and is internationally recognized and endorsed by the global Programme for the Endorsement of Forest Certification (PEFC).
This news, that LEED will now accept wood from ATFS and SFI certified forests, will provide these forest owners with the recognition they deserve for their stewardship, and the markets that can help them continue to keep their forests providing resources.
Markets are critically important to family forest owners and sustainable forestry. Landowners incur costs on an annual basis for management and taxes, yet most do not harvest every year, or even every five years. Markets that want sustainably-managed wood help landowners earn the needed income to replant, restore and keep their land in forests. Without income to cover these costs, family-owned woodlands are at risk of being converted to cotton fields or strip malls.
Today, it is estimated that half the commercial buildings in the U.S. are being built to a green standard. With USGBC joining its competitor Green Globes in recognizing wood from all credible certification systems, forest owners could see an increase in the use of ATFS-certified wood.
In this case, better markets mean more forests.
Ultimately, we know that we will continue to need forest products - for household items, to send packages, to create buildings - and we will continue to need forests - for our drinking water, clean air, and a home for critters. Encouraging the use of sustainable wood, that supports landowners in conservation, truly provides a win-win.
The American Tree Farm System is run by the American Forest Foundation, a forest conservation non-profit.
Calling all HuffPost superfans!
Sign up for membership to become a founding member and help shape HuffPost's next chapter