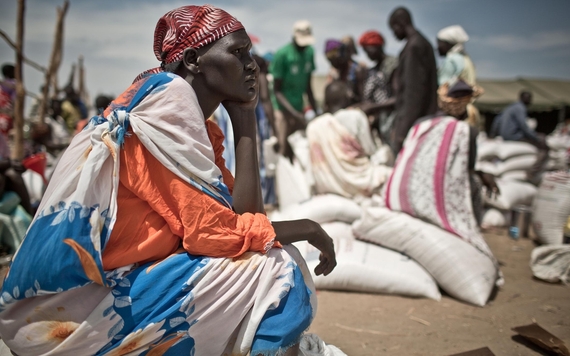 A ceasefire deal offers a glimmer of hope for South Sudan, but world leaders must act quickly to address an emerging humanitarian crisis and secure a path to peace and stability. World leaders are meeting in Oslo this week and the outcome will make all the difference.

Beyond providing vital humanitarian assistance, the US must help the international community to establish unity and demand accountability for war crimes, crimes against humanity, and human rights violations, and to support efforts for long-term reconciliation amongst South Sudanese.

Without such leadership, this ceasefire will only serve as an empty promise to the people of South Sudan.

Due to conflict, more than a third of South Sudan's people -- 3.7 million -- currently live in hunger. More than 200,000 children are suffering from acute malnutrition. Thousands have been killed and over a million people have fled their homes. Those statistics reflect months of violence that have left the country in the midst of a humanitarian catastrophe.

The US and other governments represented in Oslo have spent billions in humanitarian assistance to South Sudan through decades of war and devastation. More recently, investments in South Sudan's longer term development was beginning to transform the lives of millions.

In recent months, Oxfam has been able to help over 180,000 people in South Sudan and 63,000 South Sudanese refugees who fled to Uganda, providing food, access to clean water and sanitation, and household items such as mosquito nets, blankets, cook stoves and charcoal for cooking to those who have been displaced.

But if the ceasefire fails our efforts and others, will not be enough.

Failure of governments to seize upon the recent strides for peace will likely mean that a majority of the population -- 7 million people -- will not have adequate food and will be nearly unreachable for months. The rainy season is beginning, making aid delivery to large parts of the country nearly impossible, with many communities cut off until rains subside and muddy roads begin to dry in October or November.

Most South Sudanese depend on agriculture and livestock for their livelihood. If they can't plant and safely look after their herds, the economic and human damage will be huge. Millions of displaced civilians want to return home. Humanitarian agencies, like Oxfam, want to move aid supplies into areas of need without fear of the violence which has already killed aid workers and civilians. So, despite significant international aid to date, more is needed.

The new nation of South Sudan is at a crossroads, and we cannot miss this significant, yet potentially fleeting, moment to restore and stabilize this fragile nation. The window of opportunity is quickly closing.
REAL LIFE. REAL NEWS. REAL VOICES.
Help us tell more of the stories that matter from voices that too often remain unheard.