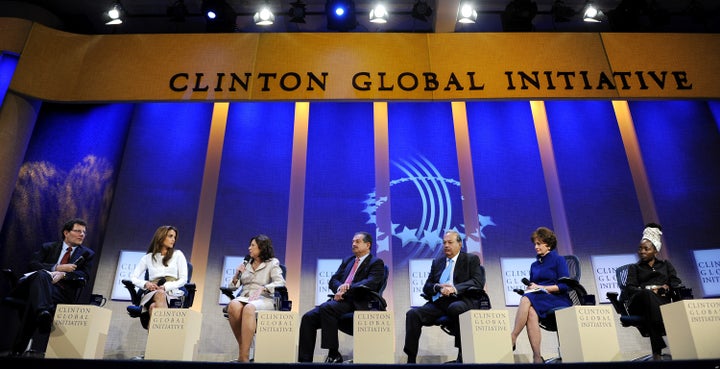 During yesterday's opening of the Clinton Global Initiative (CGI) annual meeting, Secretary of State Hillary Clinton announced a new Global Alliance for Clean Cookstoves, a broad-based, public-private initiative to provide affordable, efficient stoves to 100 million homes around the world by 2020. She was joined by Lisa Jackson of the U.S. Environmental Protection Agency and representatives of the UN Foundation, which will oversee the initiative. As a topic leader of CGI's Girls and Women Action Area this year, and as one who has long been interested in the transformative potential of clean cookstoves and other energy-efficient technologies for women's health, security, development, and the environment (see, for example, these articles from July 2009 and June 2010), it was exciting and rewarding to see this issue take center stage.
The challenges posed by traditional biomass cookstoves have long been known. Every year, nearly two million women and children die prematurely due to smoke inhalation from traditional stoves -- more than die from malaria. Many more contract deadly illnesses like pneumonia and lung cancer. Repeated exposure to cook-smoke also leads to low birthweights and a host of other health problems. According to the World Health Organization, this is the fourth greatest threat to health in developing countries. Moreover, as women must search farther and farther from home for firewood, they are often subjected to sexual violence and other threats to their safety. The time they spend collecting firewood not only puts their safety at risk, but also limits more productive activities like attending school.
Traditional cook stoves also place a double strain on the environment, as trees are depleted for firewood and harmful gases like carbon dioxide, methane, and black carbon are emitted by stoves into the atmosphere. Scientists estimate that traditional cook stoves and fires are the second-leading cause of climate change after industrial emissions.
What was sorely missing until now was an affordable, scalable solution. Thanks to continuing innovation, clean, efficient stoves can cost as little as $25. This might still seem like a lot for those living on $2 a day, but when you factor in the health and productivity costs for poor families of traditional cook stoves, the return on investment of a clean cookstove with a three- to five-year lifespan becomes clearer. The saved money can be used for any variety of things, like paying school fees, buying textbooks, or starting a small business.
The other positive factor in the new cookstove initiative is the breadth and robustness of the partnership behind it. An array of U.S. government agencies is joined by the governments of Germany, Norway, and Peru, international and local NGOs, including several UN agencies, and private corporations like Morgan Stanley and Shell. Of these, the U.S. government will contribute $50 million to the project in the next five years, and other partners will add another $10 million. As Secretary Clinton has already noted, this commitment alone will not eradicate the problem, but it is a positive start, and it is particularly significant to have the resources of the private sector on-board when pursuing the larger target of raising $250 million in the next ten years.
Perhaps the most encouraging part of this new initiative is that it is supported by a coherent, long-term plan moving forward on three parallel tracks. Specifically, it provides for continued research and development to make stoves even more affordable and efficient. It also seeks to create a self-sustaining market for the stoves that fits with local cooking practices, and merges distribution of the stoves with existing development efforts. The goal is to encourage local businesses to manufacture and sell the stoves, contributing to economic growth on top of all the health, security, environmental, and time-saving benefits.
Clean cookstoves are a win on all fronts -- including environmental, health, economic, and educational. Women and children will be the greatest beneficiaries, and by extension, the whole community. It is a welcome new initiative at a time when affordable, effective, cross-cutting development strategies are needed more than ever.
Calling all HuffPost superfans!
Sign up for membership to become a founding member and help shape HuffPost's next chapter