This Christmas season, I'll be spending my time away from work relaxing and celebrating the holidays with my parents. But for undocumented immigrants across this country, this precious holiday season will be filled with fear and anxiety fueled by the incoming Trump administration.
Trump made immigration a centerpiece of his campaign, promising to deport the 11 million undocumented immigrants that currently reside in the United States, to repeal DACA, and to build a wall across the southern border. As the date of his inauguration looms closer, immigrant families feel uncertain as to what the future will hold for them.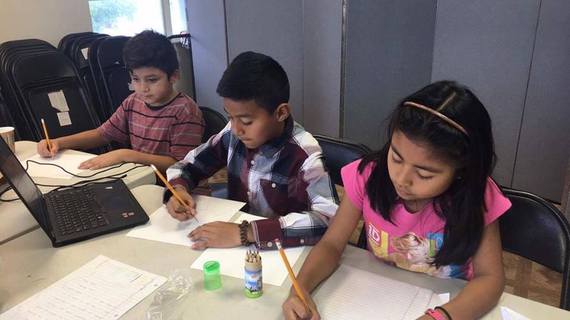 That's why this year, more than ever, our communities are coming together to call for the respect of human dignity, families, and children. We Belong Together, an organization seeking to mobilize women in support of common sense immigration policies that will keep families together, has launched Wish for the Holidays, a campaign for immigration policies that are fair for women and families.
Hundreds of organizations, activists, and families across the country are joining this campaign because they know that immigrants perform essential jobs that contribute to the well-being and prosperity of our communities. Breaking up hard-working immigrant families will do nothing for this country except bring shame for picking on our most vulnerable for cheap political gain.
The Wish for the Holidays campaign is collecting letters from children who want to express their wishes that families be allowed to love each other in peace. They are writing to their mayors and governors urging them to protect immigrant communities and uphold their human rights.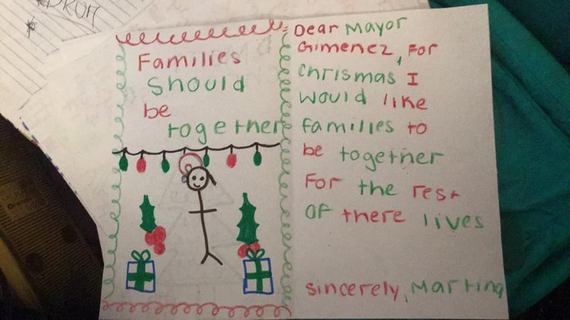 Kids like eight-year-old Bryan from Homestead, Florida are scared of what can happen to their families. "I really love my mom and I don't want her to be taken away from me," he writes.
In Houston, nine-year-old Ximena worries about the future. "Don't separate families because kids will be sad," she says in her letter.
Donald Trump needs to know that his hateful rhetoric has consequences, and its often children and families who suffer the most. Children should be playing with their friends and going to school; not feeling the weight of the world on their shoulders.
Here in south Florida, the Wish for the Holidays campaign is calling on Mayor Carlos Giménez and the commissioners of Miami-Dade County to step up and take the necessary steps to protect the immigrant communities they represent. One of the organizers of this campaign, Lis-Marie Güegüense, hopes that these elected officials stand by these children.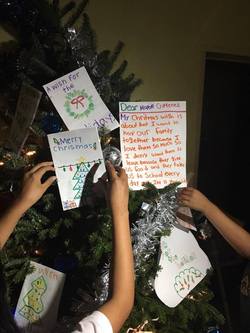 "The children have heard what Trump said during the elections and are terrified," Güegüense said. "We are counting on Mayor Giménez and commissioners to do everything in their power to protect immigrant families and all of our community from being separated for no other reason than being undocumented."
This holiday season, as we spend time with our loved ones, let's remember those who will be most vulnerable come January 20th. Let's commit to doing everything possible so that all families can live peacefully and without fear.
Thomas Kennedy is a writing fellow for the Center for Community Change Action.
Related
Popular in the Community