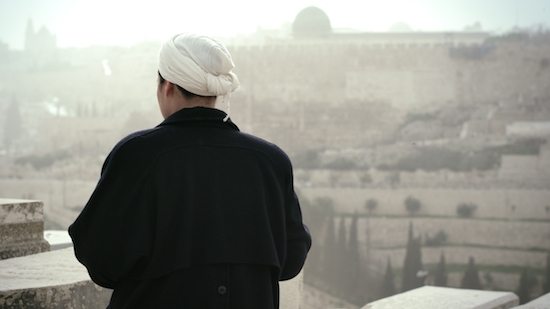 Premiering in the Orizzonti section at this year's Venice Film Festival, Yaelle Kayam's Mountain was one of the films that impressed me the most. I use that exact word because Mountain left both an impression on me and, as the Italians use the word "impressione" literally, it shocked, struck and shook me, profoundly. Perhaps it's the exact moment when Kayam decides to end her story, in the midst of a question that we, as the audience, will never find an easy answer to; or maybe it's the way her film clearly deals with our shared humanity, yet finds the way there through a path of fundamentalism and religion, finally ending up perched high on a charged cultural landscape.
In her director's statement, I loved reading about Kayam's inspiration: "From the Mount of Olives there is a clear view to the Temple Mount. It is believed that the era of redemption will originate there and the first people to be resurrected will be those who are buried on the Mount of Olives. The tension between a mountain that is a graveyard and a mountain that symbolizes salvation is what inspired the story of the film." But she then goes on to explain that another influence was the story in the Talmud about Rabbi Hiyya, and how his wife, when he no longer desires her, struggles to regain his attention. In fact, Hiyya's wife in many interpretations is depicted as a shrew, someone described by others as a "contentious woman," which offers another key to understanding Kayam's genius. She finally has written a female character who is grand and complete even if not perfect, a woman who, although pious and God-fearing, surprises us all in the end with her actions.
The performances in Mountain felt minimalistic and spot-on. Shani Klein is mesmerizing as Tzvia, Avshalom Pollak is Reuven, the perfect husband I loved to hate, and Haitham Ibrahem Omari is the kind caretaker, the Palestinian Abed. But perhaps the undeniable lead character in Mountain is the politically charged, beautiful beyond words Mount of Olives, with its haunting cemetery and those white, gleaming tombstones, staring across to the Temple Mount, today the epicenter of so much political struggle and trouble.
I caught up with Yaelle Kayam on the terrace of the Excelsior on the Lido. It was a highlight of my festival.
How did you come up with this idea?
Yaelle Kayam: The inspiration for the film actually started with the location, with the landscape. Also my short film Diploma which was in the Cinéfondation in Cannes, I wrote for the landscape. I'm really inspired by cultural landscape, not just geographical places but places that have a certain architecture or have certain meaning, political or even mythological. I was always really struck by the visual aspect of the Mount of Olives and for a few years I've wanted to do something there. At some stage I said "OK, I'm just going to start spending time there." And I started walking and spending time in the mountain. At moments it seemed a little weird... I was even getting dressed as a religious woman just to blend in, to be modest, and not to attract too much attention and I'd walk the mountain up and down and talked to different people who would be visiting the mountain. That's actually how the character of Abed came to the script. All the caretakers of the place are Palestinians, I was surprised -- and one of them is called Abed.
And it's a strictly Jewish cemetery?
Yaelle Kayam: Yes. It's an amazing place, there is an area that has tombstones from a thousand years ago. It's a world by itself. You can have very intimate encounters with people when they come there but then it's always a one-of encounter because they come once a year, on a certain date. But the only two people who were always there were the two caretakers. Although it's a pretty vast mountain and you walk it and they are walking it as well because there may not always be much to do, then you meet them. One of them is eighty. He doesn't really still work there, he's retired but he has a few hours when he comes in and is on a certain salary... But he knows the cemetery like no one else. He knows all the people that are buried there. If you are lost, he will tell you where to go. If you wish to see the tomb of Menachem Begin, he will tell you the way. Where this Rabbi is buried and that Rabbi is buried, he's the person to tell you.
How complicated was it to write this script?
Yaelle Kayam: I started from the geographical place and then it always happens to me that things start to get mixed up... Reality and imagination, encounters that I really had with maybe encounters I wish I would have... And then it just came to me. The first draft I wrote it in three weeks and it was pretty much it.
But you had lived with it for a while?
Yaelle Kayam: Yeah, for six months I would just go there... I couldn't really explain to people what I was doing but I really sensed that there was a story there.
I think the story could work in any culture or religion. What made you choose to set it in the Orthodox Jewish community?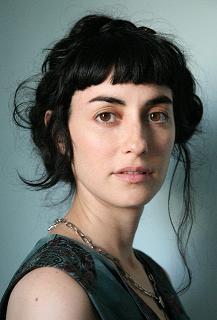 Yaelle Kayam: It was very natural to the place, that's why also she's Jewish and not Christian or Muslim, because I'm Jewish, and I know the Jewish culture and religion more... But at the heart of the story is a woman who wants to be loved by her husband. And that's quite universal. I was also really playing with archetypes, I feel they are really engraved in the mountain anyway. In the Bible, in the New Testament, there is always the righteous woman and the prostitute. Mary the Mother and Maria Magdalena, there is Eve and there is Lilith. I wanted to explore just the righteous woman. I wanted to explore this woman who wants to be this image, wants to be this good person, does everything that she was supposed to do according to society in order to be happy, but she is not appreciated for it, she's not acknowledged for it, she's not happy as a result of it. I wanted to explore that because it's closest to me. I feel that as a woman, even though I'm not religious, though there are religious people in my family, but it's such a strong archetype that we grew up on. We still have those boundaries, we still try to be that image. It varies from woman to woman and from place to place, but in a certain amount it's in all of us.
How did you cast your perfect lead actress?
Yaelle Kayam: I knew from the first moment this character started that she was larger. In the beginning the casting agent said "there are a lot of amazing actresses at the age of thirty." And then I told her, "I want her to be full bodied" and she answered, "OK, there are four."
How did you find her husband Reuven, actor Avshalom Pollak?
Yaelle Kayam: That was much harder! I thought that would be very easy but it was a really long journey to find him. Because her character was written really, really well. When we auditioned and invited those four actresses they each said "it's me!" Her character I knew really well it has a lot of parts of me, and situations I was in life and relationships I was in life and one of the things that was difficult, if you're talking about relationships that didn't work is that you don't really understand the other side. So his character was harder for me to crack as well and when I auditioned I saw so many. I knew I wanted him to be good looking and I knew I wanted him to be intellectual and I knew I wanted him to be gentle, but in a passive aggressive way... That he would never yell and he would be so gentle and so relaxed but there would be something like an edge. That was the thing that was really difficult, impossible. We saw so many actors and some were really good actors, but it didn't work.
Then I remembered that when I was a teenager there was this TV series called Florentine and there was this actor and he seemed really relaxed and intelligent. Today he's a really well known choreographer, he's got a choreography band with his wife and they tour. In fact, they had a performance near Venice, he came to the festival from his own performance. It was a journey to find him, and we called his agent who said "I haven't been in touch with him for years..." My casting agent, Michal Koren she's really amazing and then when she found him he said, "I don't wanna act!" But then we went for coffee and he read the script... He is truly a very interesting and very thorough person. In the end, I told him "you are what I was looking for, and it's got to be you."
Images courtesy of La biennale di Venezia, used with permission.