If you don't happen to know Doo-dah McCluggage, you should.
If my first hero... I mean, she-ro... Gloria Steinem (memoir: My Life on the Road) ever crossed paths with my second shero, Denise McCluggage (memoir: By Brooks Too Broad for Leaping) I'd have raced there in a hot second. Gloria has written of her "outrageous acts and everyday rebellions," which is the perfect descriptor for Denise's, as well. No doubt they would be fast friends, these two trailblazing pioneers for women's equality.
If Gloria is the icon of brains, grace, poise, passion, looks and talent, then Denise is the equivalent sports model. Denise took jaunts into extreme sports piloting airplanes, sailplanes, hot air balloons, skis, horses and parachutes. She'd loved cars so much as a little girl, she even asked Santa for one. She became a sportswriter. A few years later she was one of the world's top female race car drivers.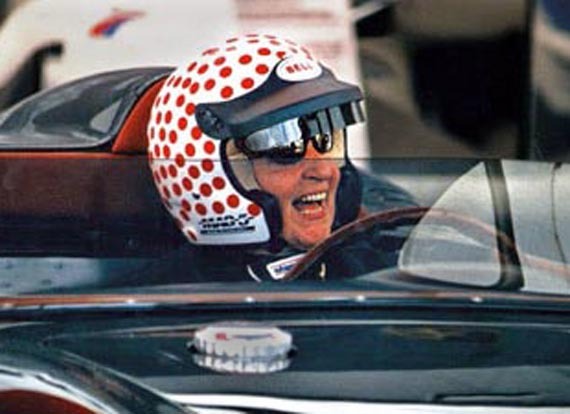 From the time she got her first little MG sports car, Denise's encyclopedic knowledge of all things automotive or racing-wise had become legend. She was often on the road leading, rallying, raising consciousness and collecting scads of followers. If she'd said she was driving to Mars we would have tried to keep up. If she'd said "Your car sucks toads," we would have dumped it by the roadside and walked (but she would never have said that -- she was much too classy.)

If you were fortunate to spot her, it was likely near a (classy) car -- putting it through its paces, judging its beauty in a competition, or writing about it for us ordinary drivers to experience vicariously.
Superlatives fall short when describing Denise. I think of, perhaps: A Woman for All Seasons -- the definition being: "a woman of marvelous mirth and pastimes, and more". That's her, exactly, but a whole lot more. This was a woman who preferred to take the high road, the one with the twisty hairpins that gives you a "high". She was like Gloria, driving through gates that were previously opened only to men, paving the way for women. In Denise's case, these were the gates to motor racing and automotive journalism.
She started Car Table in a Santa Fe restaurant about 2001, where car aficionados met every Tuesday in the back room. The car talk often led to other subjects such as politics, philosophy, art, food, forays, extravaganzas, music, jewelry (style being another attribute she and Gloria shared) or any subject on which a liberated Renaissance woman might desire to hold forth.

For example, Denise knew from jazz. She knew everything about it and could expound on it until the drummers packed up and went home. She was close friends with some of the jazz greats like Miles Davis, Dave Brubeck, and Eddie Daniels.
If all this isn't enough, she could ski your pants off, too. She wrote The Centered Skier, a popular old book now, ahead of its time with Zen Buddhist-like approaches such as becoming "one with the slope".

She could spin delightful tales or steer them straight. Her countless friends and groupies flocked to her as if magnetized. And she was CUTE, to boot! People adored her, called her "adorable" even into old age where her smile was still on high beam. "Doo-dah" (a family nickname) was her own woman, and everyone's woman. Men, women, children, animals and cars all loved Denise.
Ms. McCluggage, age 88 as of her last birthday, gave driving lessons until a couple of years ago, at $1000/hour, with plenty of clients. The woman drove indescribably f-a-s-t, competitively in the 1950s though '60s. She cleaned most everyone's clock at one time or another. She won at Sebring Racetrack, 1961, in her Ferrari 250 GT, among other races in the U.S. and abroad. In France she was not allowed to race, as women drivers were excluded, so she just hung around a few years until they let her compete in the all-male club. Then she cleaned some European clocks, too, winning her car's class at Monte Carlo in 1964.
And she could write, since graduating Phi Beta Kappa (that's Latin for "love of learning is the guide of life") and landing her first job at the San Francisco Chronicle. A master of synergy, she put the two together -- driving and writing -- and helped start the magazine AutoWeek, writing about the world's highways and raceways. Her expertise in cars was evident in her years-long column "Drive, She Said". If you were driving with her, or even reading her unique, zippy way with words, you had to hold onto your hat, your handle, and your head. Denise was always way ahead of everyone.

Just a few years ago, a young man -- who didn't know who she was -- saw Denise sidle up to a fast car (using her walker after a knee operation) and lower herself in. He said, "Who's that old lady and what's she doing?" Another spectator said, wryly, "Just watch." Before he could blink, the octogenarian took off like greased lightning, leaving the man agape, in a cloud of dust.
She was inducted into the Automotive Hall of Fame and the Sports Car Club of America (SCCA) Automotive Hall of Fame and received a couple of Lifetime Achievement Awards honoring her roles as racer, author, journalist, historian, photographer. Always modest, she could modestly crack you up with the best imitation, hands down, of Miles Davis with his deep gravelly voice.

She could entertain, too, so add "spellbinding raconteur" to her daunting resumé. I heard a speech she made (age 86) in her mesmerizing manner, about cars and the grand old days of racing. She revved up the audience to about 90 in six seconds flat.
I attended a gathering of Denise's friends who descended from around the country like a pilgrimage. We had to do it. We had to meet each other, hear everything possible about her, speak of her en masse. We marveled that dozens from diverse backgrounds, from far and wide, could all be Denise's Best Friend Forever. One telephoned in via speakerphone. We learned she had thousands of BFFs!

One after another, the guests recited their Denise McCluggage stories, her family told their Doo-dah stories, the restaurant employees had their Car Table stories and we wept. Not in sadness exactly, but in a joint lingering disbelief that she had actually upped and died. We truly thought she'd live forever. Wasn't our BFF too spirited, too smart, too funny to ever stop being spirited, smart and funny? No one knew she was about to leave, or we might have raced our cars to her home and waved the checkered flag.
But we didn't and she did; she just ran out of gas. On her way out she might have said, "Drive!" So we go on, putt-putting down the road.

I, for example, am driving to Seattle on another pilgrimage, to hear Gloria Steinem talk about My Life on the Road. I'll invite Denise to ride shotgun. Or maybe she'll fly there, in spirit, in her polka-dot helmet, singing "O, Doo-dah day".
How inspiring it is to travel the same highways as these timeless, winning women. Happy trails, Denise!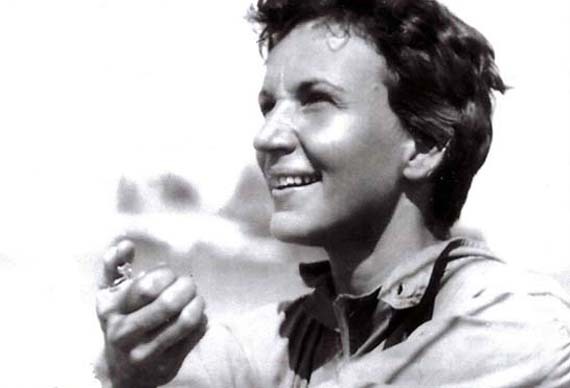 Calling all HuffPost superfans!
Sign up for membership to become a founding member and help shape HuffPost's next chapter