Women on verges of nervous breakdowns tend to exhibit similar characteristics especially when the cause, as it often is, is men not paying enough attention. In Almodovar's gender-busting film, Women on the Verge of a Nervous Breakdown, Pepa, enraged that her husband is leaving her, uses any number of tactics in a last ditch effort to prevent him running off with another woman: poisoned gazpacho, ripped-out telephones, a wild menagerie. But in the end, when it looks like she's been successful, she leaves him anyway, so there. Three new films in the New York Film festival (opening soon in theaters) explore the psyches of women destabilized by men (and boys) as they try to figure out the world and their place in it and though their tactics don't necessarily include spiked soup of any kind, their drama queen personalities are of a piece with Almodovar's jittery jiltee.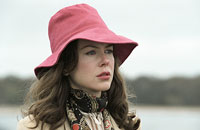 Noah Baumbach's noir look at a dysfunctional family in Margot at the Wedding is wonderful if disturbing. Is it his own? Only his shrink knows for sure since any questions on the subject during the post-screening Q and A were re-routed by his affable dissembling. A scene in a bookstore at which Margot (Nicole Kidman) -- a writer who steals freely from true life -- melts down when asked a similar question about the fact or fiction of her literary portrait of a father figure makes the perils of this all too clear. Margot felt disturbingly close to another mother I know -- not telling who -- who though she loves her son(s) very much isn't always able to hold it together and be the perfect, non-hostile, totally supportive, never-say-a-mean-thing -mom. There were audible gasps in the audience as Margot, having arrived at her estranged sister Pauline's house (Jennifer Jason Leigh, Baumbach's wife) for her marriage to a loveable n'er-do-well/ bumbler (Jack Black) -- manages to topple the wedding, a giant tree, her marriage, an affair and her fraught relationship with her lovely, devoted son whose wounds he has to lick himself. I thought it harrowingly real and affecting (Kidman and Leigh are wonderful), replete with the astonishing ear for dialogue and situation that Baumbach also showed off in The Squid and the Whale. The other veteran mothers I spoke with after the screening were oddly offended and dismissive....and they are probably more perfect mothers than I if they weren't able to recognize any part of themselves in these multi-dimensional characters who struggle with career, family, marriage, siblings, freedom and child rearing and who learn these institutions aren't necessarily the intuitive resting places they're cracked up to be.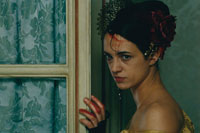 Though Catherine Breillat's sexpot heroine in The Last Mistress, La Vellini, played to simmering perfection by Asia Argento, is both centuries and continents away from Margot, they share this: they derive their strength from their power over their men and when that is withdrawn they are utterly confounded and miserable. And they strike back. Argento won't let go of the pouty-lipped young but penniless gentleman, Ryno de Marigny, the father of her dead child, who throws her over for a blonde heiress (whose grandmother functions as the Laclos-like intermediary). When he eventually does marry her (mentored by the granny), Vellini bides her time and then shows up, testing her hold over him, hoping that he will be powerless to resist if she gets anywhere near him. (Now I know: I do believe in reincarnation so when I come back, can I come back as Argento who not only has an amazing body but also gets to wear fabulous clothes? This June in Seville I stopped into a special boutique that sold the sexiest flamenca dresses I had seen; this, I thought would be a black tie show stopper -- made to order, short or long, and I actually got as far as having them take my measurements. But I chickened out, not sure if I could pull off the necessary costume-y fieriness. Now I'm so sorry, for having one ounce of the haughtiness even partially derived from the sensuous fortuny pleats and lace that Argento swans around in when she receives her lover (who btw, doesn't nearly deserve her) would most assuredly give one the confidence to do just about anything and I am going to recommend this to Hillary Clinton if she becomes president: forget the chaste suits and hint-of-cleavage-congressional-coats because those senators and cabinet members and foreign dictators will be eating out of your hand, honey, if you get dolled up like Argento and put a big, luscious flower in your hair.) A third French film, Valeria Bruni Tedeschi's Actresses is a portrait of a real drama queen, Marcelline, an actress who upon learning that her time is running out to have children finds her role onstage in A Month in the Country provides her with ample, showy ways to act out and collapse in front of an audience as she tries to find a man who might help her out with the baby part. Tedeschi, who also stars is a totally unique creation: filled with longing but unwilling to be compromised, she strikes just the right note between comedienne and tragedienne and her supporting cast includes Mathieu Amalric who was so spectacular as the victim in The Diving Bell and the Butterfly and Noemie Lvovsky as a zaftig script girl who does have a husband and family but is willing to abandon them to find a way to be free. Seeing films like these makes you realize that no matter how far we've come in the gender wars some things will just never change. A compelling, intelligent, and attractive woman has certain advantages, 'tis true, but men, in worrying over things less have the advantage of resilience and the quicker comeback from a broken heart. Yet, exhibit A for hope for future men is Noah Baumbach whose complicated relationship with and close observation of his mother has already given us two wonderful films -- maybe it's not so bad having a talented drama queen for a mother after all. A friend of mine recently gave me a book and marked a section of which to take particular note -- one that had to do with men and women perceiving situations and signals differently, (especially when it has to do with sex). Pauline's words of advice to Margot after she bemoans her state of sexual confusion could easily have been passed on to La Vellini or Marcelline -- "I'm saying, if you get your sense of self from being fuckable and that starts to wane -- it's very hard. I almost had an affair too. But you know, you don't have to do it. You can, I don't know, get a manicure or something." Maybe this is why nail salons are so popular these days.
REAL LIFE. REAL NEWS. REAL VOICES.
Help us tell more of the stories that matter from voices that too often remain unheard.