It's no secret that many women are smarter than men. Why? As a rule, women are not just naturally intuitive, but constantly challenged to solve problems relating to home, family, and career while men often have the luxury of delegating or ignoring such responsibilities. During an interview at the University of Colorado in Boulder, the most honorable Associate Justice of the United States Supreme Court, Ruth Bader Ginsburg noted that:
I'm sometimes asked when will there be enough [women on the Supreme Court]? And I say 'When there are nine.' People are shocked. But there've been nine men, and nobody's ever raised a question about that.
It's easy to see why men would be shocked by Ginsburg's reply. All one has to do is consider their behavior, as evidenced in these clips from 1957's The Music Man and 1970's Company.
Obviously, women see things differently (as evidenced in these two numbers from 1950's Guys and Dolls and 1964's Hello, Dolly!).
The battle of the sexes may be as old as time. But men often approach the battlefield armed with belligerence, brawn and bravado while women manage to bewitch, bother, and bewilder them with a potent combination of brains and beauty. In many historical periods men have automatically assumed power while women had to use whatever knowledge was available to gain and assert their power.
A newly restored print of a 1920 comedy directed by Robert Thornby turned out to be one of the more delightful surprises at the 2015 San Francisco Silent Film Festival. Wikipedia offers the following summary of the plot of The Deadlier Sex:
Based upon a review in a film publication, Mary Willard (Blanche Sweet), who has taken control of her father's interests after his death, has become so exasperated at the unscrupulous business practices of Harvey Judson (Mahlon Hamilton) that she has him kidnapped to teach him a lesson and protect her shareholders against him.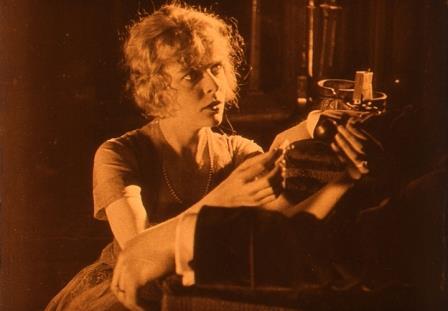 Blanche Sweet as Mary Willard in The Deadlier Sex
When Harvey wakes up in the forest, he initially believes that robbery was the motive until he discovers that no money was taken. He tries to bribe his guide to take him to the nearest settlement but to no avail, and, after two fist fights with a Frenchman (Boris Karloff) who is also in love with Mary, eventually comes up with a scheme which leads to his discovery by his friends.

When Harvey finds that Mary was the cause of this, they argue and he accuses her of trying to ruin him. While on the way to the nearest train station they have an automobile crash that nearly kills them. At the station, after they are told that the government has seized their property, Mary and Harvey decide to work together in the future.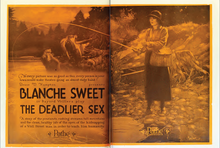 Blanche Sweet as Mary Willard in The Deadlier Sex
After appearing on stages since she was four years old (Sweet started her career touring with Maurice Barrymore in The Battle of the Strong), the teenaged actress starred in D.W. Griffith's 1914 film, Judith of Bethulia. Although set to appear in 1915's The Birth of A Nation, she was replaced by Lillian Gish.
Shot on location in and around Truckee, California, Sweet later referred to The Deadlier Sex as one of the films "I knew I shouldn't do." Her characterization of Mary Willard as a sly, intelligent, resourceful, and cunning young businesswoman was a far cry from the stereotypical damsel in distress that was a staple of so many silent films.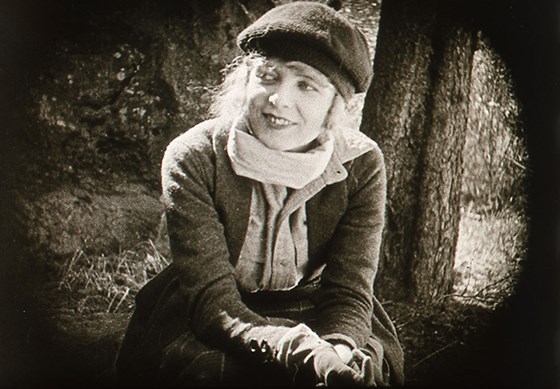 Blanche Sweet as Mary Willard in The Deadlier Sex
In addition to the young Boris Karloff's portrayal of a macho trapper, The Deadlier Sex featured strong performances by Winter Hall as Mary's father, Roy Laidlaw as Huntley Green, and Russell Simpson as Jim Willis. With live accompaniment by Guenter Buchwald, the film had a certain rustic charm.
Although Sweet was a major star in silent films (who even managed a brief transition to talkies), few of her films are available today. In 1930's Show Girl in Hollywood, she introduced the song "There's a Tear for Every Smile in Hollywood," whose lyrics read as follows:
You're like a million others
Who seek the road to fame
But soon you'll realize
It's not an easy climb.
You'll find like all the others
Whose dreams are just the same
The road is not as rosy
As Sunday papers claim.

There's a tear for every smile in Hollywood
Every mile's a weary mile in Hollywood
A million dreams are born with each day
A million dreams keep fading away
Like the spider and the fly is Hollywood
Where a broken-hearted sigh is understood
Though fortune seems to beckon to some
There's a tear for every smile in Hollywood.
While women may have felt oppressed for much of the 19th and 20th centuries, at least they didn't have to fear a legal (and loathsome) form of rape known as the droit du seigneur. A purportedly popular practice in late Medieval Europe, droit du seigneur gave a feudal lord the right to take the virginity of his serfs' daughters.
That practice is a pivotal plot point in 1778's The Marriage of Figaro (a play by Pierre-Augustin Caron de Beaumarchais that was adapted into a four-act opera buffa by Wolfgang Amadeus Mozart in 1786). Not only must Susanna find a way to keep the Count Almaviva's hands off her as she prepares to wed the Count's servant, Figaro, she must also find a way to help her mistress (the Countess Almaviva) save her marriage from the embarrassment of the Count's constant philandering.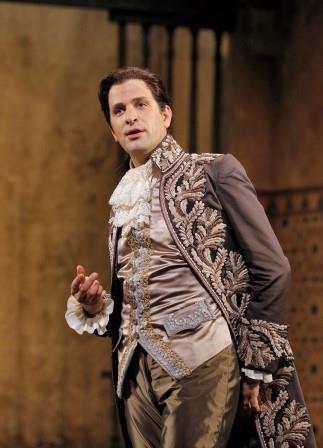 Luca Pisaroni as the lecherous Count Almaviva
in Le Nozze di Figaro (Photo by: Cory Weaver)

Add to the mix a horny page, a curious birthmark, a drunken gardener, a lusty old spinster who claims to have won the right to marry Figaro if he defaults on a loan, as well as a bitter old man who craves revenge for the way Figaro stole Rosina from under his roof (thus enabling her to marry the Count Almaviva) and you've got lots of mischief involving mistaken identities framed by a magical musical score.
As part of its 2015 summer season, the San Francisco Opera revived its 33-year-old production of Mozart's Le Nozze di Figaro, populating the cast with five former Adler Fellows (including conductor Patrick Summers), one current Adler Fellow (Maria Valdes as Barbarina), and a veteran of the Merola Opera Program who has performed with the company for more than four decades (John del Carlo).
Figaro (Philippe Sly) and Susanna (Lisette Oropesa) in
Act I of Le Nozze di Figaro (Photo by: Cory Weaver)
The casting paid off in spades. Philippe Sly's sonorous Figaro was far more athletic (and almost balletic) than what one usually encounters; as Susanna, Lisette Oropesa glowed with the charm and sparkle of a young woman in love (and sang rapturously as well). Luca Pisaroni's Count Almaviva was a special delight, nicely balanced by Nadine Sierra's portrayal of his Countess.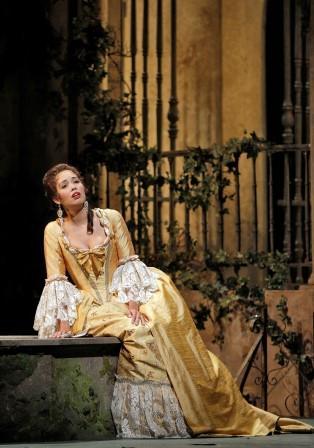 Former Adler Fellow Nadine Sierra as the Countess Almaviva
in Le Nozze di Figaro (Photo by: Cory Weaver)
In comedic supporting roles, John Del Carlo scored strongly as Bartolo with Catherine Cook as a robust Marcellina. Greg Fedderly was a delightfully meddlesome Basilio while John Easterlin added to the fun as Don Curzio. Bojan Knezevi was a noticeably besotted Antonio.
At the performance I attended Angela Brower easily won over the audience as Cherubino. But what made the evening especially satisfying for me was the savvy stage direction by Robin Guarino, who added telling bits of body language for Figaro, Susanna, and Cherubino.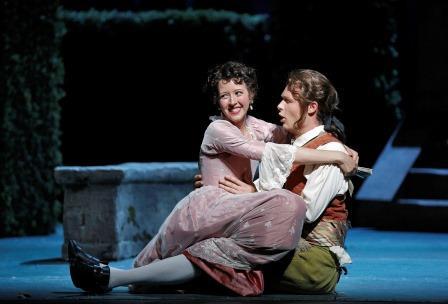 Susanna (Lisette Oropesa) and Figaro (Philippe Sly) make up
in Act IV of Le Nozze di Figaro = (Photo by: Cory Weaver)
Looking back over the years, I recall that my first exposure to Le Nozze di Figaro took place sometime in the mid 1960s at the New York City Opera. That was nearly 15 years before surtitles began being projected above the proscenium in opera houses. Even when sung in English, I found it difficult to follow the plot.
These days, surtitles make it much easier for audiences to follow the text and understand the set-up for various sight gags. During one intermission, the house curtain was raised so that the audience could watch the stage crew change the scenery while a member of the company's staff took live questions from a dedicated Twitter feed. Additional educational tools (like the following video) undoubtedly help those who are experiencing Mozart's opera for the very first time.
Not only does today's technology allow audiences to follow the story with surtitles, it also makes it possible for the San Francisco Opera to simulcast a live performance from the War Memorial Opera House to a packed baseball stadium across town at AT&T Park.
I was especially lucky at the performance I attended to be seated down front in the orchestra, where it was much easier to watch how certain artists (especially Luca Pisaroni) crafted their phrasing during arias and worked as part of an ensemble when required to do so by the dramatic shenanigans concocted by Beaumarchais. In an entertainment world that frequently bludgeons audiences into submission with overamplification, it's a visceral joy to be able to hear an artist's natural voice and experience a wide range of musical nuances.
Special credit goes to Maestro Patrick Summers, who led a beautiful performance of Mozart's opera. The following clip offer some highlights from the San Francisco Opera's production:
Calling all HuffPost superfans!
Sign up for membership to become a founding member and help shape HuffPost's next chapter