My all time hero Robert Hughes said in 1988 about Robert Motherwell: "... his full maturity came after the abstract expressionist period -- in fact, after 1960 -- and his career illustrates the perils of generalizing about decades, groups or movements." Very true! However, to celebrate the centenary of the artist's birth (January 24th, 1915). London's Bernard Jacobson Gallery does exactly the opposite to what Hughes timely suggested. This coincides with the inauguration of that gallery's new space in Duke Street St James.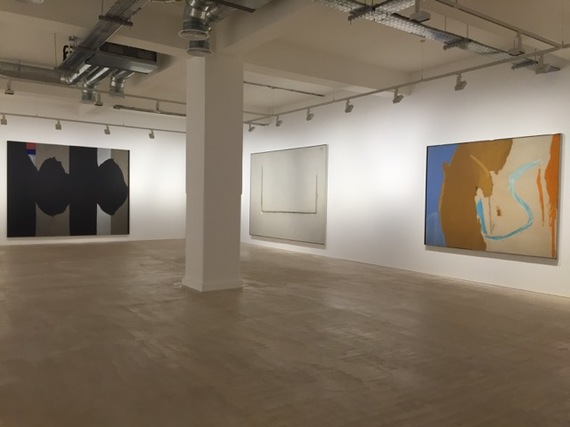 Everything about this show is pretentious. Upon arrival, the visitor faces a huge white cube that when closely inspected reveals two clearly differentiated sectors: one where the bricks of the wall were not evened and another one where they were. A gallery of this level cannot afford to save money with those things. If they have a white cube, it must be perfect. The other problem that this show has is curatorial for it is wrongly presented as a 'retrospective' of sorts.
The good thing is that no one in London seems to be very interested in what Robert Motherwell had to say. In fact, during the whole length of my visit, the gallery was empty. Announced as a survey of the major series of the artist's work, the show presents a plethora of twelve completely disconnected works. Placing paintings such as A View Number 1 (1958) besides New England Elegy No.5 (1967) is, to say the least, confusing for the same reasons stated by Robert Hughes in 1988.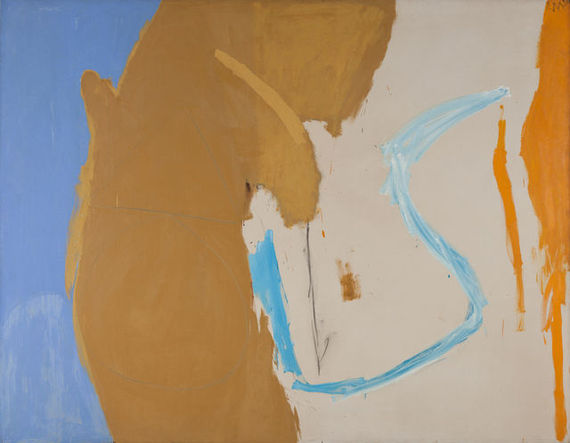 Having said this, there is one painting that I found fascinating because it shows Motherwell's preoccupations with the relationship between figuration and abstraction through cartographic representations. California (1959) is not preoccupied with the mechanics of the construction of the form (like the rest of the show) but explores something far more interesting which is the relationship between bidimensionality and the art of description. At first sight, it might seem abstract, but after realizing that we are in front of the Sunshine State, the viewer can see the Pacific Ocean, the desert and San Fernando Valley. It reminds me of David Hockney's Mulholland Drive where the landscape paintings meets the cartographic representations and different perspectives and viewing points collapse into one complex image. Motherwell's concerns are less perspectival and more theoretical. He seems to say that if we take description (and science) to its extreme, we can only find more abstraction. At that level, the only ones who can deal with representing the world are satellites and, of course, artists. J A T
Popular in the Community