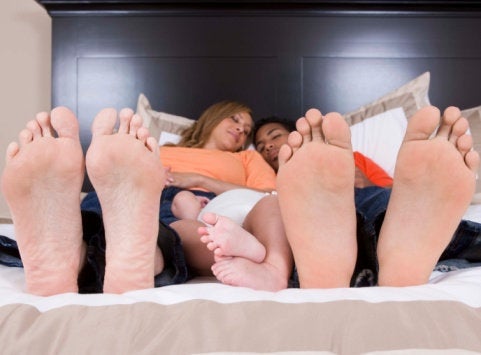 It's One Big Happy Family season here at This Writer's Life. In celebration of the book's paperback release I have asked a number of the writers from "One Big Happy Family: 18 Writers Talk About Open Adoption, Mixed Marriage, Polyamory, Househusbandry, Single Motherhood, and Other Realities of Truly Modern Love," to reflect upon how things have changed (or remained the same) in their own lives since they wrote their essays over a year ago. Further, I've also asked various writers I admire to discuss their wild, messy, loving, non-traditional families as well. Below, Jen Deaderick talks about her happy family:
After a quick glance at the pink line blazing on the stick I'd just peed on, I looked up at Rembs standing in the bathroom doorway and said, "We're having it and we're getting married." He said "Okay" with a stunned look in his eyes that remained there for the next three days.
We had been thinking of getting married for a while, but in a theorectical, "wouldn't it be nice" way. The cells rapidly dividing in my abdomen made the the plans urgent and tangible. We had meant to be careful, but realized only in retrospect that a bout of food poisoning originating in a Roy Rogers Fixins Bar had rendered my birth control pills ineffective. Tradition was on my side: I was third in a line of loose women, tramps, whores, trollops, bad girls.
Mom was the first in her family to go to college. When she moved into the city, her mother called every day, weeping. She grew her dark hair long and straight, smoked Galloises in beatnik cafes, wore all black and teetered around in stillettos. At parties, she and her friends listened to Edith Piaf, je ne regrette rien.
She met Dad working on a staged reading. He'd been brought in to play a part because he looked like Jon Voight. She was the stage manager. He began flirting with her immediately, and her first words to him were "Shut up and put on your costume." His flirting prevailed, and she was knocked up a few months later. They quickly arranged a wedding, only telling their parents that they "had to" after the fact. When my mother's mother was told, she refused to send out the prepared wedding announcements, worried that people would count the months. Dad's mother yelled at him, told him he'd been trapped into marriage. He walked out of the house, and my aunt reports that my grandmother cried in the pantry, sure she chased my father away for good.
Mom had a miscarriage. She was devastated, but the families said it was for the best. Now no one would know. My parents went on to have me, and my brother, then split.
My mother was adopted as a baby. In her forties, she enlisted spies to find her original birth certificate and discovered that her birth mother, Catherine, had been born in Ireland. Catherine was the first in her family to go to America, and four years after arriving in Boston she was pregnant, having come to an end that was likely predicted for her. In Ireland, she would have been sent to a Magdalen Laundry to do washing for the rest of her life in anonymity. In America, she had the freedom to hide the whole episode once she was done with it, to move on with her life as if unsoiled. She told no one of the daughter she'd given up, and went on to get married and have three more children, none of whom knew they had a half-sister living a few miles away. My mother, after further detective work, found Catherine's phone number and called, hoping to meet the woman who had carried her and passed on unknown traits and tendencies. Catherine hung up on her.
We have met other relatives, people in Ireland who didn't view Catherine as she'd feared they would. Catherine's other children know about my mom now, too, though they never got to talk to her about it. Catherine died only a few years after my mother first contacted her. One of my lovely cousins, who grew up in the house where Catherine was born, described to me his memories of her sitting in their kitchen on visits from America, her long legs crossed, glass of whiskey in her hand and funny as hell. In a picture my mother was given by the family, Catherine is standing on the farm with her family and a draft horse, before she left for America. She is laughing, head knocked back, standing on her toes, slightly out of focus. She looks like she's about to float up into the cloudy Irish sky and fly away.
We got married. By choice. We didn't have to, and we didn't have to bring our daughter into the world. We are obligated to take full responsibility for her presence on this planet, and we act accordingly. We are grateful that we got to think of her as a wonderful surprise. After we said our vows, and turned to face our friends and family as husband and wife for the first time, Rembs placed his hand on my hard, round belly, clearly outlined under my empire waisted gown. Then we clasped hands and walked down the aisle together, smiling.
Jen Deaderick was a movie reviewer for Neal Pollack's Offsprung.com, and spent years pacing New York City stages as a stand-up comedian. Currently, she is researching her family's relationship with Andrew Jackson. She lives in Cambridge, Massachusetts with her husband and their beautiful daughter.
REAL LIFE. REAL NEWS. REAL VOICES.
Help us tell more of the stories that matter from voices that too often remain unheard.