The US of A holds quite the overrated image. Every time I visit my native country, Dominican Republic, and I tell people I am an American, I am always met with impressed looks. "Isn't it true," they ask with mystified voices (I kid you not), "that it is the land of opportunity?" I almost want to laugh in their faces. You would think they were talking about Heaven or Narnia. The world's perception of the country of the stars and the stripes remains magical -- a place where you can make it big and become rich or happy or whatever you think the American dream really is. Although the American reputation is an inflated one, it has a foundation of truth. After all, the poorest of persons have the opportunity to better themselves. With ambition, determination and a democratic government, the common man has access to education -- the principle key to personal fulfillment.
I am a low-income, upcoming high school senior. I am a first-generation American. My parents do not know a pinch about the college admissions process. I am frightened and flustered and fluttery and more f-words. Ever since I was a freshman, I have been excited about applying to college. No problem, I thought. I am focused and know what I want to do and how to do it, right? Wrong. That was me a month or so ago. I am better now and I am sure you want to know the reason for my sudden improvement because it is an improvement and not a cure. Of course, there is no cure for the college admissions affliction.
Every year, the U.S Department of Education commissions a College Access Challenge Grant Program, which allows states to foster pre-college opportunities for high-achieving students that fall into minority groups, low economic standards or "first-generation" statuses. For New Jersey, this meant the creation of the Aim High Initiative, which gives students like me the chance to experience college the summer before senior year. This year, the state gave funding to a couple of worthy institutions of higher learning to create competitive pre-college programs that students had to apply to in order to gain admission. I applied and was admitted to the Summer College at Caldwell, a program designed around the medical and environmental sciences. I stayed there from July 8 to July 27. Suffice it to say, it was one of the most enriching three weeks of my life.
Students like me are exceptionally confused about college admissions in the United States, more so than the students whose parents have undergone the process themselves. Programs like the one I recently finished really help clear up that confusion, at least enough so that students like me are not left completely lost. For that, I salute you, U.S. Department of Education.
I have learned a lot about the college experience. More importantly, I have learned a lot about myself and my peers. Here are some of those lessons learned:
1. Everyone is anxious to meet people in the college experience. I was worried that my roommate would be horrible or that I would fail to find people that I would really click with. That was okay. Everyone felt the same way. My peers and I -- the participants of the SCAC program, that is -- were lost lambs on that first day. We all, for the most part, ended the program as a family. So, anxiety was okay; anxiety IS okay.
2. It really helps to speak up and attempt to start friendships. Not everyone is going to be your best friend but it's helpful to maintain cordiality. By speaking up on the first day, I immediately found people with similar interests. I am a runner, so I was worried I would be that strange kid getting up in the morning to run by herself on campus. That first day I found other people interested in running on campus; we immediately began what later became routine morning runs the next day. By speaking up, I also found people with dissimilar interests, which was incredible. Sometimes, the best of friends are the ones who are nothing like you.
3. There are people in this world that are just as ambitious as you. I always knew this to be true but to fully experience it, really truly experience it, came as sort of pleasant shock. That is not to say that at my high school no one has ambitions or goals similar to my own. At SCAC, however, you felt it. Everyone was eager to engage in fun, intellectual conversation. That first night, we talked about the role of religion in our lives. This was a spontaneous conversation, born out of the curiosity of then-strangers. As the program progressed, we talked about all sorts of thought-provoking topics, from genetics to society's expectations. It was exciting. I know now that I want to go to college with a similar atmosphere, an atmosphere with witty and compelling conversation -- a place where minds converge, so to speak.
4. There is no messing around in college. You have full control of yourself. Your grades are your concern. The professors do not pester you about grades or coming in for tutoring. You have to find your motivation and allow it to guide you. In my program, we took two major exams. The professors lectured and taught us the material and expected us to get it, which is perfectly fine. Unlike high school teachers, they did not stress the importance of extra help. You have to find the time to receive extra help, whereas in high school, the teacher is readily available to you without prior notice. The freedom can make or break you, and I loved the weight of such a freedom.
5. The Freshman 15 is quite real. Heed my words. I love food, as I am sure you do too. When there is so much food at your disposal, you tend to go a little crazy.
6. Resident Assistants are there to help you. Befriend them, prank them, and talk to them about the college experience as much as you can. You really learn from them; they have, after all, gone through the college admissions process themselves. To give an example, one of my RAs really enlightened me about medical school preparation and the role of health care in our country.
7. The college experience is all about finding what you love to do. At the same time, it is okay to go outside of your comfort zone and taste new subjects. I learned that even though I want to be a doctor, I can still pursue my passion for literature. Life is about varied tastes.
8. The college admissions process rests on your shoulders. Make the decisions that are best for you, not your parents or your friends. You must become informed and know your educational options. At the same time, do not allow yourself to become too stressed.
These are a few things, in a nutshell, that I learned while staying at Caldwell College. They seem like obvious lessons as you read them, but to fully implement them in an experience is something words cannot impress upon you. The program left me with eagerness. The common application opens this week which makes the college admissions process all the more real for me. I am thankful for my family's support and the educational opportunities offered to me by this country. Education really is a precious thing. Whenever I become frustrated with school work, I think about how lucky I am. There are thousands of girls like me out there that do not have the opportunities I have. Here, I can be anything I want to be. Here, I am being equipped to make a difference according to my passion.
The prospect of college looms large, but I know I cannot forget to have fun and enjoy the rest of my summer as well as my last year of high school.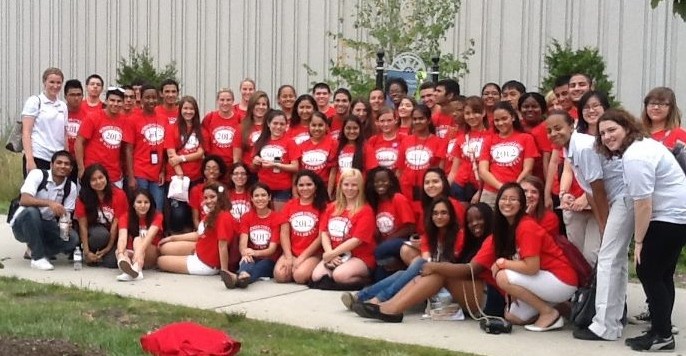 Popular in the Community