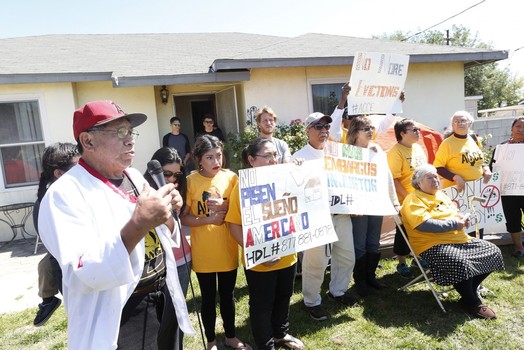 Facing eviction by Wedgewood Inc, Pablo Caamal and his family have launched a vigil in front of their Rialto, CA home, supported by friends and neighbors (Photo by La Opinion).

Speaking at a real estate conference last September in Florida, Greg Geiser, CEO of Wedgewood Inc., an investment company headquartered in Redondo Beach, California, claimed that his firm is the biggest "fix and flip" company in the country. He said the company purchases about 250 foreclosed or about-to-be-foreclosed homes a month. Geiser told the audience that the "distressed market" is "hot and sexy" and "new and trendy."
But for many families, Wedgewood's business practices are the cause of much distress. One of them is the Caamal family in Rialto, California, a working class suburb near Los Angeles. Wedgewood is trying to evict Mercedes and Pablo Caamal from their modest house, where they have lived for ten years and in which they have invested their life savings to purchase and improve.
Faced with eviction notices, most Americans pack up their clothing, furniture, and other belongings and try to find another place to live, often doubling-up with another family or confront the harsh reality of homelessness.
But the Caamals are fighting back. They and their supporters have launched an around-the-clock vigil in front of the home, awaiting San Bernardino County Sheriff deputies to try to evict them, and pledging to stay in their home or face arrest.
"I'm not willing to walk away from a home I worked my whole life to buy," explained Pablo Caamal, a 63-year old cook.
Headlines claim that the country is now "recovering" from the housing crash brought on by Wall Street banks' risky and reckless practices, but millions of American homeowners are still facing foreclosure and eviction through no fault of their own. Wedgewood's business strategy is to prey on these families, buy the homes at deep discounts, and make a quick profit selling them on the market.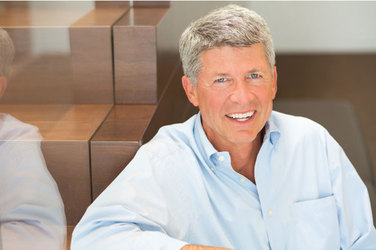 Greg Geiser

Because Wedgewood is a privately-held company, it is not required to disclose its revenues or the compensation of its executives. But Geiser has obviously done quite well for himself in the "fix and flip" business. The 58-year old Geiser lives at 212 Morningside Drive in Manhattan Beach in a home valued at $5.7 million, according to Zillow. David R. Wehrly, Wedgewood's 54-year old Vice President and Chief Operating Officer, lives in a $14 million home at 112 The Strand in Manhattan Beach.
The Caamals don't live in such splendor, but they achieved their own version of the American Dream. They came to the United States from Mexico in the 1970s and are American citizens. Mercedes, 58, and Pablo have both worked at cooks in local restaurants. They purchased the house at 1805 North Willow Avenue in Rialto in 2006. They have five children who are pursuing successful lives. Their 19 year old daughter Daisy is a full-time college student in San Francisco who supports herself by working in a restaurant. Their 23 year old daughter Merari is also a college student who lives at home and works part time in a warehouse. Elizabeth, their 27 year old daughter, also lives at home and works in the same cafeteria, at Cal State-San Bernardino, as her parents. Their 32 year old son Moises and 35 year old daughter Christy are married and live with their respective families.
But in 2010, at the height of the economic crisis, the Caamals' dream started to become a nightmare. Both Mercedes and Pablo were laid off from their jobs at cooks at a local private college cafeteria. They quickly found new jobs and, like many Americans struggling to make ends meet during the economic hard times, applied for a loan modification with Wells Fargo. The bank immediately granted a temporary modification.
The Caamals never missed a payment on their mortgage, but Wells Fargo nevertheless denied their request for a permanent modification and then began returning their payments.
This, too, is an experience that millions of Americans have faced, because Congress failed to require banks to participate in loan modifications (including a tool called "principal reduction") as part of the 2010 Dodd-Frank bank reform law designed to prevent the kind of predatory lending practices that brought the country to the brink of economic collapse.
After Wells Fargo put the home up for sale at an auction, Wedgewood -- which purchases and sells foreclosed properties around the country -- bought the Caamals' home last September for $284,000. After the Caamals and their supporters held a protest at Wedgewood's headquarters, the company reluctantly agreed to hold off on eviction long enough for the family to secure financing for a loan to repurchase the home.
But Wedgewood reneged on its promise and demanded that the Caamals pay $375,000 for the home they are still living in. The Caamals say they are willing to pay that price -- and have qualified for a mortgage to make the payments -- but Wedgewood has refused their offer.
"Why is Wedgewood evicting us, when we're offering to give them a $100,000 profit on their investment?" Mercedes Caamal said. "I don't understand why they won't accept our money."
On Thursday, with the help of the Alliance of Californians for Community Empowerment (ACCE), a community organizing group, the Caamals, along with the family, friends, neighbors and ACCE members pitched tents outside the house and launched an around-the-clock vigil to demand that the eviction be stopped. They say they won't leave and are willing to risk arrest.
The Caamals and their supporters visited the San Bernardino County Sheriff's headquarters, where representatives of Sheriff John McMahon accepted a letter requesting that the department refuse to carry out the unfair eviction. The Sheriff's Department notified the family that starting after 6:00 am on Friday would arrive to evict them. But when Sheriff's deputies came to the house twice on Friday, and saw local news media covering the vigil, the law enforcement officers did not try to evict the family.
The Caamals and ACCE are asking supporters to call Geiser at (310) 640-3070, or email him at greg@wedgewood-inc.com, to urge him to sell the home back to the family.
Geiser founded Wedgewood in 1985 and merged it with HMC Assets in 2014. Companies like Wedgewood are often called "bottom feeders." They buy homes at short sales and foreclosure auctions and sell them at huge profits. Reflecting its business philosophy, the company has a huge Monopoly board on a wall at its headquarters at 2015 Manhattan Beach Boulevard in Redondo Beach.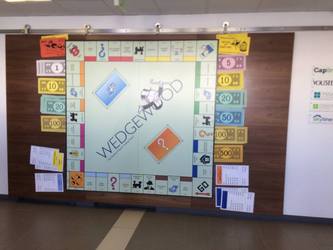 A wall at Wedgewood's HQ in Redondo Beach, CA

The company website proudly explains how Geiser got into the business. After earning his master's degree from UCLA's Anderson School of Management in 1982, he purchased a Pasadena home, sight unseen, at a foreclosure auction.
"While still in the parking lot at the auction, Greg sold the house to a young couple who said it was their dream home, but they didn't have the cash for the auction," according to the website. Excited by the world of real estate speculation, Geiser started Wedgewood, which now has over 250 employees. The company claims to be "a leader in the field of distressed residential real estate, specializing in the acquisition, rehabilitation, and resale of single family homes."
Not surprisingly, Geiser and his company are staunch Republicans, since the GOP has fought hard in Washington, D.C. against laws requiring lenders to modify mortgages and stem the epidemic of foreclosures. In recent year, Wedgewood's employees have made over $231,000 in political contributions, almost all of it to Republican candidates, the Republican Party, and Republican-oriented PACs.
Geiser, the company's CEO, has made $93,000 in political donations, including contributions to Mitt Romney, John Boehner, Right to Rise (Jeb Bush's presidential PAC), and Americans for Ethical Leadership, a Republican super PAC. Wehrly, the firm's COO, has given $86,441 in contributions, spreading his donations among many candidates, including George W. Bush, Mitt Romney, and John Boehner and, in this year's president sweepstakes, to Jeb Bush, Carly Fiorina, and Marco Rubio. He also donated $1,000 to the Tea Party PAC called Our Country Deserves Better.
Geiser and Wehrly are both on the board of Prager University, a conservative website founded by the talk show host Dennis Prager. Geiser is also on the board of directors of UCLA's Anderson School of Management and of the Oklahoma State University Foundation. Wehrly donated to the Heritage Foundation, a right-wing propaganda outfit.
In recent years, ACCE and other community groups around the country have been successful not only in getting banks to halt foreclosures but also at pressuring lenders to renegotiate mortgages. But their work would be much easier if Congress required lenders -- who received billions of dollars in federal bail-outs and benefit from the government's policies to make credit available to lenders -- to modify mortgages for families who were involuntarily hurt by the economic crash.
Homeowners facing foreclosure can contact ACCE organizer Peter Kuhns at (213) 272-1141 to join the movement against predatory banks and investment firms.
Peter Dreier is professor of politics and chair of the Urban & Environmental Policy Department at Occidental College. His most recent book is The 100 Greatest Americans of the 20th Century: A Social Justice Hall of Fame (Nation Books).

Support HuffPost
The Stakes Have Never Been Higher
Popular in the Community