Have you ever been to a kiddies party and thought, "I don't know how she does this! Where does she get the time?!" You are not alone. The truth is that you have two options: throw money at the problem (a great option if you have lots of money and no time) or make loads of time to do everything yourself (not always possible -- especially if you are working).
If you, like us, have a budget and not that much time... www.halfdaymum.com may have a solution for you:
The Birthday Cheat Sheet I present here relies heavily on Pinterest (a free and magnificent source of ideas) and your own ingenuity to leverage the small amount of time you do have available to make the most wonderful, special and fun-filled kiddies parties you can imagine!
When I have a party coming up, the first thing I do is pick a theme with my child: we've had rocket ships, space aliens, firetrucks (in my case, our themes are heavily BOY). I then Google
"(theme) free printables;" the result is, usually, pure magic. For some reason, contributors to Pinterest provide printable resources that they have spent hours and hours creating... for free! You'll find themed birthday banners, invites, thank-you cards, cupcake toppers, food labels, certificates and game ideas all at the click of a button. I say download and hit print -- the details make all the difference!
Total prep time: 90 minutes including cutting and sticking.
The invites are always a special touch for me -- I usually find an example I like and customize the invite to suit. Sometimes, there is a template included in a themed printable pack -- copy and paste, insert text, add a cute photo of your little one and voila! You have unique and memorable invitations to send with your child to school. I have also learned from experience that it often pays to invite the whole class. If you are having a party, I say do it! The marginal cost of a few more kids is not significant, and you will help your child learn to build and grow their relationships by including all their friends and getting to know the parents.
Total prep time: 60 minutes including printing and distribution.
I bake three times a year: for each of my boys and for my husband -- the latter sometimes gets a bought cake to be honest -- but the point is that (two to) three times a year is enough. The salient point is that, if you are not going to practice and perfect cake making, my suggestion is use a box. Baking, for me, involves a box of cake mix, eggs, oil, water/milk (per package instructions), an electric beater, cake pan, oven and Google. I have made a MASSIVE alien cake (bright green), a bunny rabbit, a vertical space ship (see picture) and my eldest son still talks about the Barney cake I made him for his second birthday.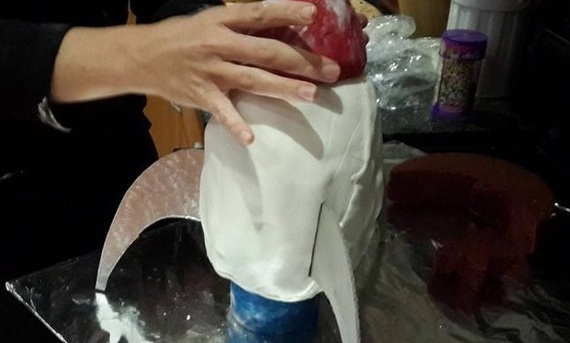 Each cake has taken two to three evenings. Day 1: bake cake, freeze. Day 2: cut cake while frozen, assemble and apply first layer of icing to get rid of crumbs, place in fridge. Day 3: Finish icing with toppings and details -- fondant (plastic icing) works like a charm. It has been worth every minute just to see the look on my boys' faces when they see the cake -- and to hear them talking about it for years afterwards!
Plus, you can get anything you need to know online! Google "(type of) cake images" and you will be amazed what you will find. This week, I found a video online about how to make a fire engine cake with three bread loaf sized cakes -- excellent! My 2-year-old is sorted. See the video here.
Total prep time: 5-6 hours.
We try do this ourselves, creatively, as much as possible as we don't want to spend tonnes of money. We have had some very successful parties this way! We have physically moved our entire play area outside into the garden, hired jumping castles, invited one of our son's teachers to come play guitar at the party (Barney theme), had clamber club equipment drop off services and made a rocket ship as tall as the kids with cardboard boxes and loads of paint -- big hit with all ages! My best tips would be: Keep it simple and age appropriate.
Total prep time: 60 minutes including phone calls and set-up -- if you want to make a rocket ship, have a look here and add three hours.
Again, keep it simple. I am always grateful when there are less sweets and more healthy snacks like fruit, popcorn, crackers and cheese at a kiddies party. Bottles of water and juice are a hit (and fun to customize with free printable labels), alcohol for the parents if you like, quiches and cheese boards or cold meats, cheese and bread they can cut themselves. Carrot sticks, cucumber, olives and cheese, with dips, finish off an inexpensive and well received spread. Your guests came to play, not to eat -- they will have a blast with easy, healthy finger foods on the go.
Total prep time: 2-3 hours including shopping.
6) Party packs/thank-you notes
Again, bags of sweets are often the last thing parents want their kids to be holding when they leave an action packed kiddies party. I would suggest keeping it simple and thoughtful -- a single biscuit/cupcake in the theme, or a mini water pistol or other gift with a customized thank-you tag is more than enough and will be welcomed by tired parents at the end of a long day. Follow it up with a personal text or other message after your child has opened his/her gifts and you'll be loved and remembered for a wonderful, happy day.
Total prep time: 3-4 hours depending on the choice of party favor
We hope you have found these tips useful and look forward to hearing your comments and feedback - please leave a comment below and follow us on Facebook or Twitter to keep in touch. www.halfdaymum.com