Every day, along with 50 other donors of The Pollination Project, I have the privilege of making seed grants to social change leaders around the world. Here are the extraordinary people and projects that our community of givers supported this week.
Hip Hop Education in Senegal.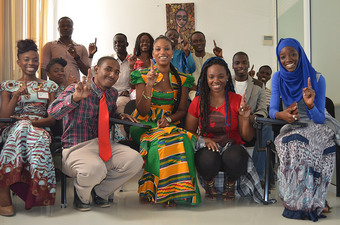 Rosalind "Pozzie" Lott is the co-Founder of the HeartBeat Music Institute. Along with Co-Founder NC Abram, their goal is to provide youth empowerment through the arts in Dakar, Senegal. In Senegal, 50 percent of the population is under the age of 18, and only 20 percent of youth are enrolled in school. Their project provides encouragement and education delivered in an unconventional and innovative way through the universal language of music and arts. HeartBeat Music Institute will provide training in music, songwriting, recording, film production, script writing and graphic arts. They will also incorporate politics and economics so that their students recognize the importance of their voice and how to use their talent and creativity for greater global change.
Healing from Trauma in Northern Uganda. Francis Okello Oloya is a war trauma survivor in Uganda. When he was a young boy, he was subjected to a bomb explosion while working in his family's garden, which left him severely injured and blind. Despite his many challenges, he made it through high school and college, receiving his degree in community psychology. Francis has returned to his homeland in the northern town of Gulu, Uganda, and developed The Comfort Dog Project to help other war trauma survivors who are suffering terribly with the symptoms of Post-Traumatic Stress Disorder (PTSD). There is a high rate of suicide and substance abuse in Northern Uganda among PTSD survivors. The Comfort Dog Project is designed to fill this psycho-social therapeutic void by providing professional trauma counseling in conjunction with training in how to care for, teach and create a solid dog-guardian bond as a way to further reduce the trauma and symptoms associated with PTSD.
Permaculture in Puerto Rico.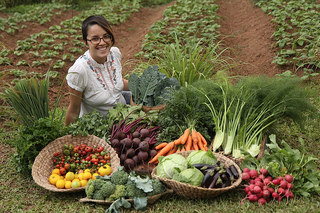 Daniella Rodriguez owns and operates a very small organic veggie farm, Siembra Tres Vidas, in the high mountains of Aibonito, Puerto Rico. In the past two years her farm has become a go-to resource for upcoming small farmers and potential homesteaders. On an island where 85 percent of food is imported, knowledge regarding self-sustaining food production is priceless. After 4 years of operating solely on rented land, Daniella was blessed to be able to acquire a remote 10 acre farm, Finca Tres Vidas, in the same town as her small organic farming operation. She seeks to develop this property using the techniques of permaculture design, and it is her goal to be an educational center for all who seek the know-how on developing their own self-sustaining projects.
Computer Literacy in Madagascar. During her junior year of college, Nora Studholme studied abroad in Madagascar. For much of her time in the country, she lived and worked in Nosy Be, an island in the northern region supported almost entirely by their tourism industry. Her experiences inspired her to return to Nosy Be two years later to begin Code For Humanity, a school for computer literacy and basic web creation, with project co-leader Jared Thomas. Although Nosy Be is one of the wealthiest regions of Madagascar, it remains one of the poorest in the world, and foreign businesses and investors capture the majority of the wealth. With over 77% of Malagasy people living under the poverty line, there are few viable economic alternatives and many individuals have lost much of their autonomy in choosing a livelihood. Code for Humanity seeks to empower individuals to create their own opportunity for economic, personal, or community growth. They will provide computer education that is practical, affordable, and relevant, helping new organizations to build a foundation and existing organizations to grow.
Healing the Loss of a Child in Michigan.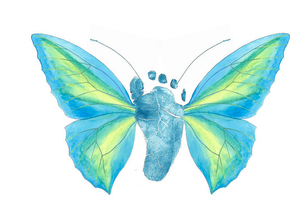 Michigan artist and biologist, Adriana Mallett, wanted to create a way to provide comfort to parents and communities who are grieving the loss of a child. Through the creation of butterfly prints using the infant's footprint, Adriana creates beautiful prints as a gift to grieving families. Her project, Butterfly Prints for Healing, plans to partner with West and Central Michigan Funeral Homes to distribute her work further.
A Fresh Start in Philadelphia. Courtney Bowles is co-director of The People's Paper Co-op in Philadelphia, PA. Along with prior TPP grantee, Mark Strandquist, the Co-op partners with Philadelphia Lawyers for Social Equity (PLSE) to organize and facilitate free legal clinics that help participants clear or clean up their criminal records. Participants then print out their records, tear them up, and put them in blenders to create new, blank sheets of handmade paper. Each participant writes and creates a polaroid portrait in response to the prompt: "Without these records I am..." Both writing and image are then embedded into the new paper comprised of individual's shredded records. Each piece of new paper is being sewn together to create a giant quilt of criminal records, polaroid portraits, and community reflections. Courtney and other co-op members have worked to build the legal, creative, educational, and political partners to ensure that the project can have lasting impacts on personal and systemic levels.
Want to be part of the joy of giving? Join our Daily Giving Community, or simply create your own giving practice. It will change your life!
Calling all HuffPost superfans!
Sign up for membership to become a founding member and help shape HuffPost's next chapter