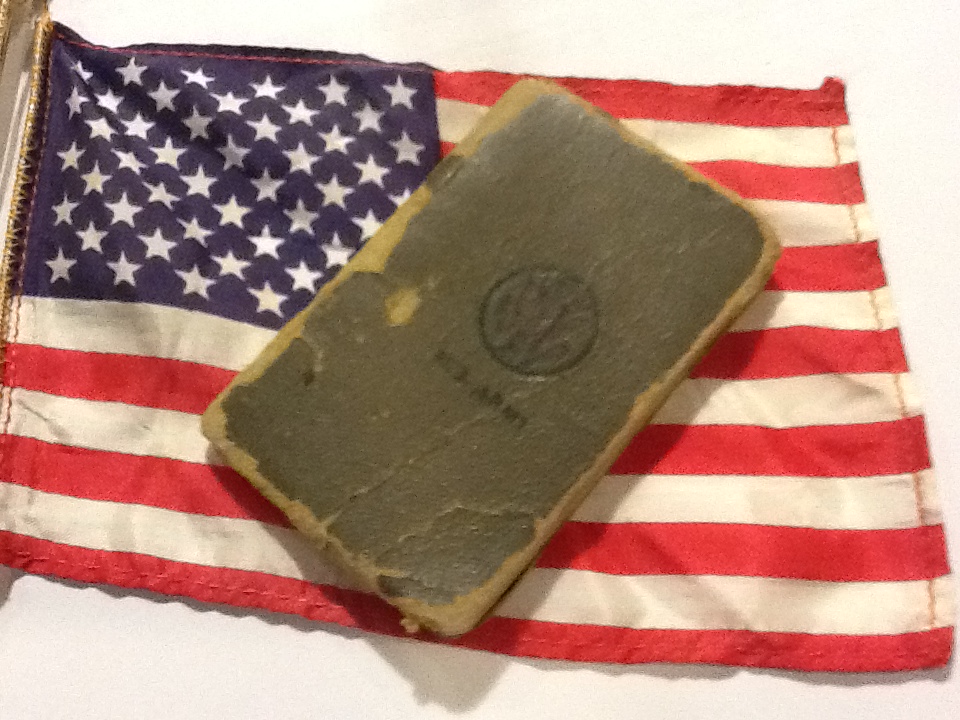 I knew we had something in common.
The way Henry penned neat, short but meticulous notes of important events during his tour of duty -- including how much money his buddies owed him. Like me, during my young military days, Henry must have apparently been a small payday loans store for his military buddies who were not as frugal as he was.
And just as I was in my early years, Henry had been a stamp collector, but unlike me, he was "a well respected and highly regarded philatelist in the stamp collecting community," according to his granddaughter, Katherine Boyd.
There are other similarities, but I will not dwell upon them because this is a story about Henry, more precisely about Corporal Henry Stanley Nowak's diary. A diary that, unlike mine, still exists more than 65 years after Henry made his last entry on Dec. 7, 1945, just after he reported to Camp Grant "for Discharge."
With those two short words, this soldier finished his simple, unembellished but touching account of his World War II service in Europe, in a tiny, 2 by 3 inches, heavily worn, U.S. Army-issue booklet. A diary that accompanied Nowak into battle, through personal setbacks and romances and in which he recorded his perilous Atlantic crossing in the middle of winter ("Sailed -- England 10 Dec. 1944, USS Gen Richardson. Disembarked Southampton, 21 Dec. 1944"); his first day on the front lines in Luxembourg; his first incoming enemy fire in Germany; the grief of losing a close buddy and the satisfaction of seeing the enemy being paid back: "Encountered enemy South of Leipzig. Pulverized town of Zeitz. Same day in evening saw AA boys knock down German plane as it strafed Btry. Bastard burned down two hundred yards away."
After more than a year in battle, the notes reflect Nowak's almost detached observation that the long war is finally over ("V-E announced at 1300 to go into effect at 0001, 9 May [1945]"), but then, the realization and excitement that he is really going home, via Paris, of course ("Paris -O La La!!") and finally, finally the pure joy of coming home expressed with one single word, "Whee!!"
On the occasion of Veterans Day 2011, I quoted some of the entries from Nowak's tiny diary. Notes which were perhaps better than any eloquent essay or documentary, could tell the story of what our soldiers went through during that long, terrible war -- the deadliest war in history.
In addition to wanting to share this brave young man's precious words with readers, I wrote the article in the hopes that the story would reach Nowak's survivors so that his words could finally come home -- as was the hope of the person who first came across the diary.
That person, Francine Wayland of Austin, Texas, found the diary "pressed between the pages of a book" she purchased at Goodwill several years ago.
As soon as Wayland saw and read the diary, she knew she had a treasure in her hands, but one that had to be returned to Nowak's surviving loved ones. This became Wayland's mission -- her noble obsession.
During the next few years, Wayland did everything in her power to locate family members who would certainly want this treasure -- to no avail.
Wayland told me, "I held this diary like a gem in my hands for years waiting for someone who loved Henry's story as much as I did; who would appreciate his service as much as I did."
Henry Nowak's granddaughter, Katherine Boyd, wrote in the comments section to the story how thrilled she and her mother were to learn about the diary:
"We, literally, had no idea it existed... when my Grandmother... passed away in February 2009 we donated over 600 books but never thought to look through them as no one ever indicated that Henry would have put anything inside any of the books. It is something that we never would have let go of, had we known of its existence... we never have and never will forget Henry -- he was a remarkable human being and someone we loved very much... "
And, of course, Katherine and her mother would love to "bring Henry's diary home."
Well, I am happy to report that Cpl. Henry Stanley Nowak's diary is now safely back in the hands of those who love him, including his granddaughter who says, "Henry was in my life, as the only Grandfather I had, from the day I was born, he was and is important to all of us... "
Since our initial contact, Katherine has told me a little more about her grandfather.
"He was a quiet man, very set on his patterns," she says. A man who left her with "so many nice happy little girl memories of him." Katherine fondly remembers how "for Christmas one year he filled the Christmas tree with dollar bills for my sister and me to find." She adds, "occasionally he would tell me about a particular stamp or sheet of stamps if they were extremely rare and/or unique in some way."
Katherine concludes, "At the end of the day he was the most content and one of the kindest people I ever knew or probably will ever know."
Just thought of another thing Henry Nowak and I have in common: The unending, unconditional love of a Grandfather for his grandchildren.
Katherine, I am so glad your Grandfather's writings have finally come home and that you feel that your Grandfather is "right there, in the room with [you] once again."