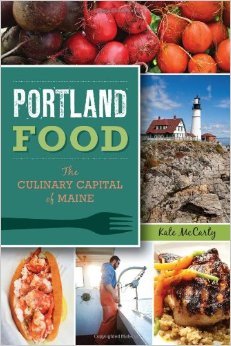 Memorial Day Weekend was a week ago and summer has finally show signs of arrival in Portland, Maine. Restaurants and bars with water views are a little noisier and there are a few more out-of-state license plates vying for downtown parking spots. But as residents will tell you, this city is hopping year-round with people seeking more than just lobster -- serious eaters come for bivalves, baked goods, house-made sausages, local potatoes fried in duck fat, seasonally inspired plates, locally brewed beers, and more.
In 2009, the same year Bon Appetit magazine awarded Portland the title of America's Foodiest Small Town, The New York Times writer Julia Moskin described it as a city of abundance. These sentiments were not news to anyone who lived in Portland at the time and knew finding a delicious meal wasn't exactly the toughest thing to do. After all, in Portland the fresh ingredients and stunning array of talent in the kitchens are the stars of Maine's largest city.

When Kate McCarty was tasked with writing the recently released book Portland Food: The Culinary Capital of Maine, she undertook the daunting responsibility of documenting a vibrant food scene that boasts more than three hundred restaurants, as well as specialty food businesses, farmers' markets, pop-up dinners and food trucks.
After moving to Portland from Baltimore in 2008, McCarty found herself drawn to the food scene. She printed out a map of restaurants from every Portland foodie's favorite resource -- the Portland Food Map and went about exploring her new home. At the urging of a friend she created her own blog The Blueberry Files and began documenting her culinary exploits.
Here's what blogger and author Kate McCarty had to say about her new book and Portland's food scene...
While learning about the history of Portland's food culture, what most surprised or fascinated you?
I was surprised by a lot of things as it was mostly all new to me (I've only lived here for 5 years). I was surprised to learn that Three Dollar Dewey's was repeatedly pointed to as one of the first places in Portland's Old Port to serve good food and local beer - as it's not exactly on any foodie's radar these days. I was also surprised to learn that Portland's ground fishing industry is in sad shape. You hear that Maine has such abundant, local seafood, and while that's true for lobsters, oysters, and mussels, ground fish like cod and haddock are almost wiped out. There is great work being done to promote promoting the use of local, abundant fish like redfish though.
Describe Portland's food community in six words.
Local, accessible, authentic, proud, resourceful, growing
In your opinion, what is it about the Portland food community that inspires so much creativity?

The low cost of entry and accessibility (e.g. rents, prime space) is attractive to many chefs, as well as our abundant local ingredients like produce, cheese, meat, and seafood. Everyone in Maine is into making things, whether it's cured meats or beer or blueberry jam. All of the chefs I talked to while researching Portland Food mentioned how supportive and collaborative the food and restaurant industry is. We don't have the same competitiveness in the restaurant industry that they have even just down the road in Boston. All these factors created this incredible restaurant scene for a city of our size.
What is the future of Portland's food (and drink) culture?
More and more restaurants are opening every time you turn around. There's starting to be more collaborative projects, like Speckled Ax and Allagash Brewing's coffee beans aged in beer barrels. Everyone is so excited by others' ideas, these creative collaborations will continue to happen.
Where are you eating/drinking out this week in Portland?
My family is visiting for my book launch party, so I've got the chance to show off Portland's food scene! We're headed to Cape Elizabeth's Bite Into Maine for lobster rolls, Salvage BBQ for ribs and hush puppies, Blue Spoon for inspired entrees that use the best local ingredients, and Rising Tide Brewing for a food truck and a hoppy ale. We're going to have trouble narrowing down all the great brunch options in town -- my sister will want mimosas and blueberry pancakes at Bintliff's; my stepfather will love the Cajun fare at Hot Suppa and I'm dying to try newcomer Central Provision's brunch. Wish us luck.
Related