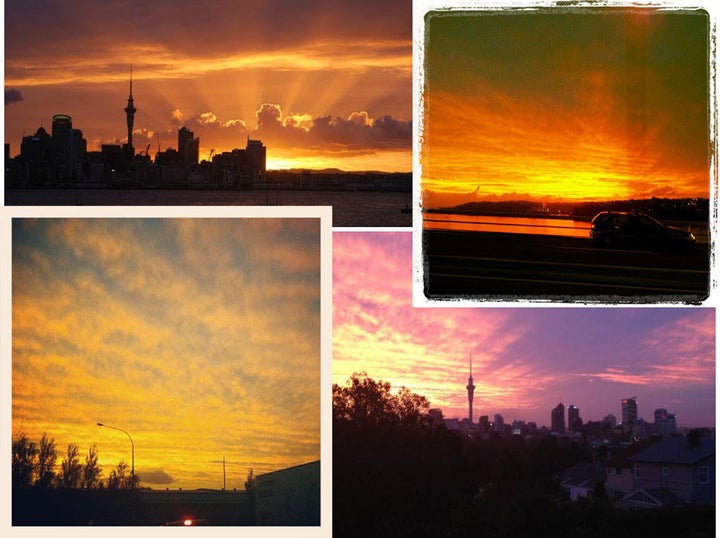 "Hello happy people." That's a salutation you don't see every day. It was an email from book buyer Colette Doherty and my first clue about Kiwi culture. The fun-loving folks who live on New Zealand's wildly beautiful Coromandel Peninsula share an unbridled appreciation for the arts.
Thames, New Zealand was the last stop on my recent book tour down under. I didn't know what to expect when I touched down in Auckland. Having just traveled from an event at the Port Arthur Historic Site on the southern tip of Tasmania, I had scheduled a day to decompress. I had just enough time to squeeze in a trip to one of the most pristine habitats on the planet, Tiritiri Matangi Island -- a 75-minute ferry ride from Auckland. A group of well-trained volunteers each donate one day a week to preserving the island and its endangered indigenous bird species. There my partner Digney and I were treated to a private tour by one of the volunteers, Maori guide Hohepa Waenga.
For four magical hours -- when we were only scheduled for two -- we hiked in the forest while Hohepa shared tribal wisdom that had been passed from his mother and grandmother. I will never take fog and rain for granted after hearing the myth of earth mother Papatuanuku and sky father Ranginui, or wonder how the kiwi lost its wings and why it is the most famous bird in New Zealand. Ancient wisdom is respected and permeates a culture in which the Maori language is woven into everyday names and places.
Following our day trip to Tiritiri Matangi, we took a bus back to our Auckland motel. When we asked directions for our stop, several women jumped in to look at our map, got us to our lodging, and recommended a family-owned Italian restaurant. We knew we were at the right place when we began to smell the garlic and cheese from down the lane. Although the restaurant was fully booked, the owner managed to find a spot for the two Yanks still wearing their grungie hiking boots.
As we finished our homemade pasta, the couple next to us asked if we'd like to share their wine. Clive and Creina Weston filled our glasses and we soon learned that Clive is a wine distributor. Fast forward an hour later. We were sitting in the Weston's charming hilltop bungalow that overlooks Auckland's skyline and sampling New Zealand's finest Sauvignon Blanc. Welcome to Kiwi hospitality!
I awoke the next morning a bit disheveled but with a big grin on my face. Sipping my coffee, I thought: "I really like being a writer."
We followed the shore route along the stunning west coast of the Coromandel where I would finally get to meet Colette who works for a Paper Plus bookstore there. She had poured her heart and soul into the New Zealand launch of my book, The Tin Ticket at the Thames Civic Centre. My talk was about the 25,000 women exiled down under as "tamers and breeders." Most were desperately poor and sent to "lands beyond the seas" for committing petty theft as a means to survive. Many were given numbered tin tickets hung around their necks on a red cord, tracked like animals and condemned to a seven or ten-year sentence.
To date, none of the original tin tickets have been found, but Colette used her imagination and gave each book-lover at my talk a shiny paper tin ticket replica with a number that had been assigned to one of the convict girls. It was a hint of what was to come. As the event ended with everyone enjoying some lovely cheese and fruit, Colette presented me with a Maori-designed jade necklace whose fish-hook symbol denotes safe journey over water.
Authors and publishers across the U.S. are struggling, but for three weeks in Australia and New Zealand, I dismissed this dismal reality. Down under, people of all ages walk around with books in hand and seem genuinely interested in learning about history. In Thames, I was delighted to meet two young women who had traveled more than an hour from Auckland to meet me, and a history buff who had driven an unimaginable six hours to Thames over the one-lane bridges and hair-pin curves that characterize the Kiwi roadways.
For a rare moment, I was rendered speechless when, just before my talk, a descendant of one of the women in my book walked into the hall. Annette Delaney and her best friend had gotten up at 2 a.m. in Bendigo, Victoria and taken the four-hour flight to New Zealand to surprise me. In Australia, Annette educates young women who've gotten off track and landed in prison. Representing a thread of history that has come full circle, she shares with her students lessons from the life of her ancestor Ludlow Tedder, a woman featured in my book who was transported from London to Australia for stealing spoons and a breadbasket to help support her children.
My evening in Thames reminded me that writing about strong women empowers and attracts strong women. I loved meeting Renee Rose Annan, one of the booksellers at the Civic Center, also an activist whose second job involves working with Maori groups to stop gold mining on the ecologically-fragile Coromandel Peninsula. Social and environmental activism, coupled with heavy-duty volunteerism, appears to be alive and well in New Zealand, and the country is reaping its rewards.
And yes, along with wine, humor proved to be a theme among the Kiwis we met. While celebrating with Annette and crew over a glass of Pinot Noir after my Thames event, they suggested I stop at the tourist center for some "special" gifts before heading home. On a sparkling Sunday morning I found myself purchasing a possum fur "willy warmer" that was proudly displayed on the center's souvenir stand right next to the postcards of Maori warriors with full face tattoos.

I left the Antipodes feeling refreshed, inspired, and full of ideas for my next book. These days, when I sit down to write, my session starts by laughing out loud at the possum trinket currently warming a special spot atop my desk.
Popular in the Community