A green roof, solar panels, wind turbines and a rainwater collector have not been the traditional amenities of luxury yachts. With the concept Island(E)motion luxury mega-yacht, however, Swiss designers Milena Cvijanovich and Denis Muller of MCM Design Studio are redefining how sexy sustainable can be in a category where patrons are known for out-glamming the competition. Cvijanovich, the daughter of Dr. George B. Cvijanovich, the inventor of one of the first solar panels, has made environmental awareness and sustainability the pillars of her architecture and design projects.
While it's still at the concept stage, with only renderings to communicate the finished product, the Island(E)motion already has the yachting world a buzz. Because of its eco-construction, she can whisk her owners and their lucky guests to UNESCO Heritage sites usually inaccessible (not to mention inhospitable) to larger boats. There's also been interest from boutique hotels and spas who are always keen to adopt more residential comforts.
Island(E)motion features over 700 square meters of flexible (and accessible) photovoltaic solar panels on the flat roofs, which supply enough energy to cover basic electrical needs. Thermal panels provide hot water, with an additional 200 square meters of active glass in the railings for additional solar power. Small wind turbines that run the length of the vessel supplement electrical needs, and should your chefs, DJ and assorted guests exhaust all of that, there are bio-diesel electric backup generators available. The recycled-steel hull was designed with an air bubble layer that lowers friction with the water and reduces fuel consumption. A brand-new propeller system captures the best of hydrogen and LNG fuel cell technology. It also boasts rainwater storage and grey and black water reuse. Of course the MCM team also planned for creature comforts more akin to traditional yachting needs, including a helipad, massage rooms, sandy beach and dining room that seats 24.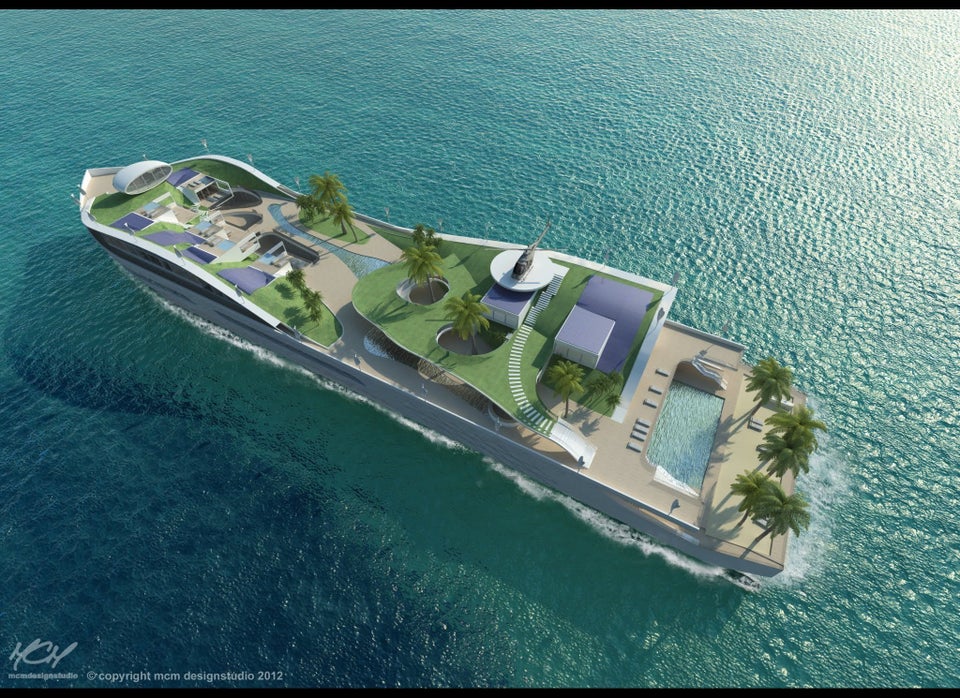 Related