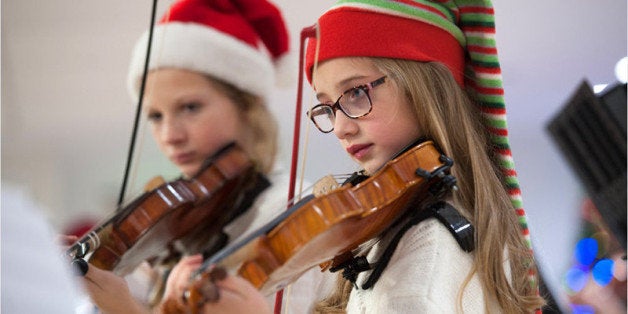 A year ago, Aimee Fellows couldn't imagine being back in this room, awaiting the start of another violin concert featuring her daughter. Sophie, now 10, is dressed in a frilly white blouse and black skirt. Her dressy black shoes — her first pair of heels — are just a tad higher than flats.
Last year, Sophie arrived at the Boston Children's Hospital's Patient Entertainment Center wearing pajamas, with a white bandage covering her IV hook-up. Her fellow students from Carolyn Bever's violin school in Vermont had come to help her finish the holiday concert she had left a few days earlier because of a painful headache that turned out to be a sign of a brain tumor.
The day before her surgery, Sophie completed the concert, ending with Pachelbel's Canon, the finale for which she had practiced for months.
"It was bittersweet," Aimee Fellows recalls. "I was fearful that I was watching my 9-year-old daughter perform this talent perhaps for the last time."
It took two operations to completely remove the tumor, which, while large, was non-malignant.
Bever's students returned in 2015 to perform a concert to bring holiday hope to this year's patients. "Last year I was pretty scared for the next day," Sophie says. "This year is kind of like a celebration."
A surgeon and a pianist In 2014, Dr. Liliana Goumnerova, Sophie's surgeon and director of neurosurgery for Dana-Farber/Boston Children's Cancer and Blood Disorders Center, sat in the audience. This year, Goumnerova, who started playing piano at about the same age Sophie started playing violin, accompanied the violinists for Pachelbel's Canon. "I don't think you can really repeat this experience," Goumnerova says. "This is a once-in-a-lifetime deal."
Sophie's father, introducing the piece, remembered the 7½-hour surgery the day after last year's concert. While Sophie was in the recovery room, he and the family went to grab some food — and heard Pachelbel's Canon playing in the background.
Three days later, after a second surgery to remove the last bit of Sophie's tumor, the Fellows went back to the cafeteria, and once again Pachelbel's Canon was playing.
As they watched their daughter play violin beside her neurosurgeon on the keyboard, Chad and Aimee held hands. "I was thinking about Dr. Goumnerova's delicate hands, watching her fingers playing the piano," Aimee Fellows says. "Those are the fingers that were working on Sophie's brain."
This story first appeared on Boston Children's Hospital's Thriving blog.
Calling all HuffPost superfans!
Sign up for membership to become a founding member and help shape HuffPost's next chapter