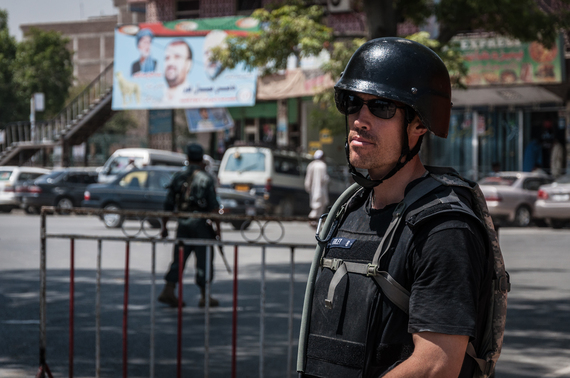 (Courtesy/Simon Klingert)
By Charles M. Sennott One year after his murder shocked the world, the family of American freelance journalist James Foley spent the day in quiet prayer and remembrance of him as a son, a brother and an uncle.
And one year after his brutal execution at the hands of the Islamic State, his family and a wider circle of friends and colleagues remembered Foley's commitment to telling the stories of people caught up in the machinery of war. On this anniversary of his death, there is a good deal of discussion about the agonizingly long process to try to free Foley before his barbaric beheading. There are lessons we must continue to study, and from which we still have much to learn.
And so it is also a time to reflect on those young journalists who aspire to do the kind of work that Foley did, and the lessons that can be taken to reduce the chances they would ever meet a similar fate.
In a statement on the website of the James Foley Legacy Foundation, his parents, John and Diane, wrote, "Jim was known for his caring and joyful spirit, and bold idealism. He gave a voice to those marginalized by poverty and conflict. Jim befriended them and listened to their stories and advocated for them."
"August 19 will always be a difficult day for our family and Jim's friends. But Jim's goodness has touched our world," they wrote.
His memory lives on in many tangible ways. The Foleys announced a 5k run in his honor in Rochester, New Hampshire that will take place on October 17, his birthday weekend. And a new scholarship was awarded in his name at Marquette University where he learned about a commitment to social justice from the Jesuits who teach there. The Online News Association announced an award in Jim's name to honor reporters covering conflict. And The GroundTruth Project sponsored a Middle East reporting fellowship in the spirit of Foley, and you can read the first dispatch here. It is uncertain precisely when he was killed, but it was last August 19 when the Islamic State released the video which was streamed on the web, leaving a searing image of Foley in an orange jump suit kneeling in the sand while his executioner dressed in all black brandished his blade.
For nearly two years prior to that horrifying moment, Foley, who worked as a freelancer for GlobalPost and other news organizations including Agence France Press, had been held hostage in Syria.
Wrong information about who his captors were in the initial stages and failed approaches to investigating his whereabouts ultimately undermined the effort to free him. That failure came despite enduring efforts by the family, by GlobalPost and by a team of private investigators. Through the process the Foleys were given conflicting information, and were told by federal agents they could face prosecution if they tried to pay ransom to save their son. At one point in July, a US military operation was ordered based on credible intelligence about Foley's location, but it came too late and his captors had moved on.
The collective failure to save James Foley raised many questions about how America and American families will deal with the recurring nightmare of hostages being held for ransom.
His mother, Diane, framed the questions with a simple, but challenging statement. "America can do better," she said, when it comes to working on hostage situations and specifically when it comes to working with the families and loved ones going through the ordeal.
President Obama said he heard Diane Foley, and undertook a review of the US policy for six months and began an official exploration of one of the most challenging moral equations of American policy in the post-9/11 era. That is, whether it is better to pay terrorists a ransom for kidnapping and save a life or to reject such a payment on the grounds that it creates a perverse incentive for more kidnapping by these terrorist organizations.
Many European countries do pay ransom and as a result many European journalists held by terrorist organizations have been spared. But the US and the United Kingdom have always held to the principle of not paying terrorists to release hostages.
In June, President Obama announced reforms that cut a fine line between no longer threatening families with prosecution if they negotiate for payment of release of loved ones held hostage, but still maintaining that the US government will offer "no concessions" to terrorist organizations.
The reforms announced by the White House also included an interagency approach to help streamline the efforts of different branches of the military, the CIA, the FBI and the State Department in coordinating an effort to return hostages and prosecute kidnappers.
These new policies are important and hopefully they will save lives at a time when an estimated 30 Americans are now believed to be held captive by terrorist organizations around the world.
But there are larger lessons to be learned. In these learning opportunities, we can't only turn the teacher's pointer on the federal government. As journalists and media organizations, we also have to face equally hard questions at a time of rising peril for reporters.
Are our news organizations sufficiently thinking through risk analysis for correspondents on dangerous assignments? Are we providing adequate resources for them to do the work safely? And, more broadly, is there a danger in glorifying "conflict reporting" when the truth is James Foley never would have described himself as a conflict reporter?
Foley covered people, not "conflict." It may sound like a fine point to make, but it is actually a profound distinction in our craft as young correspondents following in the steps of James Foley seem drawn into the field with insufficient training, a lack of experienced editors and inadequate funding. This is happening precisely at a time when, as the Committee to Protect Journalists has confirmed, it has never been more dangerous to be a reporter.
At GroundTruth, we seek to inspire and support the next generation of correspondents to cover the stories that matter, but we do so with a keen awareness that there are more stories out there than war.
There are important and compelling stories of life and death that need to be told around global health and climate change, and there is a story of an entire generation whose future hangs in the balance amid an uncertain global economy. In recognition of the fact that the peril reporters face these days goes beyond conventional conflict, GroundTruth has undertaken a pioneering training module for field correspondents covering natural disasters and infectious disease as part of our reporting initiatives on climate change and global health.
Over the last year, the murder of Foley -- and soon after, of Steven Sotloff -- has spurred a larger movement to create a new culture of safety for correspondents in the field. This movement is quick to recognize that while the killings of American journalists grabbed the world's attention, nearly 90 percent of the journalists murdered while doing their jobs are local journalists and that the vast majority of these murders are carried out with impunity.
To address the rising peril for journalists, a group of editors and freelancers from different advocacy groups and news organizations, including GroundTruth, drafted an agreed upon set of standards for news organizations assigning journalists to cover conflict and other dangerous stories. More than 70 news organizations have now signed on to this effort. And we have incorporated the shared standards into "GroundTruth: A Field Guide for Correspondents," a practical guide for reporters and a collection of essays about lessons learned in the field that I first wrote eight years ago just before launching GlobalPost.
One of the great challenges on the anniversary of Foley's death is to remember that these standards now need to be upheld. One year on from the tremendous loss of a colleague who was admired and beloved, we still have much work to do to ensure the safety of journalists working on the ground on dangerous assignments telling the stories that impact us all.
We owe it to Jim to be sure we succeed.
Charles M. Sennott is the Founder and Executive Director of The GroundTruth Project and co-founder of GlobalPost.
Calling all HuffPost superfans!
Sign up for membership to become a founding member and help shape HuffPost's next chapter