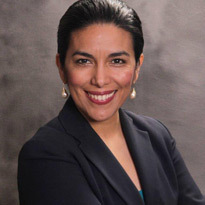 Friday marks one year since President Obama signed an executive order that would allow youngsters who came to the U.S. as children and parents of Americans temporary relief from deportation.
It's been one year since the president's actions have been held up by a lawsuit launched by Republican governors and atorneys general in federal court.
For the last year, families from the more than 11 million undocumented immigrants in this country have mobilized to call attention to the need for immigration reform that will keep mothers and fathers, aunts and uncles, and grandmothers and grandfathers from being deported so our families are not ripped apart.
In October, 13 immigrant activists that included mothers, fathers and college students who are undocumented immigrants or have relatives who are undocumented, fasted for nine days to demand that the Fifth Circuit Court of Appeals ruling on the case allow the relief our families need. Each and every one of the fasters showed resilience and determination even as they put their bodies on the line and endured grueling physical pain. They - and all those affected by the fear and uncertainty that their families may be torn apart - remain eager and willing to fight for their loved ones no matter what it takes.
Our families have held non-partisan presidential forums, co-hosted by the Fair Immigration Reform Movement and The Nation, to address the issues that directly impact immigrant communities. Democratic presidential candidates Bernie Sanders and Martin O'Malley attended.
Our families are breaking bread with the candidates, inviting all of them from both parties to dine with a family eligible for temporary deportation relief in the hopes that meeting our families one-on-one will help them see us as people who are working and striving for a better life for our children.
Last week, as our families gathered for the presidential forums and prepared to dine with the candidates, the federal court refused to allow the implementation of the president's executive actions to grant relief to millions.
So we enter this one-year anniversary of the president's unimplemented order invigorated and ready to demand action. And we are taking our cause straight to the heart of those who can make this right.
On Friday, hundreds of families will rally at the Supreme Court to demand the nine justices take the case and ultimately rule to protect our families. Among them will be parents, such as Madai Ledezma. Madai immigrated here 10 years ago from her native Mexico with her husband Jose. They have a 7-year-old daughter who is a U.S. citizen and now the couple is fighting to stop their young family from being separated.
"I have no idea what would happen to our daughter if we were deported," Madai said. "I can't bear to think about it."
Both Madai and Jose will qualify if the temporary deportation relief were implemented.
The Supreme Court rally is just one of dozens of marches, vigils, pickets and pilgrimages being held Friday by immigrant advocates across the country, from communities with high numbers of immigrants in California, New York and Texas, to smaller ones in states such Idaho and Oregon.
The rallies and marches are another step in a long, rigorous journey that has shifted the conversation in America about immigrants by putting immigrant families at the center of the conversation. Thanks to the work of FIRM and other advocates, there is now such a thing as a pro-immigrant vote.
We must continue to use that power to remind all the candidates that every path to the White House in American must address our families.
I know firsthand why this is so important. I understand the fear and desperation that Madai and Jose and millions of other families like theirs feel. I understand the need for this temporary relief so we can stop playing with the future of their families.
I came to this country as a child. I was 12 years old, making the dangerous journey to cross the border with my four- and five-year-old niece and nephew and an adult who my sisters, already in the States, had paid upwards of $15,000 to bring us here. But somewhere along the way, we got separated. And I crossed the border alone. I had no papers. I had no family. I was with no adult. I was afraid.
But the compassion and ideals that make this country great are rooted in the hearts of Americans and it showed itself at that moment. An immigration officer found me and questioned me as I crossed and I will never forget what he said: "I will give you ten seconds to cross and disappear. I hope you join your family and I hope that you have a good life."
That was 35 years ago. I did rejoin my family.
And now on the anniversary of the president's action, even as it remains stalled, I am reminded of the opportunity that officer gave me and know in my heart that our families will one day win the same.
Arias is the immigration field director for the Center for Community Change Action.
Calling all HuffPost superfans!
Sign up for membership to become a founding member and help shape HuffPost's next chapter