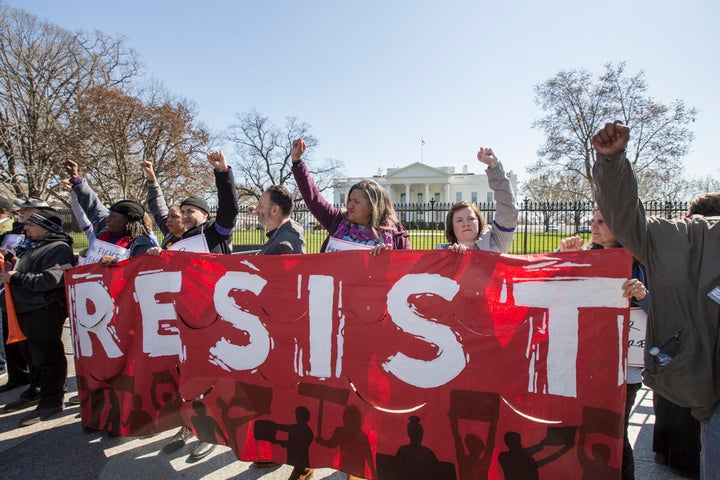 This day last year we woke up to a national nightmare –one that has now evolved into a full-blown social, not to mention constitutional, crisis.
Even as we remember November 8, 2016, we must acknowledge that today, many of us are waking up to the first clear sign that the wave of progressive activism that has successfully thwarted some the worst parts of this administration's agenda, is also poised to have a real impact on electoral outcomes.
In Virginia, in New Jersey and in local races from Minneapolis to Charlotte and across the country, candidates that rejected hate and stood firm on their values not only swept to victory, but earned record-breaking support from immigrant communities and communities of color.
Today as a country we can all take pride in knowing that a politician who rose to power attacking transgender communities was just replaced by the Virgina's first transgender legislator in history.
It should be all the proof Democrats need to see that the path to victory in 2018 and 2020 consists in doubling down on strong progressive values and investing in communities of color. We know that fighting for the working class and fighting discrimination go hand in hand.
These victories, I believe, also come as a result of reflecting on the state of our democracy in the wake of the Trump administration. Like many, I've been grappling with what we've become as a country when a 10-year-old girl with a chronic illness is ripped away from her parents at the hospital right after surgery by our own government. As a nation built on freedom of religion, what does it mean for our democracy when we ban the entrance of those in need based on their religion? What's clear to me is that when we take away healthcare and housing from the disabled, the elderly, and the poor, then we leave Americans in Puerto Rico, Texas or Florida dying from lack of medicine, power, food or water, and when we are more upset about silent peaceful protest than police murdering unarmed citizens, our entire democracy, not just some of our communities are under grave threat.
What does this moment say about our democracy? When we want to deport youth and rip apart entire families? When hundreds of white supremacists and neo-Nazis, emboldened by our President, walk freely in our streets inflicting violence without consequence? When we pass a tax bill that is nothing more than a scam to enrich billionaires?
A year into this presidency, it's more clear than ever that our most important work is to protect our democracy by fighting to ensure all of our communities have the freedom to thrive.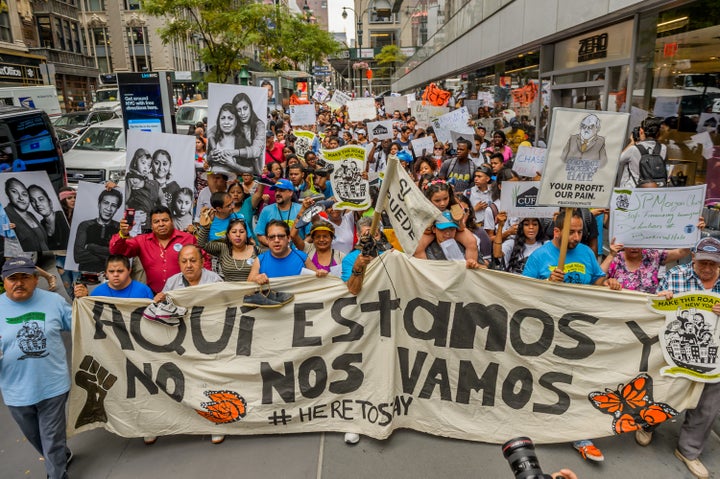 While it's easy to be overcome with despair, we should each take heart in the fact that millions of us have stepped up, marched, organized, screamed, tweeted, fought and bled to stand up to this administration and put forth a deep and transformational vision for the future of our country. Yes, we cried and held onto each other, but we also knocked on doors and made calls.
This is a moment to recognize the incredible number of everyday folks who have never been politically involved before and are standing up to say we won't let our democracy be trampled upon. However, it is also a moment to recognize that these Americans are able to do so because they are standing on the shoulders of organizers and activists –many of them people of color and women– who have been doing this work and putting their lives on the line since the founding of this country.
Since the beginning of the year, the Center for Popular Democracy (CPD) and our 49 affiliates spread across 34 states have grown our collective power into a larger, more aggressive resistance that has been able to mitigate to some extent the harm intended upon our communities. Our network and allies took to the streets for the Women's March, protested at the airports to stop the Muslim ban, marched to #DefendDACA and confront white supremacy.
In the elections Tuesday night, local community groups New Virginia Majority, CASA in Action, and Make the Road Action in New Jersey – all CPD Action partners– proved that investing in communities of color makes a difference. Thousands of members and volunteers with these grassroots groups knocked on doors, phone-banked, and organized to fight for leaders who will be accountable to their communities – and those leaders won.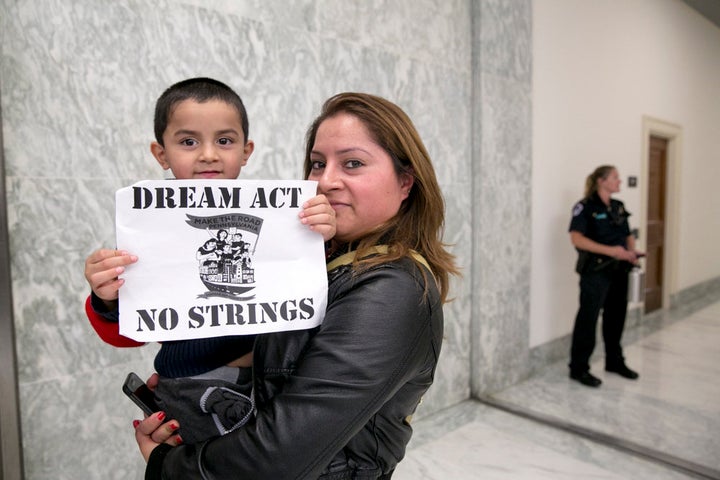 Despite this historic activism, it is now time to turn our attention into contesting for power. It's not enough simply to state what we are against, we need to provide a clear vision of what we are for. These challenging times require us to be bolder and more visionary than ever before. We have to turn this new wave of activism into powerful, collective action. It requires bravery, audacious hope, and above all else strategic organizing.
We have to build coalitions and work together to fight against the power structures and systems that oppress our communities to win progressive change and preserve it. We have to run for office ourselves, and thankfully since the inauguration we are now seeing women, queer people, and people of color doing so in historic numbers – and winning.
No longer can we celebrate policies that make people less poor, but instead we must demand political and social change to help our communities thrive. Our budgets are reflections of our values. We can choose investing in our neighborhoods, ensuring a clean environment for future generations, and allowing everybody to live with dignity and safety, over the politics of exclusion and scarcity being offered by this administration. Let's stop fighting for the bare minimum for our communities, because fighting for the bare minimum takes just as much time and effort as fighting for our boldest aspirations. .
In a country that spends hundreds of billions of dollars criminalizing and surveilling our communities, we have to dispel the myth that there is not enough in our country to ensure every child gets an excellent education, to put a roof over the head of the homeless, to save the lives of the sick with adequate healthcare, or to pay living wages to our workers.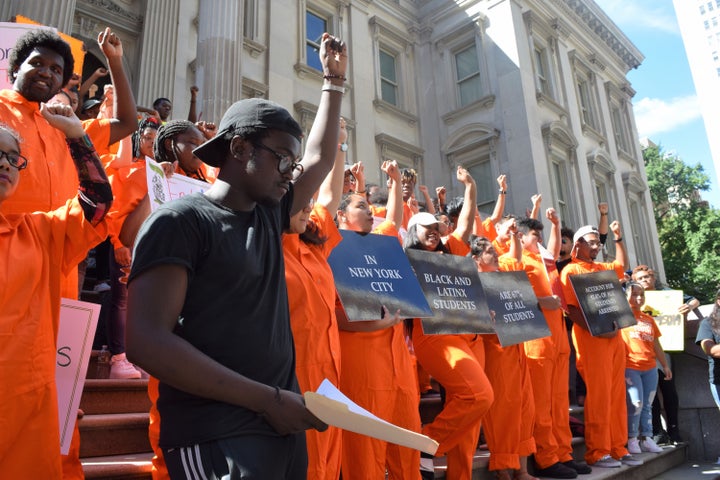 Our moral compass can not be only enshrined in our constitution or Statue of Liberty; those values should be reflected in our budgets as well. And our communities should have the right to take ownership over these budgets and make decisions based on their priorities through democratic processes like participatory budgeting, which gives communities a say in how funds are allocated.
Government is not some untouchable static institution; indeed, our American government is supposed to be by and for the people. So it's it's time to take on that promise. It's time to stand up and claim ownership of our democracy.
Let's ensure that for local elections and for the 2018 midterm elections, we are visiting neighborhoods and knocking on doors so that we can keep bringing millions of new people into our fold. In 2018, we look forward to building on that work and electing a new set of leaders who will push for a bold, multiracial vision for the Democratic Party that keeps the fight against white supremacy at the core of its political strategy. Their voter suppression crusade won't work if we all go out in numbers and vote.
Our path forward is not fighting for band-aid solutions, but the very rights and freedoms enshrined in our Constitution –for a vision that isn't just rooted in opposing the president– but in the collective freedom we want to achieve, the freedom to thrive.
Calling all HuffPost superfans!
Sign up for membership to become a founding member and help shape HuffPost's next chapter