It was, at first, back in September of 2013, just a rainy day. Then another. Then another. It's hard to say exactly when a few rainy days became more than coffee-shop complaints, more than "Getting pretty wet around here." Hard to pinpoint when irritation became worry and worry flipped into panic, when the weather went from annoying to really scary.

It was probably different for different people in Estes Park, Colorado, depending on where you lived, on how close you were to Big Thompson Creek or Fall River. Fish Creek was a residential area, a watershed, and many homes there sustained damage. It was just over a year ago that the rain poured: on September 9th, then 10th, then 11th, then 12th. Fifteen + inches of rain in a week, almost a year's worth for the area, especially measured against drought levels.
"It's hard to believe it's been one year since we woke to a flood that would change our lives and our community forever," said Estes Park Mayor Bill Pinkham. "When the rain stopped and the waters receded, the devastation was astonishing, and the recovery challenges seemed overwhelming... but the strong will of our residents and business prevailed..." Pinkham went on to highlight how Estes Park did not just recover, but united to build a stronger, even more resilient, community.
For a while after the flood, the only roads (U.S. 36, 34 and 7) that connect Estes Park to the rest of the world were washed out in places. The 47-mile Trail Ridge Road, impassible in winter, that climbs up-up-up, over the continental divide, above the tree-line, over tundra... for a while that became their only entry and exit.
It was up to the people of Estes Park to help themselves. And they did.
They grabbed shovels (everyone has a couple of snow shovels) and dug out the mud, the debris, the muck. It was a mess. Elkhorn Avenue, the main downtown street, had turned into a shallow river itself with water from Big Thompson Creek and the Fall River. Popular cafes and shops, usually filled, were totally empty, and much inventory destroyed. Tourism drives the economy of this town, but there were no tourists, and would not be for some time. Especially not after they saw the TV news and YouTube videos. Although, some saw the devastation and made their way to help. And, really, for however bad it was in Estes Park, it was much worse farther down the mountains, down the canyons. Boulder bore the brunt.
Rocky Mountain National Park was also impacted, and over $10,000,000 in damages was a figure I heard. Fall River Road has been closed since the flood, due to re-open summer of 2015. The park had landslides, twelve in all. Bridges and water-crossings and trails were washed out. But the major damage was not near park infrastructure. As a ranger told me, "It could have been so much worse."
All of the above is hard to imagine now.
When I saw the news coverage last year of the flood, I felt a sinking feeling, and a longing. Even though it had been years since I'd been to Estes Park, it was always on my "Let's go back" list, always an option. My husband and I first went as newlyweds, then with our toddler daughter. I did a road-trip with our son when he graduated junior high, and my husband came back with him years later. Estes Park is linked forever with Rocky Mountain National Park, and what is so compelling about RMNP is that you can go back... 20 or 40 or 60 years later... and see the same vistas, climb the same massive boulders on the edge of the same pristine lake. National parks preserve the wonderful so you can go home again.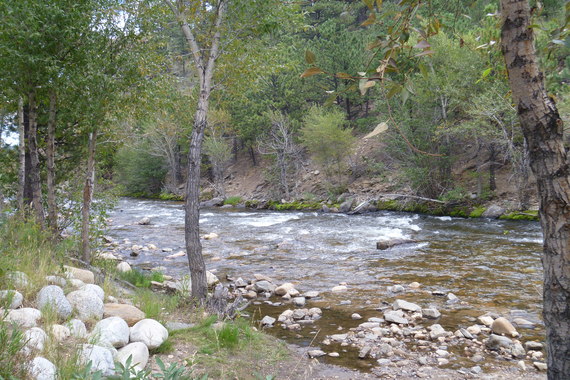 So, here I am, sipping a latte at a bistro table at the back of Kind Coffee, overlooking Big Thompson Creek. The creek gurgles, in a cheerful, non-threatening, way, a picture-perfect, postcard-perfect creek. The stores are thriving, filled with happy visitors. Mama Rose's Italian and Poppy's Pizza and Grill, both significantly damaged last year, have lines out the door. We drove up from Boulder on U.S. 36, over section after section of what was clearly new construction. You can see damage but the surprise is that so much has been repaired. Gov. John Hickenlooper had a lot to do with that: locals share how he cut through red tape, called in the National Guard, got to work without excessive protocol.
I hear that there is a new Estes Park Events Complex at the fairgrounds at Stanley Park, a huge investment for the community but already paying off with booked conferences and events. I hear that some businesses closed but new ones have opened. I hear that Estes Park has come back not just to what they were... but more.
"We're Mountain Strong," the barista shares. "We did all of this," she says, gesturing to include the remodeled coffee shop and then out to Elkhorn Avenue.
"Most guests would never know we're still making repairs to infrastructure in residential areas," said Kate Rusch, Public Information Officer for the town. "People see a vibrant, beautiful town with lots to offer."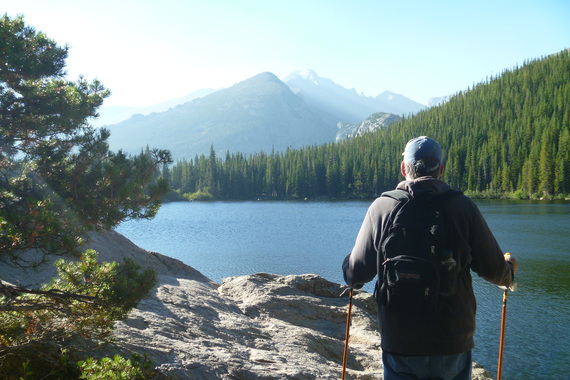 My husband and I are having a fun vacation. Really, really fun. We hike in the National Park every morning (OK, we may have breakfast at The Egg and I first). A lazy stroll around Lily Lake the first evening to adjust to the altitude, then up to Nymph Lake, Dream Lake and Emerald Lake. We soak in the hot tub and nap in the late afternoon. We're staying at Ram's Horn Village, right at the Beaver Meadows entrance to the park, lovely time-share place condos they also rent by the night. Towards sunset, we drive up into the park looking for meadows with horny elk (fall is their rutting season). The first night we turn into a parking lot to check a map to locate some meadowlands... but look up to see a huge elk with massive antlers making his love-sick call while trailing after a demure girlie-elk. This alongside a parking lot.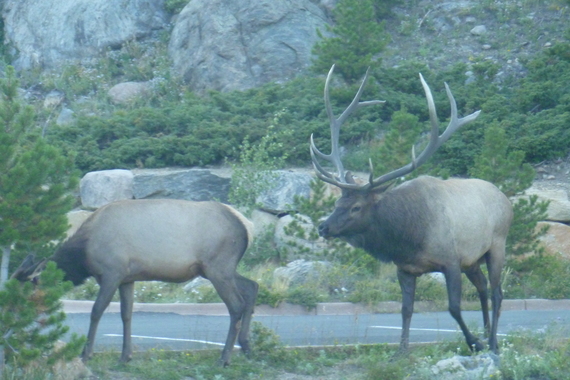 And there are some things I have to do for old-times sake: dinner in the back room of the Dunraven Inn; drinks on the patio of Old Rock Inn; lunch at Ed's; sit at the Cascade Bar at the Stanley and choose among 700+ whiskey varieties (we go for the $6-8 nips) and chat with Jimmy (who wasn't there but turns out Katy knows a lot as well). Tip: If you don't like whiskey then try their Bacon Bloody Mary, all the usual plus a candied bacon strip over Bakon Vodka.
And I will not be leaving without swooning over the sea salt caramels drenched in dark chocolate from Laura's Fudge or Hayley's ... and packing a few lbs. of Kind Coffee in my bag --- Flood Mud, they labeled it, "Dam Good Coffee for Estes Park Flood Recovery."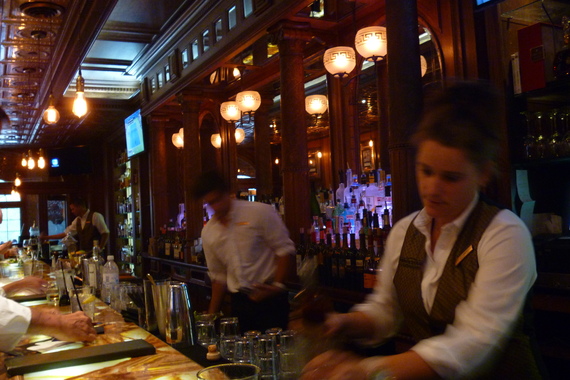 So, if any of you are out there wondering, holding back for another year, thinking there is no way that Estes Park can be back to 'normal,' then you don't know "Mountain Strong." Because Estes Park is back and it's better and stronger and more fun than ever.