In 2015, I was asked to speak to a "Future is Now" team at a large Sporting Goods Company - a team of twenty- to thirty-somethings working in beige cubicles surrounded by white walls and looking to better their workplace and culture for the future. While many workplace trends are common knowledge to the Contract Interiors Industry, many of our clients and potential clients - like this team - are also very interested, and scratching their head a bit as to where to start. In honor of our beiged brethren, here is a review of 2015 for those in and out of the industry looking to understand what is happening in the world of workplace today.
Developing this list produced some of the most fascinating professional discussions I have ever had. For the past 6 months, I have been carrying a piece of paper and brightly colored post-it notes with many of the "headlines" you see below. I then asked top workplace strategists, designers, and other incredibly inspirational industry professionals what they see as the top trends in workplace (physical space or policy-based) and what they would add or take away from my list. This is the result of all of these discussions, although there were many other "top contender topics" that I was unable to include. Stay tuned for those emerging trends in 2016.
1. Destination Planning
As technology enables movement away from a set work location, employers are looking to empower employees to work where and how they work best.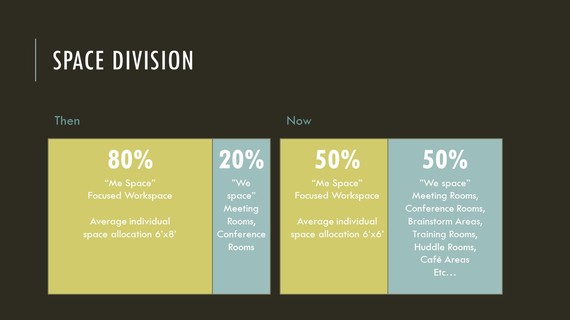 10 years ago, workplaces were divided with approximately 80% of the space dedicated to heads down work, and 20% of the space dedicated to meeting space and conference rooms. Now, as technology gets smaller, lighter, and makes our work more portable, we are freed from a set work location, and it is having a big effect on the floorplate. Forward-thinking companies are closer to 50/50 space division - or sometimes even 60/40 - with much more of the space being dedicated to not just meeting and conference rooms, but also to new types of spaces, including brainstorming areas, project rooms, and flexible open "hackable" spaces. (See #10 in next week's "part 2" for definition).
2. Wellness is the New Sustainability
"Sitting is the New Smoking" and other headlines have littered recent publications in droves, and many companies are answering the call.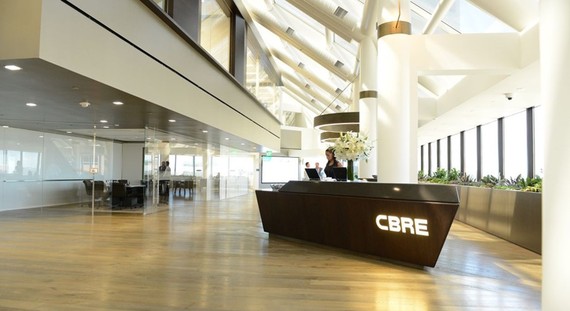 Workplace wellness is quickly becoming a buzz phrase. Not unlike previous industry buzz words like "collaboration" and "sustainability," it is broadly used yet still relatively undefined or understood. Delos is the first organization to define what wellness means for the built environment with their new WELL Building Standard, which was first achieved by CBRE's new LA facility. WELL sets performance requirements in seven categories, or Concepts, relevant to occupant health and wellbeing in the built environment: air, water, nourishment, light, fitness, comfort, and mind. Each WELL Feature is designed to address issues that impact the health, comfort, or knowledge of occupants through design, operations, and behavior. KI is also in the process of researching what they call "Active Design," which they define as "design solutions that amplify the role of physical space in improving worker health and well-being." Through a series of studies that began with a whitepaper in 2014, they are looking at ways to intrinsically support more activity throughout the day through space planning, furniture vignettes, and other strategies intertwined into physical space.

3. The Outdoor Workspace
We are at a crossroads where sustainability and "active design" are converging to turn the attention of interior designers to the "new" outdoor workspace.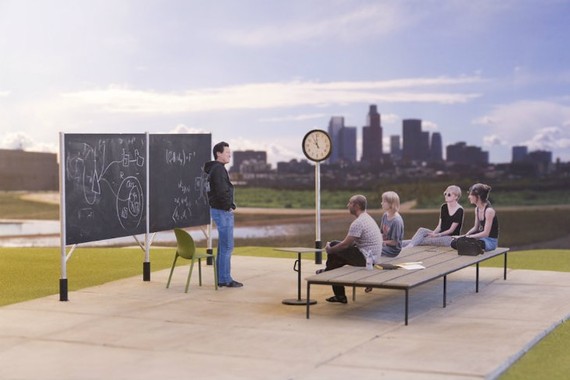 While the industry has spent years trying to bring the outside indoors, it seems that the pendulum has swung to a point where sustainability and "active design" trends are inspiring designers to bring the inside outdoors. In this article, entitled "The Ultimate Shared Workspace," designer Jason Olivares explores in depth what this outdoor space could look like as technology frees us to work from anywhere. Landscape Forms, a leader in the outdoor furnishings market, is also tackling a fresh take on these concepts with the launch of their new website in February 2016. Be on the lookout for fresh applications, ideas, and inspiration for outdoor workspace and beyond. To read more about this trend, check out this article: Outdoor Workspace: The Next Workplace Frontier.

4. Rejuvenation
While theoretically technology empowers us to do things more quickly, it is obvious that in today's ever-connected world, technology can also exhaust us.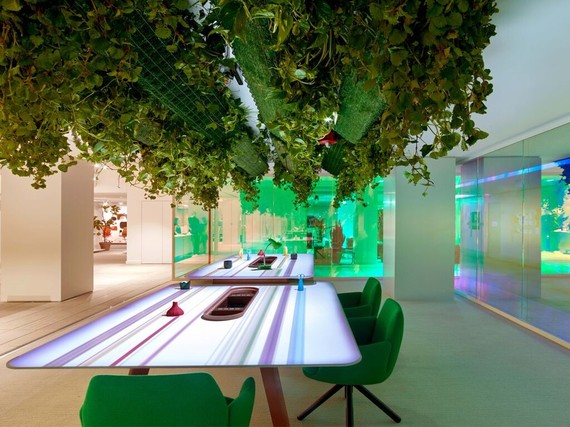 If there was one obvious and overarching theme from NeoCon 2015, it was the idea of stress reduction and rejuvenation. In our ever-connected society, it is becoming more difficult to find escape from technology to rejuvenate oneself. It's not always possible to go outside, so workplaces are seeking new ways to bring nature inside, as well as ways to "humanize" the built environment. The theory is this: as products make the built environment responsive to humans, environments become friendlier, more approachable, and perhaps begin to leverage technology to rejuvenate employees. Haworth showed an artistic concept in their NeoCon showroom constructed by Patricia Urquiola that entwined projectors with movement to create an interactive art display on a tabletop surface. It was no accident that this was set in a room filled with plants. (Photo above.) E Ink is a company that is taking these concepts and creating real product that leverages technology to create responsive physical environments. Their newest product, Prism, is a color changing film designed for architecture. eFLOW by Ueberall is an example of the unique possibilities their technology enables to create environments that are highly interactive and responsive to human movement.

5. Engagement & Meaningful Work
70% of workers are admittedly not fully engaged at work. Fully-engaging employees are happier, more productive employees, and can contribute to revenue growth.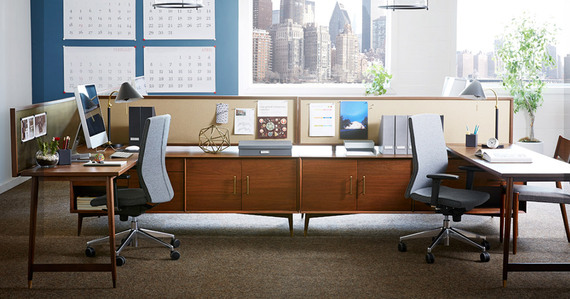 Perhaps one of the biggest challenges facing our workforce in an ever-increasing pace of work is the issue of disengagement. A 2014 survey by the Harvard Business Review and The Energy Project, an employee engagement consulting firm, found employees are more engaged when their four core needs are met:
Value: feeling cared for by your supervisor
Purpose: finding meaning and significance from your work
Focus: prioritizing one task at a time
Renewal: being able to take frequent breaks at work
While the physical workspace is not mentioned in the above, having a well-designed workspace goes a long way in meeting these needs, and contributes to companies' abilities to recruit, retain, and sustain the best workers. (Photo credit: West Elm Workspace) To read more about this trend, check out this article: The Rise of Engagement & Gamification.

Stay tuned for Part 2 of this article next week!
Full disclosure: The author of this blog post, Amanda Schneider, leads her own consulting practice, Contract Consulting Group, and was involved in several projects that illustrate the above trends, including KI Active Design research and Landscape Forms website launch.

REAL LIFE. REAL NEWS. REAL VOICES.
Help us tell more of the stories that matter from voices that too often remain unheard.