Last week, I posted the first half of a look back at the top trends of 2015. This is a continuation of that article.
6. The Work-Life Blur
Blame it on Millennials, or blame it on technology, but as work increasingly enters the home, a residential feel is burgeoning in the office environment.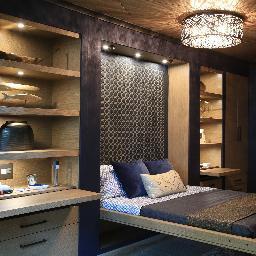 It seems everything from working postures to the materials and layouts selected in the physical work environment are getting more casual. The contract furniture market is now competing with quality and price points from stores like CB2, Z Gallerie, and IKEA. Some say that this is due to the fact that these comfortable, familiar residential products are not available through traditional contract channels. Others suggest that it is because of the emergence of young entrepreneurs and rapidly growing companies unfamiliar with the contract furniture industry. Either way, as this trend proliferates, the days of beige walls and cubicles are quickly fleeting. To read more about this trend, check out this article: The Year of the Work-Life Blur
7. Education to Work
How we learn in school is changing, and that will impact how the working world functions post-graduation.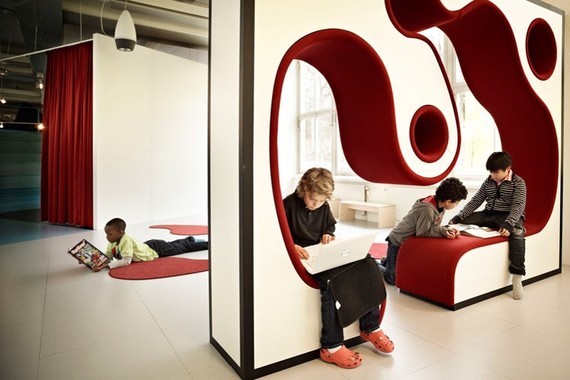 Many people dedicate their lives to improving the educational process for our children. The above pictures are of Stockholm's School Without Classrooms. From an early age, these children are taught to learn where and in what postures they learn best. Note in these pictures there are very few adults, implying that many of these children are doing self-led tasks. Even Stateside, a friend's third grade daughter in a small Iowa town is part of a "Future is Now" classroom where they have no desks. Children sit on cubes with a padded top that flips over to become a desk top. The cubes are easily movable so the classroom can be reconfigured quickly, by children. Now, imagine telling these children that they have to work in cubes with beige walls when they grow up? To read more about this trend, check out this article: The Future of Learning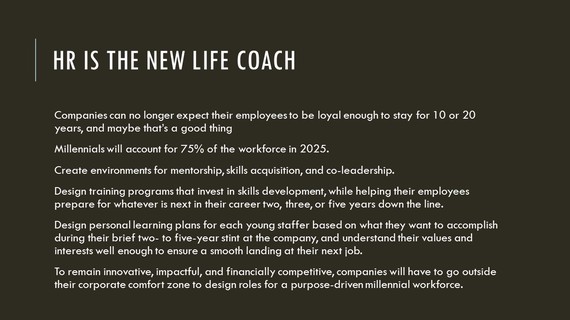 What does this shift from company loyalty mean for the workplace? More than ever, the physical office is becoming an important recruitment and retention tool. Physical space can reinforce culture, and culture can be one of the most important loyalty-inducing elements of a workplace. In fact, the US will face talent shortages as their workforces age and experience declining growth rates. In the United States, the labor force is expected to grow only 0.7 percent between 2010 and 2020, meaning more companies are (or should be) focused on how to attract, retain, and - perhaps most importantly - SUSTAIN the best workers. From an HR standpoint, it also means that "HR is the new life coach,", meaning: one of the best strategies for keeping talent is equipping them with skills to prepare them for their NEXT job within the company. Also key will be creating rich cultures that make people WANT to stay. To read more about this trend, check out this article: The Biggest and Toughest Shift in Corporate America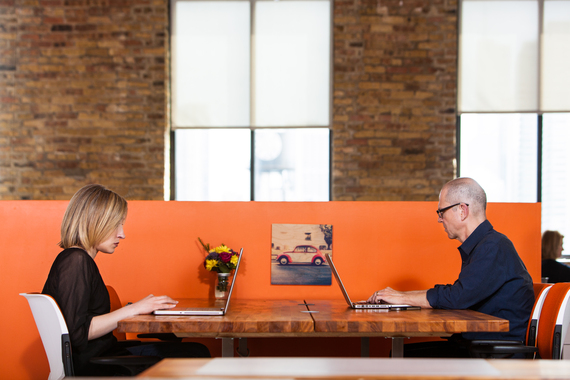 Coworking is a trend that has been emerging since 2011, but this year it seems to have arrived. In an interview, Rahul Prakash, partner at Hatch Today, stated, "The word coworking won't be a word in the future, it will probably just be the way we work." Architects, Designers, and Corporate America are taking note and trying to (quickly) decipher what this means for workspace and how to embrace this trend in response. To read more about this trend, check out these articles: The Rise of Coworking and The Future of Coworking. More articles will be coming out in the Bellow Press's inaugural issue of Workplaces Magazine on February 1, which is entirely focused on coworking. (Note: Image above supplied by Jamie Russo of Enerspace Coworking.)
10. Hackability
Speed of change in the workplace is driving designs that are open, flexible, and "hackable" to quickly transform for a wide range of functions.
According to Stephanie Douglas with Teknion, "'Hackability' (is that a word?!) refers to spaces that are intended to be modified by users to meet their particular work needs or preferences. We know all users aren't the same, so instead of trying to make them adjust their work to fit the space, you're empowering users to make small but significant changes to their environments to best support how they actually work." This concept applies to both individual work areas as well as common work areas that can flex to meet a variety of needs. The above image is of Cannon Design's new Chicago headquarters. This space is used as a Starbucks-like work space for a normal workday, but can quickly be "hacked" to become a stage for an all company meeting, a bistro for an employee luncheon, or even an open indoor "field" for a Saturday morning yoga class.
Two of my favorite trends that did not make the list for 2015 but are rapidly emerging are "Nostalgia" (thank you Cheryl Durst of IIDA) and "The Dressing Down of the Workplace." Stay tuned for more on those in 2016.
Was there something I have missed here you feel was a strong contender for 2015, or will be for 2016? Please feel free to e-mail me or comment below.
REAL LIFE. REAL NEWS. REAL VOICES.
Help us tell more of the stories that matter from voices that too often remain unheard.