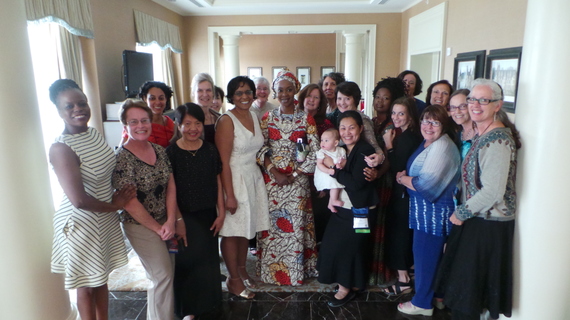 (At the American College of Nurse-Midwives's 60th Annual Meeting & Exhibition, June 27th to July 1st 2015 in Washington D.C.)
Just over a year ago, the International Confederation of Midwives invited me to be its inaugural Global Goodwill Ambassador. This invitation was a true honour, and a year on, I remain humbled by the role that they have entrusted me with.
The Wellbeing Foundation Africa (WBFA) and I have long known the invaluable role that midwives play in changing health outcomes for women and children. When we began our journey to improve maternal, newborn, and child health (MNCH) in 2004, we placed midwives at the centre of WBFA policies. In 2010, we lobbied for the passage of the Kwara State Safe Maternity Services bill - the first of its kind - that guaranteed funding for midwives. We did this because Nigeria has a long tradition of midwifery, with a vibrant, active community of dedicated midwives that have an unparalleled understanding of community needs and community sensitivities, and we worked closely with them to develop our interventions. I learnt so much from Nigeria's midwives, and we are grateful for their continued insight and support.
In this role, I have been lucky enough to meet midwives from all over the world -- from Suriname to Lesotho, from the United States to the Czech Republic -- and I look forward to meeting many more as I continue in my capacity as their Ambassador, advocate, and grateful friend. Hearing the stories of midwives from around the world has been an inspirational experience for me because they are on the very frontlines of preventing maternal and infant mortality. It has also been a learning opportunity. By engaging with midwives around the world, WBFA and I have been able to identify the challenges facing the profession and the help they need to save the lives of more mothers and babies. This insight has informed our frontline programmes, which have been designed to enable midwives to overcome key challenges. From the Alaafia Universal Health Coverage Fund (AUHCF) that provides affordable health insurance for patients, thus ensuring healthcare professionals like midwives are paid for their services, to our Midwives MamaKits, which provide all the necessary health commodities that midwives need to transform any incidental birth location to a fully equipped facility, we aim to support midwives at every juncture. We have also worked with international partners like Johnson & Johnson and the Liverpool School of Tropical Medicine to train midwives and other healthcare professionals in my home state of Kwara, Nigeria, in emergency obstetric and newborn care.
This insight has also informed our global advocacy for the increased accessibility, availability, acceptability and quality of midwifery around the world. Using our global voice and new consultative status with the United Nations Economic and Social Council (ECOSOC), we seek to garner further international investment in midwife training, and call for the rapid inclusion of skilled midwives at the heart of government and international policy on maternal and newborn health - particularly, in this pivotal year which will see the finalisation of the Sustainable Development Goals (SDGs). Supporting midwifery around the world is vital because the World Health Organisation identified skilled midwifery care as one of the most powerful weapons in our fight to prevent maternal and newborn mortality, and a Lancet Series report on Midwifery found that by increasing access to midwives by just 25%, we could halve maternal mortality rates.
Crucially, midwives play a significant role in combatting the major social determinants of health, which affect the survival rate of mothers and infants. Socio-economic status continues to impact the likelihood of women receiving skilled care during childbirth, as globally the richest 20% of women are 2.7 times more likely than the poorest 20% to have a skilled birth attendant during childbirth. As I found when I spoke to midwives in Suriname, 84% of the poorest people have access to a skilled birth attendant compared to 95% of the richest people. Access to a skilled birth attendant varies considerably across sub-Saharan Africa, with rural communities bearing the brunt of the inequity of access. In Nigeria, 14% of pregnant women give birth completely alone, without even a family member present. And this is a trend that is actually getting worse in rural and poverty stricken areas, as in the case of the North West of Nigeria, where there was a 27% increase in the number of women giving birth completely alone. Considering that northern Nigeria suffers from the highest maternal mortality rates in the country, scaling up access to skilled birth attendants, like midwives in rural and poverty-affected areas must be a priority to ensure that mothers are no longer giving birth by themselves. We must prioritise access to midwives within the poorest communities across the world and ensure that young mothers no longer feel alone and alienated whilst giving birth - regardless of their socio-economic status.
Ensuring that mothers no longer feel alone and alienated whilst pregnant requires open communication and Respectful Maternity Care from a skilled midwife. Over the last year, I have heard midwives speak about their struggle to overcome cultural stigmas in their local communities and encourage women to engage a skilled birth attendant. Often, they found a number of women would not seek out help during their pregnancy because they are either embarrassed or afraid, or simply unaware of the help that they need. WBFA and I believe that effective health communications can break down these misconceptions and empower women to seek the help that they need. Overcoming this will require communications training for healthcare professionals around the world, that can not only ensure that women are listened to, but are fully aware of what they need and what they are entitled to. This is the very foundation of Respectful Maternity Care - making sure that mothers are heard, informed, and empowered. Midwives trained these skills can provide the Respectful Maternity Care that every single woman deserves and needs, in every village, every town, every city, and every country across the world.
This year has been an exceptional year of growth for WBFA and I. We have seen our frontline programmes evolve and expand, our global voice strengthened and supported, and our reach grow and gain scope. And it has been an exceptional year for midwives. In popular culture, shows like Call the Midwife have been exported from the United Kingdom to Bangladesh to encourage more women to engage a midwife during birth. In technology, apps like Ghana's Mobile Midwife programme sends health advice and reminders about antenatal appointments directly to patient's phones. In policy, the United Kingdom's National Health Service (NHS) issued new guidance on birth that recommended that more women give birth at home or in a midwife-led unit, saying that this is safer than a hospital for most women.
Nonetheless, the profession faces a number of issues including a severe shortage of staff, poor working conditions, poor remuneration, limited support and supervision. However, I know that we can overcome them, together, in the years to come. I pledge to continue my work in my role as Global Goodwill Ambassador for the ICM and advocate on behalf of midwives during the new era of Sustainable Development. I commit to this pledge because I know that investing in more midwives, and more access to midwives, means an end to the needless and preventable deaths of women, newborns, and children by 2030. This is my vision for every woman, and every child by 2030.
I cannot achieve this vision without midwives by my side, and by the side of every mother, and every child.
Calling all HuffPost superfans!
Sign up for membership to become a founding member and help shape HuffPost's next chapter