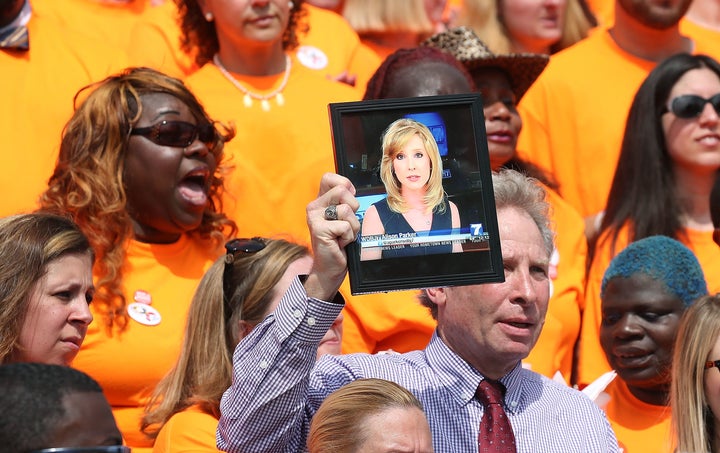 Andy Parker won't let you forget.
But over the past year, not enough has changed, so Andy Parker isn't going to change.
On Friday, he penned an op-ed in the New York Daily News, twisting his sword in the gut of "treasonous Republican leadership" that hasn't moved toward reform despite a shocking amount of gun violence in America since Alison's death.
In the lead-up to this day, I've been asked what's changed in the last year. The NRA still controls too many politicians. There is no new meaningful common-sense gun legislation passed at a federal level, and terrorists on watch lists can still buy weapons even if they can't board a flight.

The NRA, however, continues spouting the myth that Hillary Clinton and other political leaders advocating gun sense want to abolish the Second Amendment. How many times do reasonable people have to say, "No one is coming to take your guns away and if you can pass a background check, you can buy a firearm?"
He pointed a finger directly at House Judiciary Committee Chairman Bob Goodlatte (R-Va.), a "coward" politician known for undermining a 9/11 first responder health care bill and refusing to hold hearings on gun control in his district after Parker and Ward's slaying.
My only question for him was, "Bob, how do you sleep at night?"

As usual, he looked like he swallowed a lemon. He never uttered a word of response. It was the face and the response of a coward and I've opined before — this coward should join the treasonous Republican leadership in acquiring a new wardrobe — orange jumpsuits.
Today, Parker says he won't falter in his fight for gun control. He won't let us forget about Alison, and he won't stop fighting "to be free of gun violence."
"Momentum is on our side and it's only a matter of time until we prevail," he said. "The needle has moved, and I'm not going to lose this fight. I'm Alison's dad."
Calling all HuffPost superfans!
Sign up for membership to become a founding member and help shape HuffPost's next chapter