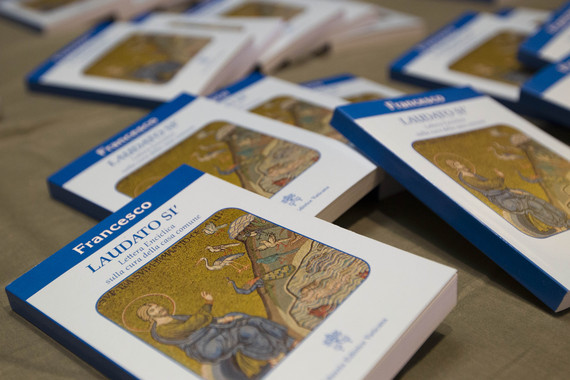 Few stories make the headlines in every major newspaper in the world. Even fewer inspire people to actually change the way they live in response. A year on from its original publication, it is increasingly clear that Pope Francis's Encyclical Laudato Si'- yes, on climate change, but also on what it is to be human, on the social implications of the environmental crisis and on the complex web of things we usually treat separately for convenience's sake - has begun to do just that. Important debates have started. Amazing feats of political will have been achieved. And all over the world, as events this week have shown, more and more Catholics and non-Catholics are feeling empowered to act and care for our common home.
At first glance, when it comes to climate change, things have only got worse since Pope Francis issued his call to action to 'all people of good will'. In the past three months alone, wildfires have ravaged Canada, floods have caused loss of life and severe damage in Europe, heat waves have scorched India and the Philippines. Globally, two months ago we experienced the warmest April on record. News like this is becoming the new normal - the 11 months before April 2016 also broke the monthly temperature records.
Other events since June 18th 2015 have provided the world with hope, however. By signing last December's Paris Climate Change Agreement, the Heads of State of nearly 200 countries - including big emitters like China, the US, the EU and India - effectively agreed to end the fossil fuel era and attempt to save the world from the worst effects of climate change, although much more ambition is still urgently needed. Pope Francis's effect on negotiations has been described as 'transformative'. The Global Catholic Climate Movement (GCCM), which I serve as its Global Coordinator, played a part, delivering a petition signed by over 900,000 Catholics urging political leaders to commit to ambitious climate action to the French president and the UN climate chief during the Summit.
More and more countries are already prospering while reducing their greenhouse gas emissions. Earlier this month it was revealed that 2015 was a record year for the growth of renewable energy, with investments in renewables more than double those in new coal and gas-fired plants. Developing countries spent even more on renewables than developed ones on their paths to sustainable development.
Many other successes on a more local level have been driven by Catholics working in harmony with people of other faiths and none, inspired by Laudato Si'- at a time when religious persecution around the world is rife, this is cause for celebration. On April 18th, 270 religious leaders from all of the world's major faiths quoted the Encyclical when calling on their own communities to divest from fossil fuels and reduce emissions in their homes, workplaces and centres of worship. Solar panels are increasingly powering churches. According to CAFOD, parishes in half of all Catholic dioceses in England and Wales have made efforts to live sustainably and in solidarity with people living in poverty.
This week, on the same day that the Catholic world's first joint divestment announcement was made, GCCM launched its 'Live Laudato Si' campaign to get even more communities inspired. Catholics the world over are being encouraged to reduce their energy consumption, change to clean energy providers, eat less meat, and share their pledges on social media with the hashtag #LiveLaudatoSi. Young GCCM members will also be in Poland for World Youth Day at the end of July to share with others how they've been living more sustainably.
Laudato Si' does not provide all the answers on exactly how we should combat climate change and other socio-economic and environmental problems, though it does give some sensible suggestions. Scientists, engineers, economists and others are coming up with ever more innovative and cost-effective ways of meeting the challenge - even since the Pope's intervention in June 2015, costs of solar have declined rapidly, for example, making it increasingly competitive with fossil fuels. What makes the Encyclical so powerful is its recognition that we have an incontrovertible moral responsibility to act - this moral imperative must direct our political and economic discussions, not the other way round.
The Encyclical remains a text that inspires and provokes, simultaneously forcing us to question our behavior- our excessive consumerism powered by polluting energy sources that contribute to climate change - and empowering us to swap our habits for new, more sustainable and more fulfilling ways of living. Its increasing role in education programs and the way young Catholics have reacted to it suggest that its influence to date is only the beginning. As always, the task remains ensuring that, together, Catholics and non-Catholics, we continue to turn the words on the page into action and discuss, debate and live Laudato Si'.