Seal-Bin Han, 19, is an inventor, entrepreneur and philanthropic Korean-American who will receive our foundation's coveted 2014 Luce Leadership Award for his work in encouraging student youth leadership across the world through his non-profit, World Youth Initiative (WYI). He will attend the J. Luce Foundation Awards Reception on February 26 at the Sri Lanka Embassy to the United Nations.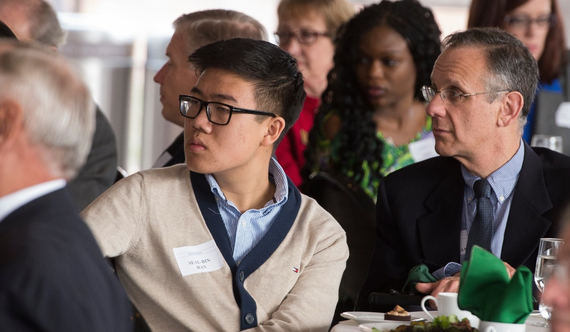 Seal-Bin Han at the Hodson Trust Luncheon in 2013
pictured with Vice Dean of Education, Edward R. Scheinerman.
Photo: William Kirk - Homewood Imaging and Photographic Services.
Seal-Bin is the co-founder and president of World Youth Initiative, under the auspices of our foundation that provides students with the necessary tools to launch successful philanthropic projects. In two years, Seal-Bin and his team raised tens of thousands of dollars, led missions in over ten countries and supported young leaders in seven states and eight nations.
Through WYI, students from around the world apply for mentorship to either start their own charity project or join an existing charity project already partnered with WYI. These students participate in regular calls, receive marketing and technical support and gain access to an entire community of like-minded youth philanthropists. The only condition for creating an independent charity project is that it must support youth leadership and thereby bring on other student leaders to grow the project and the organization.
"We wanted to create a community of young leaders who could feed off each other's passion and energy," Seal-Bin said. "It's incredible what infrastructure and guidance can do for a group of really passionate students. It's easy to look at an organization's success and applaud its leadership, but if it weren't for our hardworking volunteers like Jack Franco, Stephanie Franco and David Hedaya, we wouldn't even have an organization in the first place."
Jack Franco, Stephanie Franco and Hedaya started Charity Crew, a student-led organization at the Magen David Yeshivah private school in Brooklyn, to raise money for non-profits like WYI.
"These students are some of our youngest volunteers and they've single-handedly proven to the entire team at WYI that age should never be a barrier to accomplishing great things," said Amay Bhojani, Chief International Officer of WYI and second-year student at Cambridge University.
WYI was first formed at the University of Pennsylvania summer program, Leadership in the Business World.
"WYI has come such a long way from when we first started with just an idea in a dorm room at UPenn," said Isaac J. Kassin, C.E.O. of WYI and 2013 Luce Leader. "It's incredible to look at the success we've had since its inception, but we really couldn't have done it without the help of our hardworking volunteers and the J. Luce Foundation."
In 2013, our foundation awarded WYI our P.R. & Media Package to spread greater awareness about its mission.
"At first, everything was, frankly, extremely disorganized," Seal-Bin said. "I was inexperienced and naïve, but I had a lot of passion in wanting to fix how more often than not, adults don't take young students seriously. They tease a student's ambitions for being too idealistic or not possible in a 'real world setting.' This youthful vision coupled with a willingness to fail is what sets our charity apart from many other organizations in the same space and it's this exact vision that has been able to push us forward."
Seal-Bin is currently a sophomore electrical and computer-engineering student at the Johns Hopkins University in Baltimore, Maryland. Though Seal-Bin is still involved in WYI, he now focuses on different ways of encouraging youth leadership and also improving the state of health and wellness in Baltimore City while he is attending Hopkins.
Last summer, Seal-Bin founded ShapeU (www.shapeu.co), a health-technology social enterprise that matches individuals into small groups to work with professional trainers toward individual health goals.
"Much of what makes WYI successful is the positive peer pressure that pushes each member to do more than she could on her own," Seal-Bin said. "For ShapeU, I imagined the small group setting would drive a similar environment of positive peer pressure, except now for the sake of improving people's health--their own lives."
Like WYI, the ShapeU team is made up of exclusively students in a variety of backgrounds, such as software development, finance, marketing and graphic design.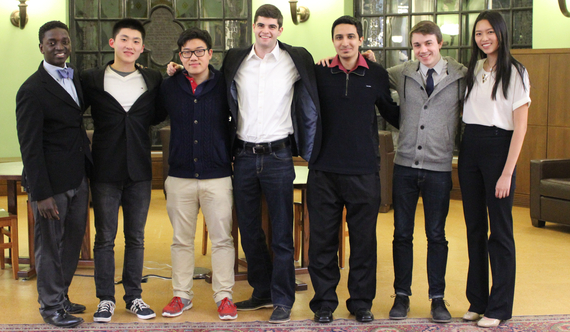 ShapeU team at Gilman Hall from left to right: Dr. Steven Moyo, Richard Shi,
Seal-Bin Han, Jordan Matelsky, Oneeb Malik, Charlie McGeorge, Christine Situ.
Photo: Qiuyin Ren.
"Being a software developer in a technology-driven startup is much more than being hands on a keyboard," said Jordan Matelsky, Chief Technical Officer of ShapeU and Johns Hopkins neuroscience junior. "It's exhilarating to have your code so fundamentally linked to the success of the company. I've always loved the thrill of creating something that can make positive change in others' lives, and healthcare-software is perhaps the best place to do that."
Matelsky said ShapeU is a company filled with passionate, innovative individuals.
"We're really trying to create a cultural shift," said Richard Shi, Chief Operating Officer of ShapeU and Johns Hopkins biomedical engineering sophomore. "The top priority for us is to have people see fitness as essential to human life as eating or sleeping."
ShapeU is currently Alpha testing its web platform at the Ralph S. O'Connor Recreation Center by offering its program exclusively to Johns Hopkins students. ShapeU is operating with six testing groups, over 350 users on the waitlist and more than 16 professional trainers.
"The 'Rec' has amazingly knowledgeable and diverse personal trainers," said Jackie Lebeau, Director of Fitness at Johns Hopkins University. "With ShapeU group personal training, students will be able to experience some of the top fitness trends in the country: high intensity interval training, kettle bells, TRX, obstacle course preparation and bodyweight training."
As a member of the Social Innovation Lab, an early-stage incubator for startups that seek to tackle pressing social issues, Seal-Bin has been able to work closely with leaders in Baltimore to improve the social mission of his startup.
Darius Graham, the Executive Director of the Social Innovation Lab, said ShapeU represents the best of social innovation--addressing a problem in a creative and novel way by using the power of social networking and technology to help individuals meet their health goals. He also said by participating in Johns Hopkins' Social Innovation Lab, ShapeU will make a measurable impact on the health and fitness of its users and scale that impact in Baltimore and beyond.
"The future of healthcare is social and the future of medicine is digital, and I am proud to say that we're helping to bring those futures into focus," Matelsky said.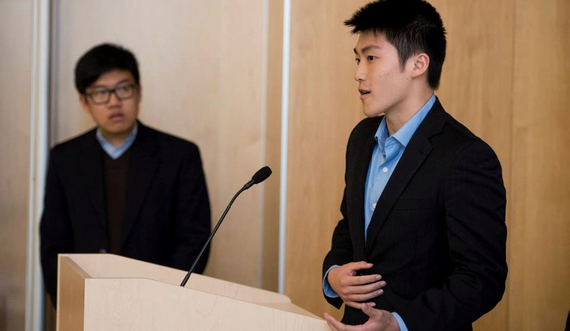 Richard Shi speaking at the 2014-15 Social Innovation Lab Kick-Off Day.
Photo: Social Innovation Lab.
Recently, ShapeU was accepted to AccelerateBaltimore, an initiative of the Emerging Technology Centers, Baltimore's award-winning incubator. With $25,000 in investment and thirteen weeks of mentorship, Seal-Bin and his team will work to expand beyond Johns Hopkins and begin improving health and wellness in health clubs and recreation centers all across Maryland.
The ShapeU team has also begun working with medical experts like Dr. Steven Moyo at the Ciccarone Center for the Prevention of Heart Disease and Dr. Lawrence Cheskin at the Bloomberg School of Public Health to begin addressing cardiovascular disease, the greatest cause of death in the U.S.
"I am beyond excited to be working with Seal and the team at ShapeU," Dr. Moyo said. "For the community--ShapeU means connection, empowerment and inspiration. I think people are more powerful together then they are apart. ShapeU is a wonderful tool to bring people together to achieve a common goal of exercising and healthy living."
Dr. Moyo also said ShapeU empowers the individual and creates leaders in the community, people who can inspire others to live healthier, more active lives.
"It's clear that many types of cardiovascular disease can be almost entirely prevented through healthy nutrition and regular exercise," Shi said. "We're developing a platform that hopefully will give access to both, for all people, across the income spectrum."
Both ShapeU and WYI have allowed Seal-Bin not only to develop organizations that have helped many individuals, but also to gain the experience and drive to continue contributing on a global scale.
"I'm not really sure what's next," he said. "But as long as I'm encouraging more and more young students to join the conversation and be a part of the solution, then I'll wake up every day knowing that I'm making a positive difference."
It is young global leaders such as Seal-Bin Han that will inherit our world--and make or break it for future generations. Our foundation's succession plan is that, upon my retirement, the Luce Leaders will become Trustees and move our mission forward. I am extremely confident to be able to leave my life's work in the hands of such capable trailblazers as Luce Leader Seal-Bin Han.
Related