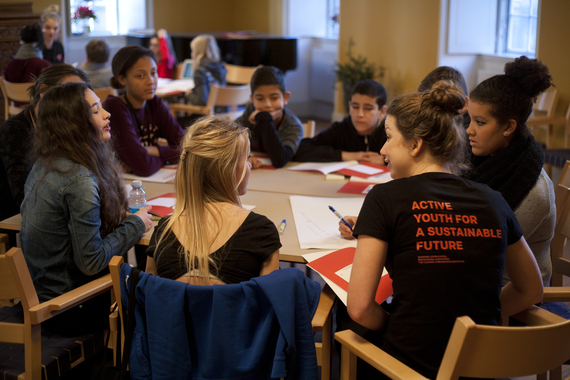 Children have for decades been recognized as forceful change agents for behavioral change in families when it comes to -- for instance -- hygienic practices or unhealthy indoor cooking practices in small biomass fired households.
Impacting consumer behaviors is the next 'giant leap' for mankind in the battle against climate change, and we now have a model available for replication globally which is based on youth-to-youth learning, and which carries the potential of impacting forcefully the consumer patterns and the lifestyles of our future adults across the globe.
We have in the Nordic countries come far with decoupling our economies through strong supply side measures, including the early setting of ambitious and consistent targets for renewable energy and energy efficiency, and a stable, transparent regulatory framework, spiced with an effective use of subsidy schemes, feed-in tariffs, and public-private investments in R&D. In Denmark, the result has been a forceful move towards full decoupling and the birth of a highly competitive green technology industry contributing to the economy with an ever increasing share of total exports.
This is all fine, but climate action is ultimately about the people, including the choices that they can and will make in their everyday life. This is the "demand side", and it is ultimately the demand side that in a timely fashion will be required to "pull" the market into a zero-carbon future. That's what science tells us to do, and we have no time to waste.
Let's take Denmark as an example to show why this is critical:
When we measure the carbon emissions of a country, we measure only what is emitted on the basis of its own production and energy use. If we instead would include emissions from goods that are produced elsewhere and transported to Denmark for consumption (consumer emissions), you would generate a very different carbon footprint than the 7.6 ton per capita that Denmark is currently noted for in official records, namely a whopping 17 ton per capita. The same picture can be painted for any economy with high imports of consumer goods. In effect these countries export a great deal of their carbon emissions.
But if we are to drastically reduce our aggregate consumer-emissions it will not be enough to only adjust our energy mix and the way we use energy. We need to drastically alter our consumption pattern across the globe if we are to create a global economy with no net carbon emissions by 2100.
In 2008 this recognition gave birth to a unique undertaking namely CONCITO's "Climate Embassy" designed to train young Climate Ambassadors and through them enable youth-to-youth training of children and youth in secondary schools and high schools within their formal school curricula. More than 350 young enthusiasts recruited among university students have since then been trained as climate ambassadors, who in their own time, and without being paid, execute teaching and awareness raising programs in Danish schools. More than 100,000 Danish kids have been subject to this training since 2008.
After taking part in education workshops focusing on climate, communication and networking, the climate ambassadors can participate as communicators, youth mentors and facilitators in different teaching related projects of the Climate Embassy. The method is solution-oriented and based on activating young to young communication using relevant and new scientific knowledge, concrete examples, films and student interaction.
To support their efforts a substantial set of virtual and interactive teaching materials have been developed together with guidance materials for the teachers. The Climate Embassy is also enabling youth-driven awareness raising activities designed to unleash extra-curricular creativity in pursue of more sustainable lifestyles at that exact point in time when young adults are leaving their nest and forming their own home, consumer patterns, and lifestyles.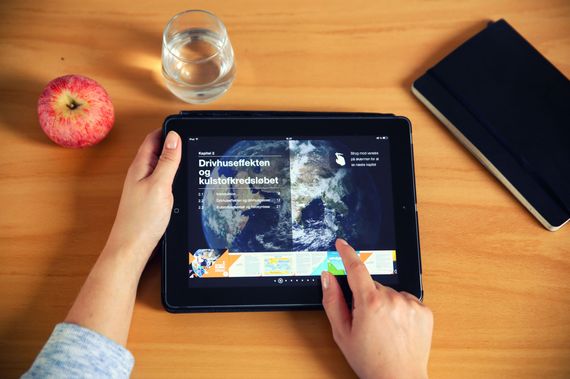 Avoiding lock-in of unsustainable lifestyles at early age while giving birth to enthusiastic young change agents in families and among peers for sustainable lifestyles are likely to be the most cost-effective supply side intervention in the long run. This is the philosophy of the Climate Embassy, and it is proven a viable approach in engaging youth in climate action.
The Climate Embassy concept has already proven its worth in other countries. In 2011 - 2013 the Climate Embassy together with Crossing Borders partnered to develop and execute the DEMENA program which established climate embassies, and trained climate ambassadors in Egypt and Jordan.
In 2014, and as part of a project run by the Climate Embassy, youth from Belgium, India, Denmark, Ghana, Nigeria, Zambia and Sweden defined 12 principles to engage children and youth in the fight against climate change.
Both of these projects demonstrate the huge potential for replication.
Today, the Climate Embassy is mainly funded by Nordea, a leading Nordic Bank, and this year the United Nations Environment Program (UNEP) named the Climate Embassy scheme as a best practice in advocating sustainable production and consumption, and therefore a role model for replication across the globe.
The future belongs to the kids: Let us give them a chance to impact their own future.
This post is part of a "Nordic Solutions" series produced by The Huffington Post, in conjunction with the U.N.'s 21st Conference of the Parties (COP21) in Paris (Nov. 30-Dec. 11), aka the climate-change conference. The series will put a spotlight on climate solutions from the five Nordic countries, and is part of our What's Working editorial initiative. To view the entire series, visit here.
Calling all HuffPost superfans!
Sign up for membership to become a founding member and help shape HuffPost's next chapter